This Pickled Red Onion recipe is a great way to enjoy healthy onions without the intensity of a raw onion. You can put these on you sandwich, salads, tacos or even pasta. These will stay fresh for 1-2 weeks in an air tight container in the refrigerator.
Pickled Red Onion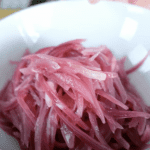 Pickled Red Onions
Servings: 2 Cups
Calories: 33kcal
Print Recipe
Instructions
Heat the red wine vinegar over low heat, add the salt and sugar to dissolve. Add the red onion. Place in a large bowl and set aside. Allow to pick for 30 minute or overnight. Store in a covered container in the refrigator. They will contiue to pickle. Good for up to 2 weeks (if they last that long!)
Nutrition
Serving: 2Ounces | Calories: 33kcal | Carbohydrates: 7g | Protein: 1g | Fat: 1g | Saturated Fat: 1g | Polyunsaturated Fat: 1g | Monounsaturated Fat: 1g | Sodium: 3556mg | Potassium: 159mg | Fiber: 2g | Sugar: 3g | Vitamin A: 1187IU | Vitamin C: 4mg | Calcium: 28mg | Iron: 1mg
Shop the Recipe...