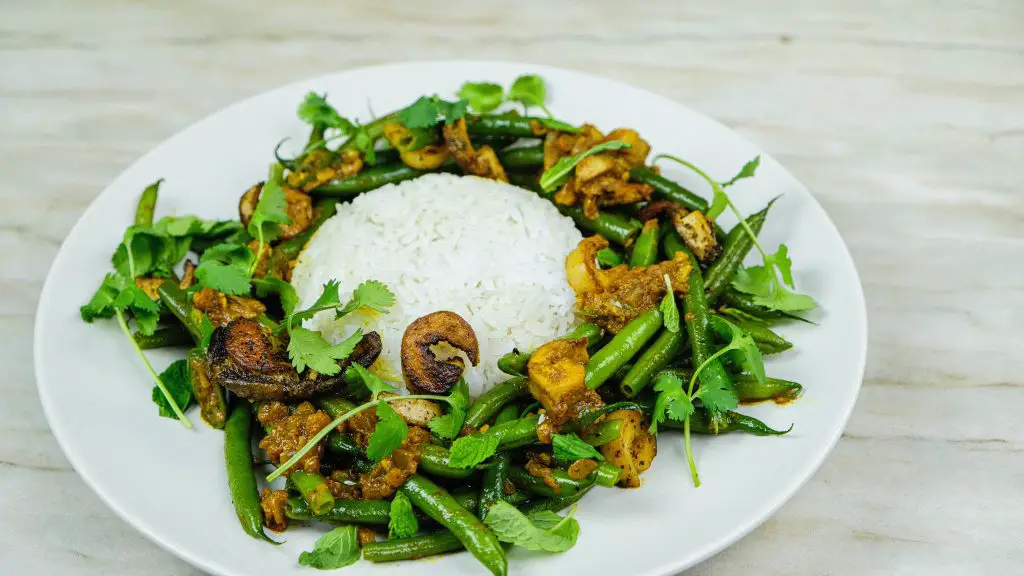 Introduction to Vegan Shrimp Stir Fry
I was inspired to make this easy and spicy stir fry recipe as well as have some fun making these little faux shrimp from King Oyster mushrooms.
Bangladeshi cuisine is renowned for its diverse and flavorful dishes that draw inspiration from a variety of cultural influences. Shrimp is a common ingredient used in many Bangladeshi recipes, but for those who follow a plant-based diet, vegan alternatives to shrimp have become increasingly popular. In this context, the Bangladeshi Vegan Shrimp and Green Bean Stir Fry stand out, as it uses king oyster mushrooms to replace the seafood and create a delectable plant-based protein alternative.
King oyster mushrooms are widely used in vegan cooking due to their unique texture and versatility. These mushrooms have a firm, meaty texture that makes them an excellent substitute for seafood, such as shrimp. They also have a mild, earthy flavor that can be seasoned and marinated to create a range of tasty dishes.
The Bangladeshi Vegan Shrimp and Green Bean Stir Fry showcase the potential of king oyster mushrooms to create a flavorful and healthy vegan alternative to traditional Bangladeshi shrimp recipes. This dish features tender green beans, sweet and savory onions, and a blend of spices that perfectly complement the king oyster mushrooms. The mushrooms are marinated and pan-fried to create a crispy, golden exterior that mimics the texture of real shrimp.
Moreover, the dish is gluten-free, making it an excellent option for those with dietary restrictions. The combination of green beans and king oyster mushrooms also provides a wealth of nutrients, including fiber, vitamins C and B6, potassium, and copper.
Bangladeshi Vegan Shrimp and Green Bean Stir Fry is a fantastic example of how plant-based ingredients can be used to create delicious and healthy versions of classic dishes.
What You Need…
How to Make Vegan Shrimp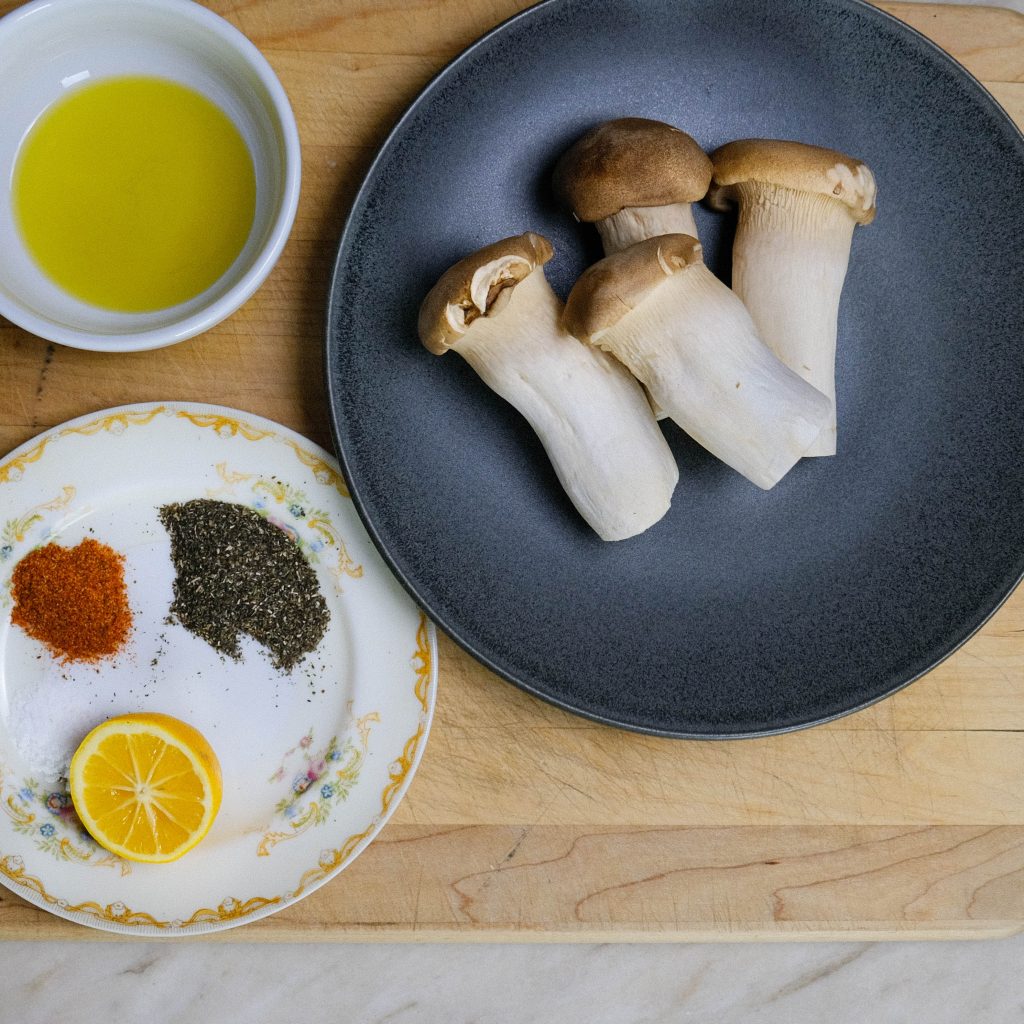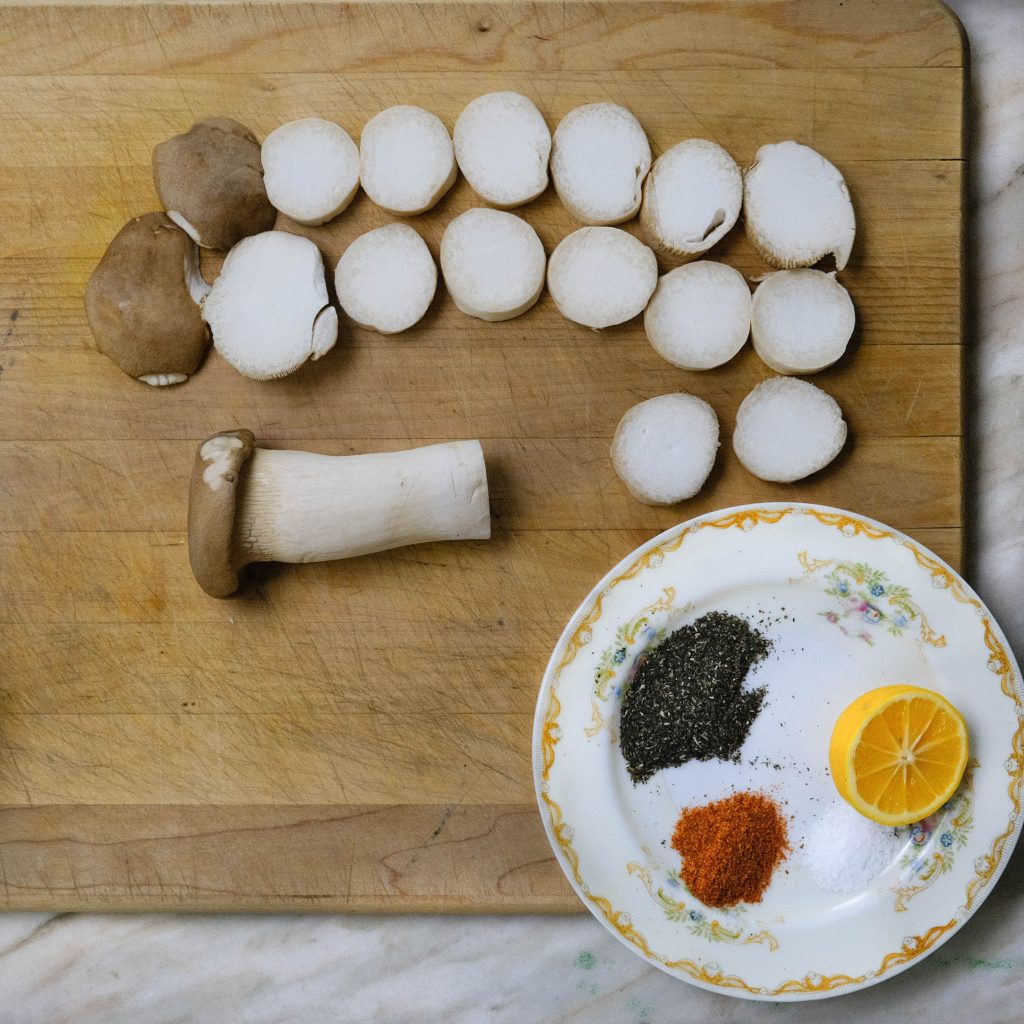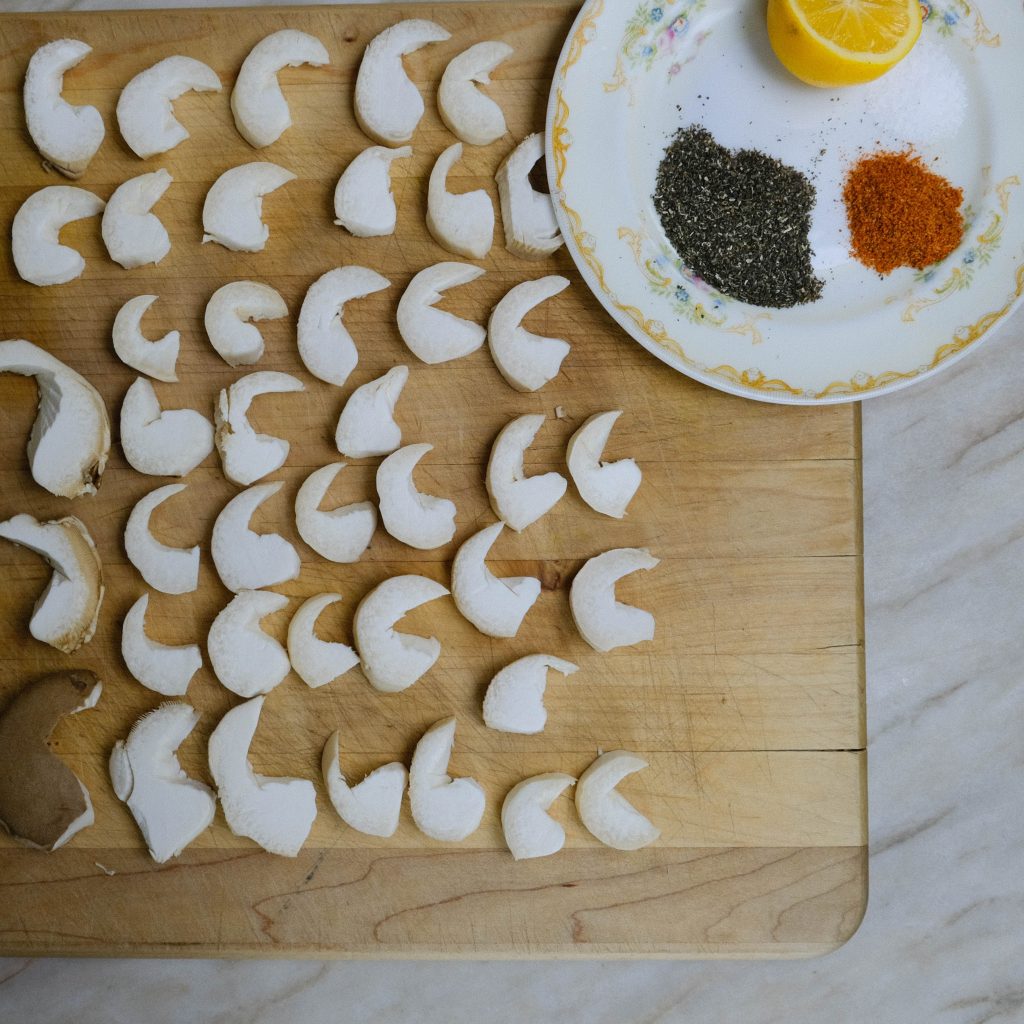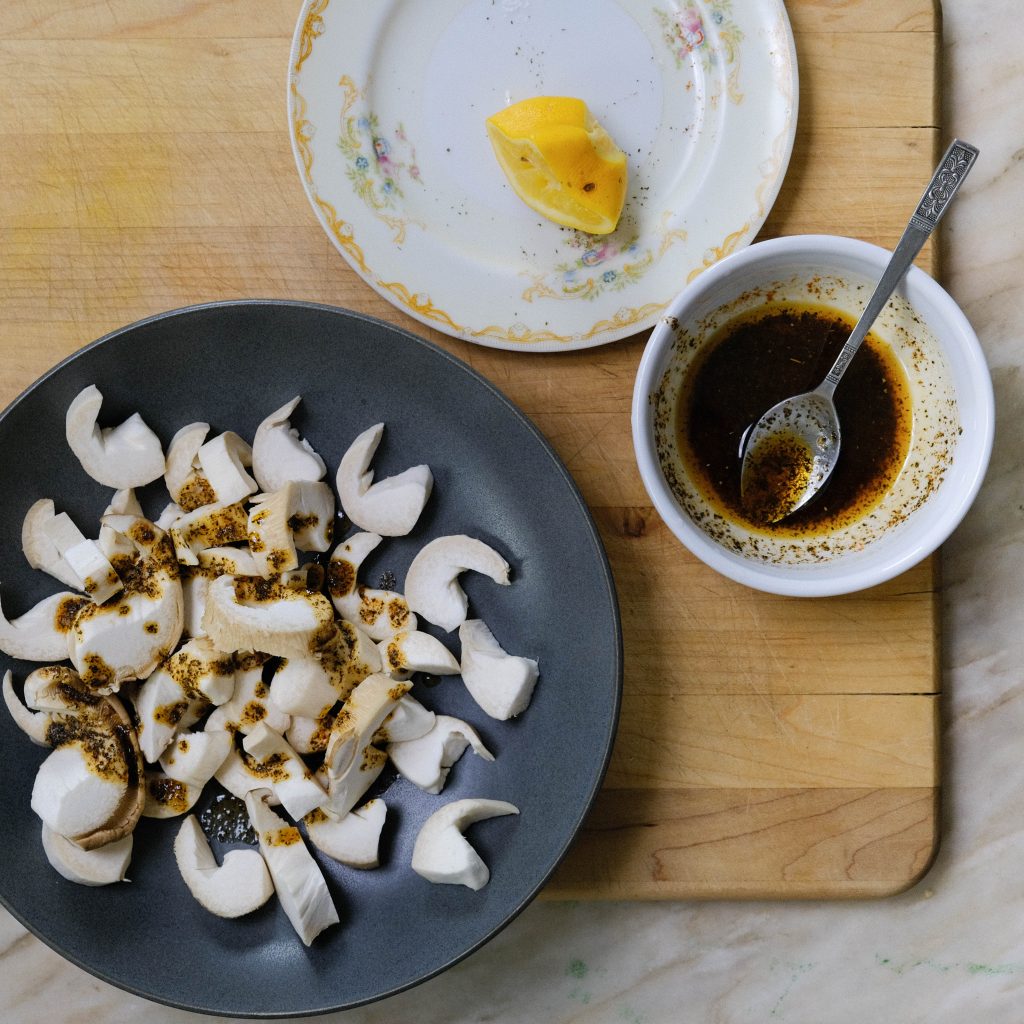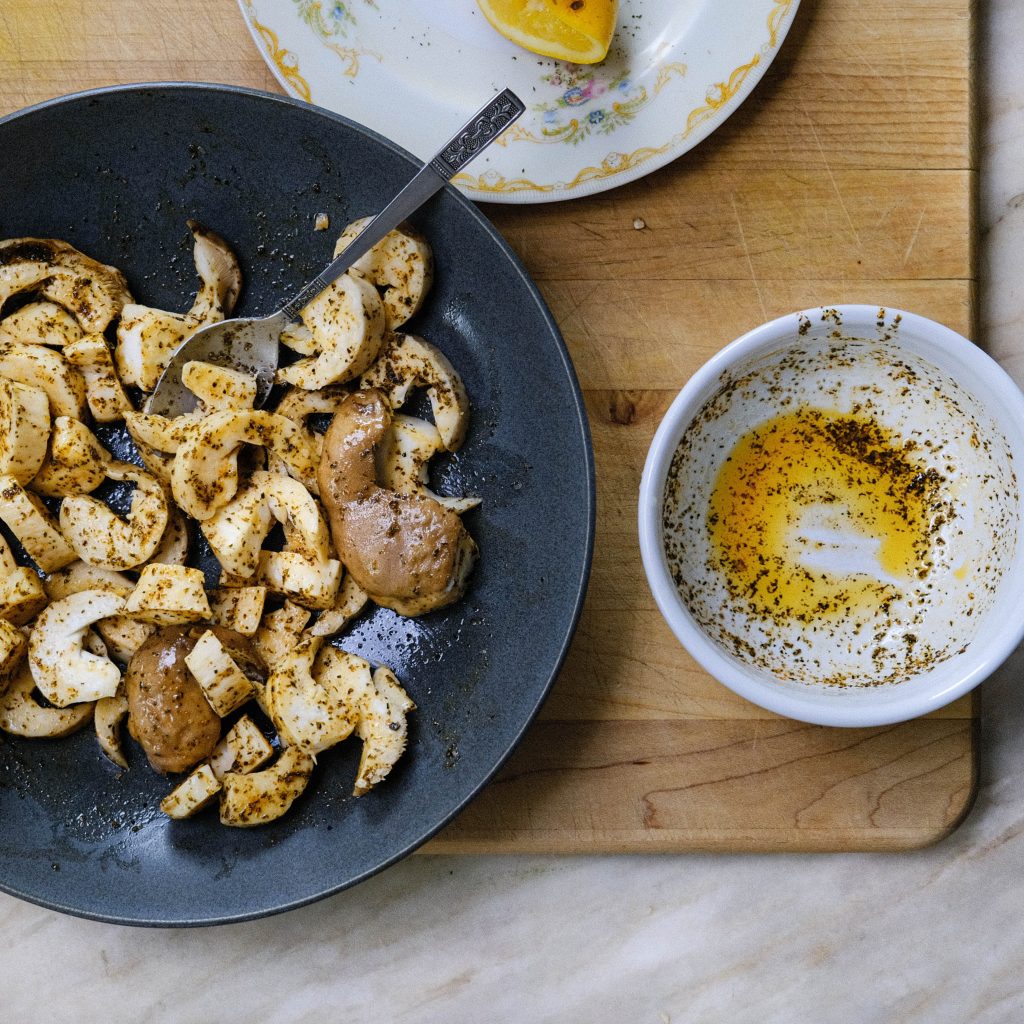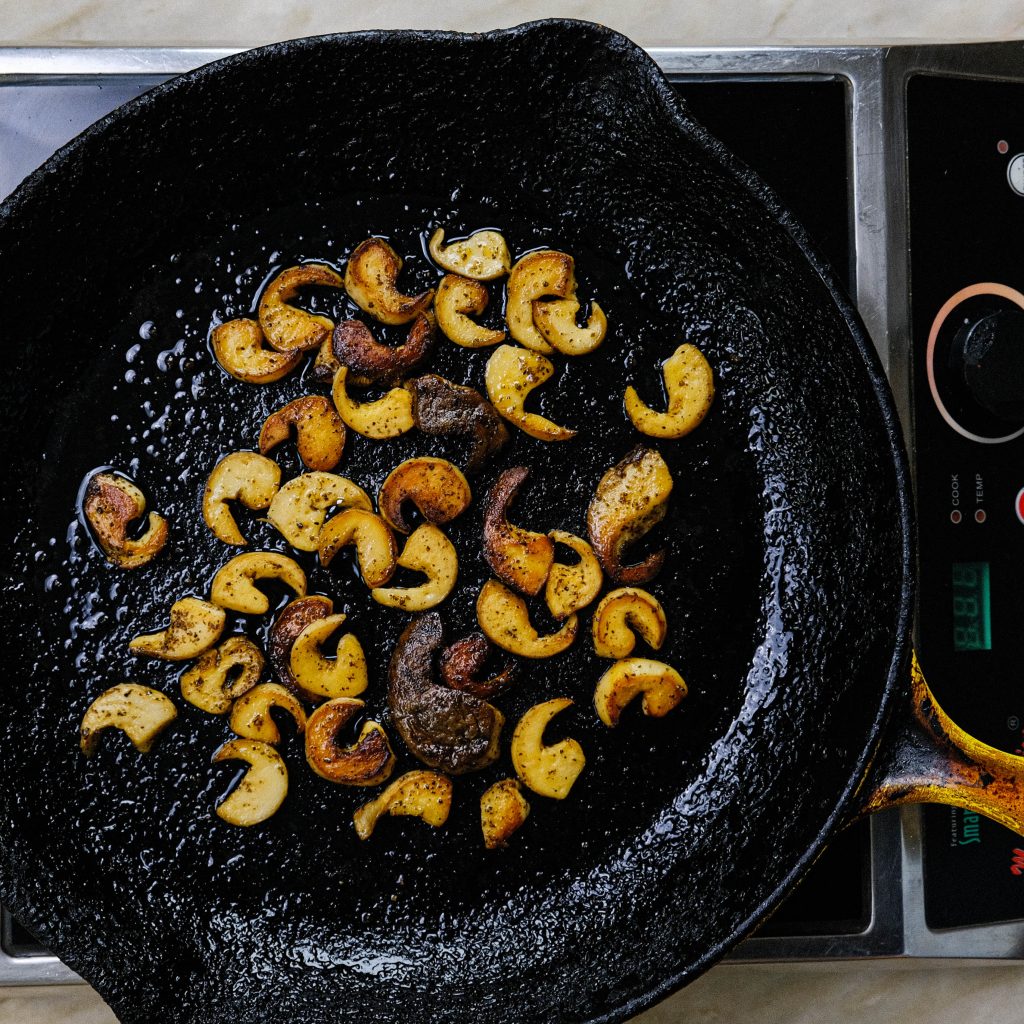 How to Make Bangladeshi Stir Fry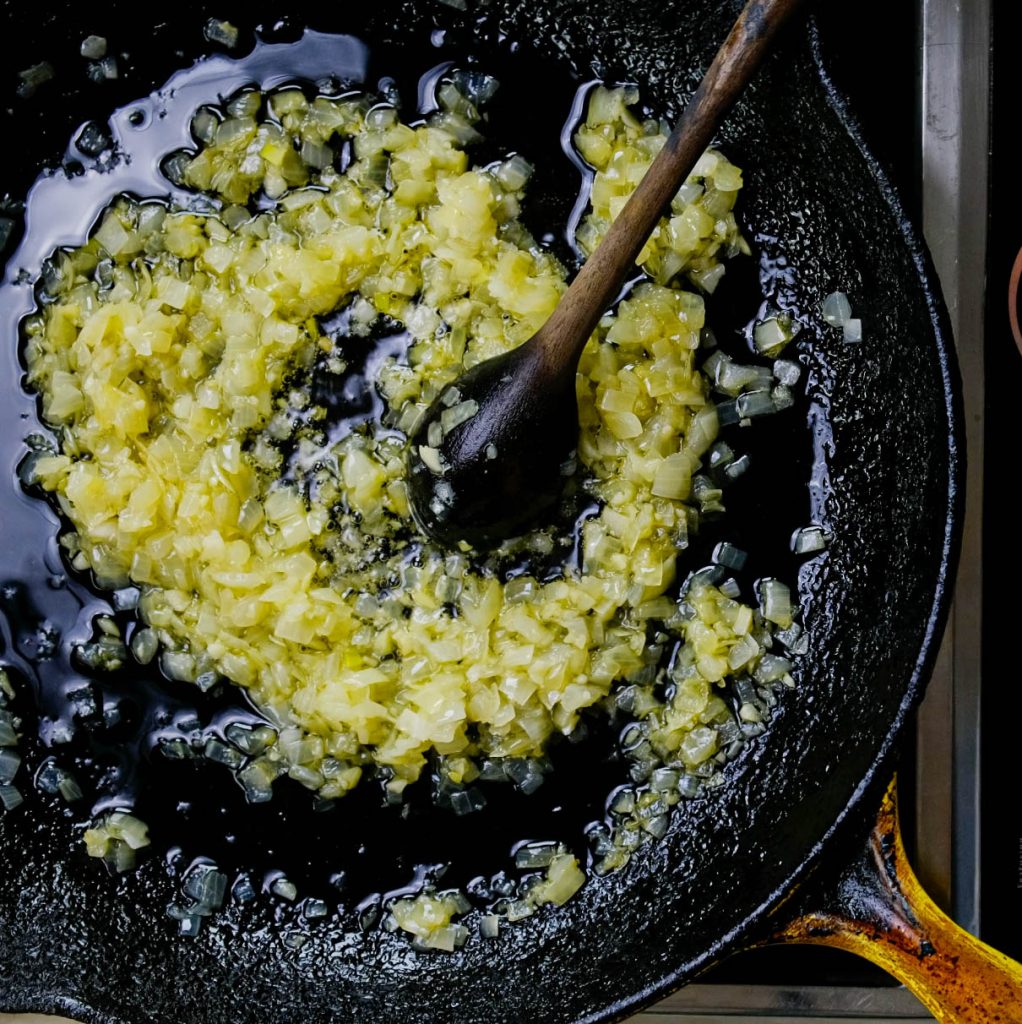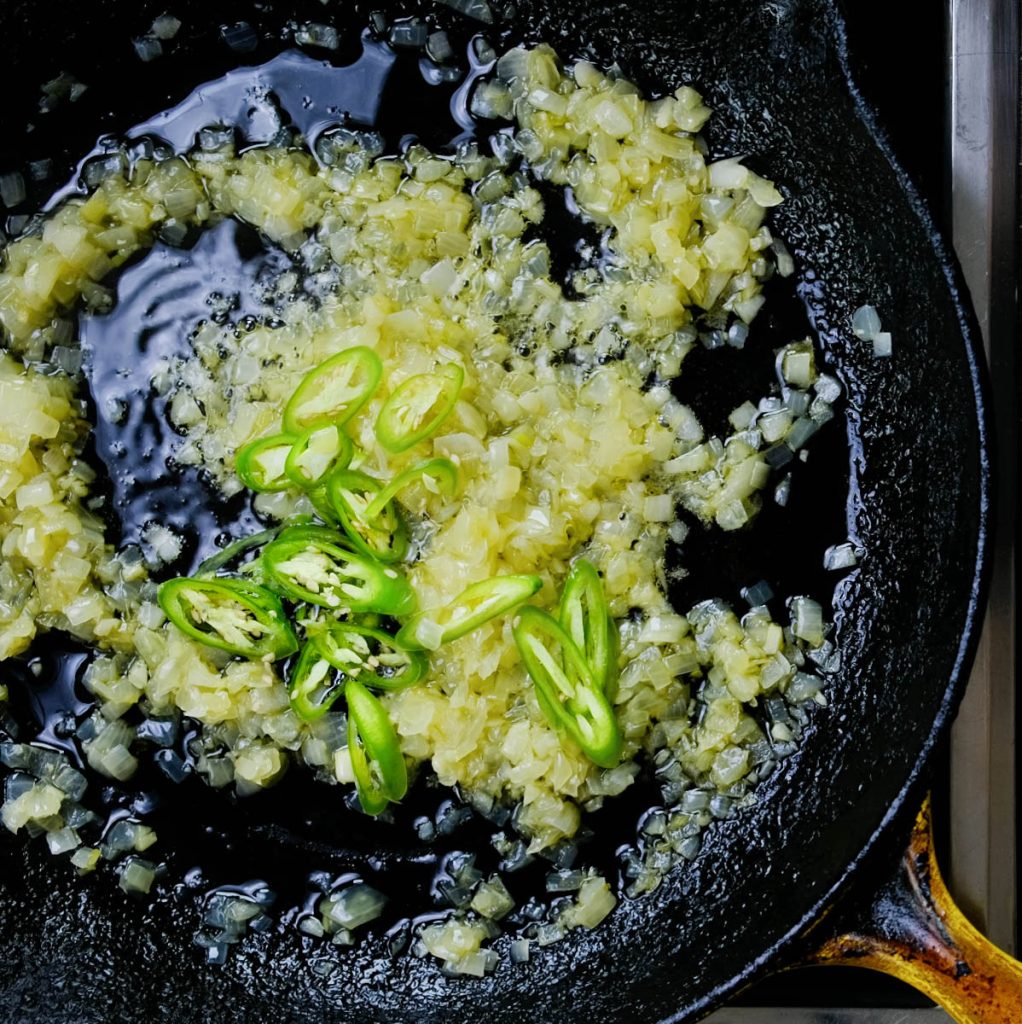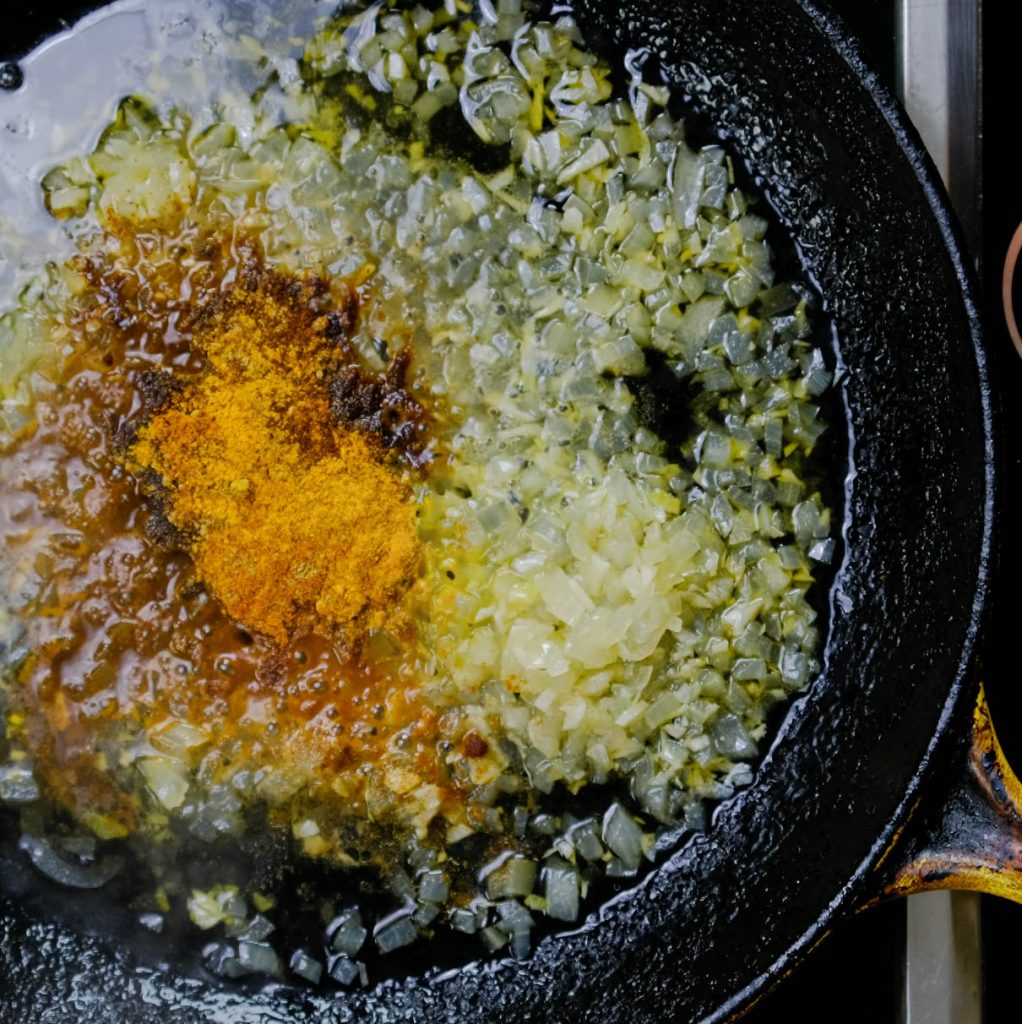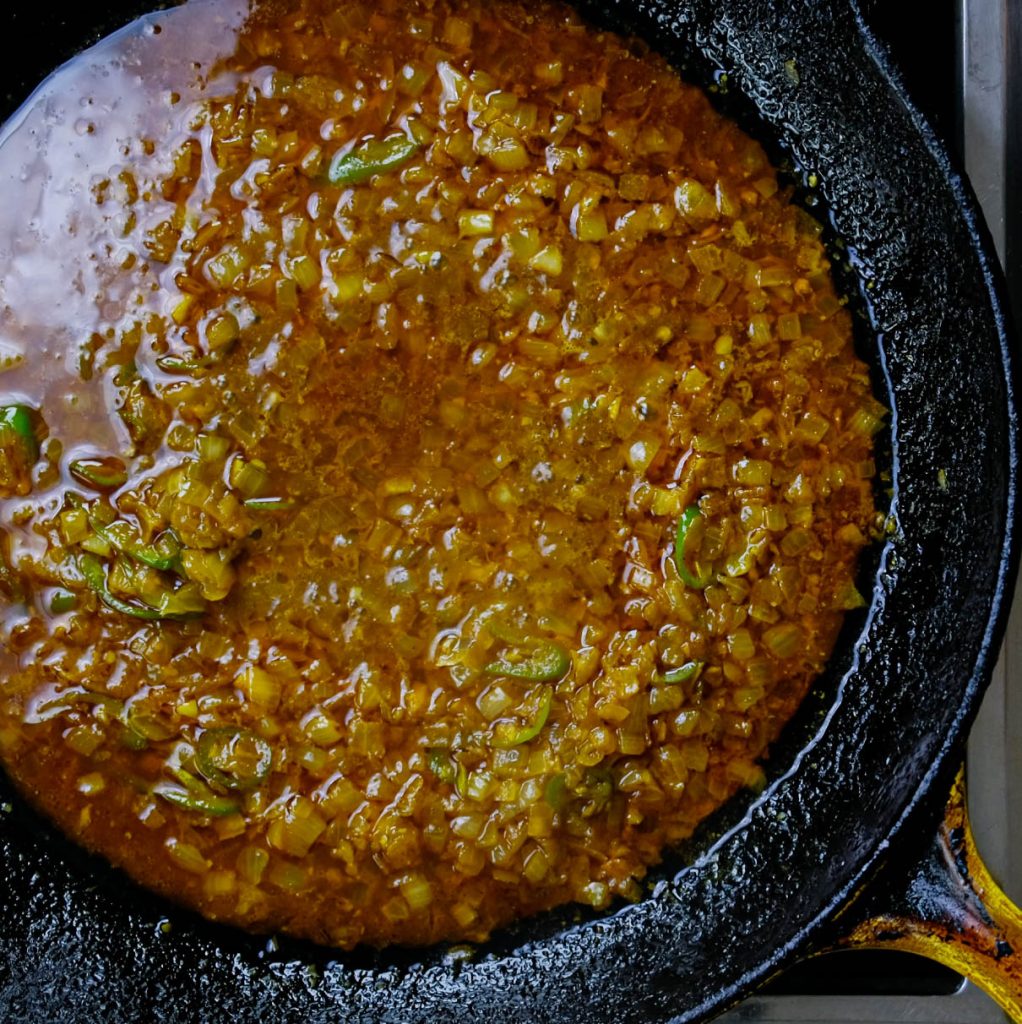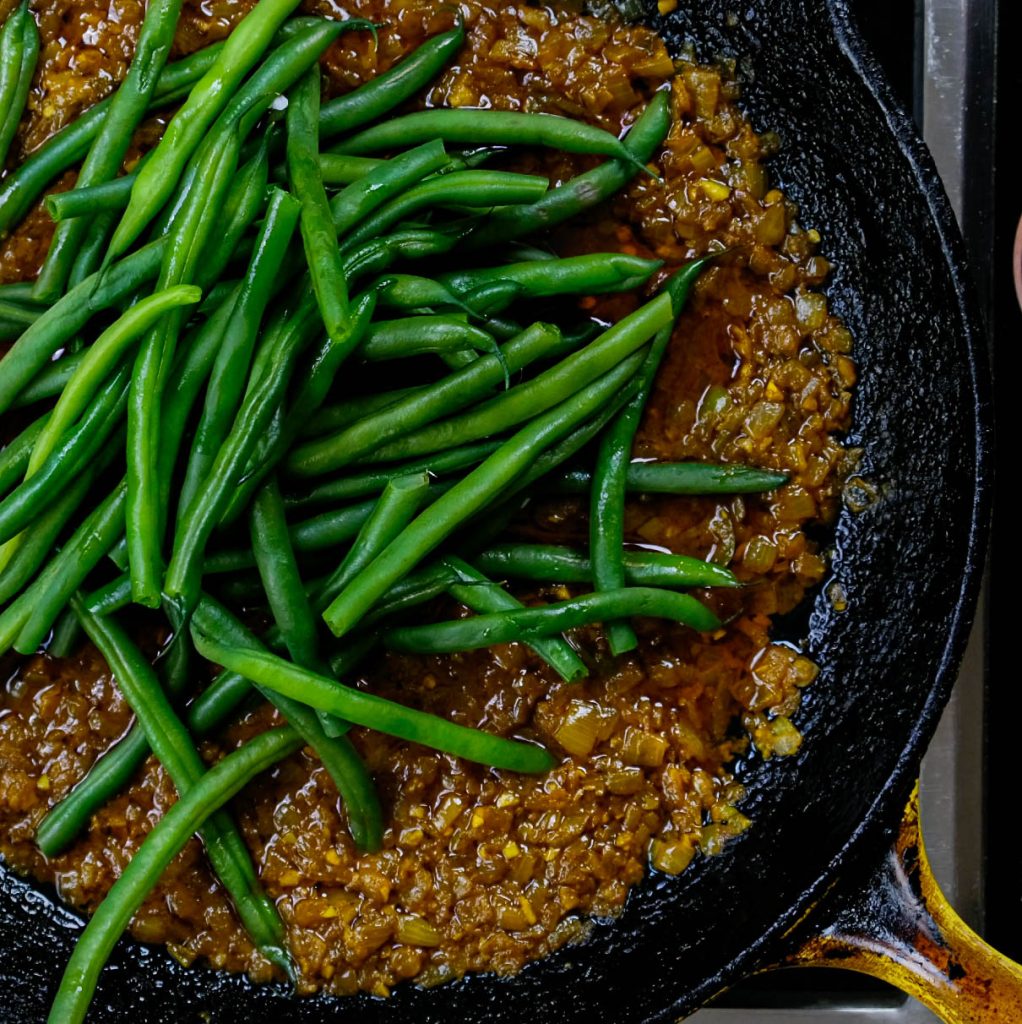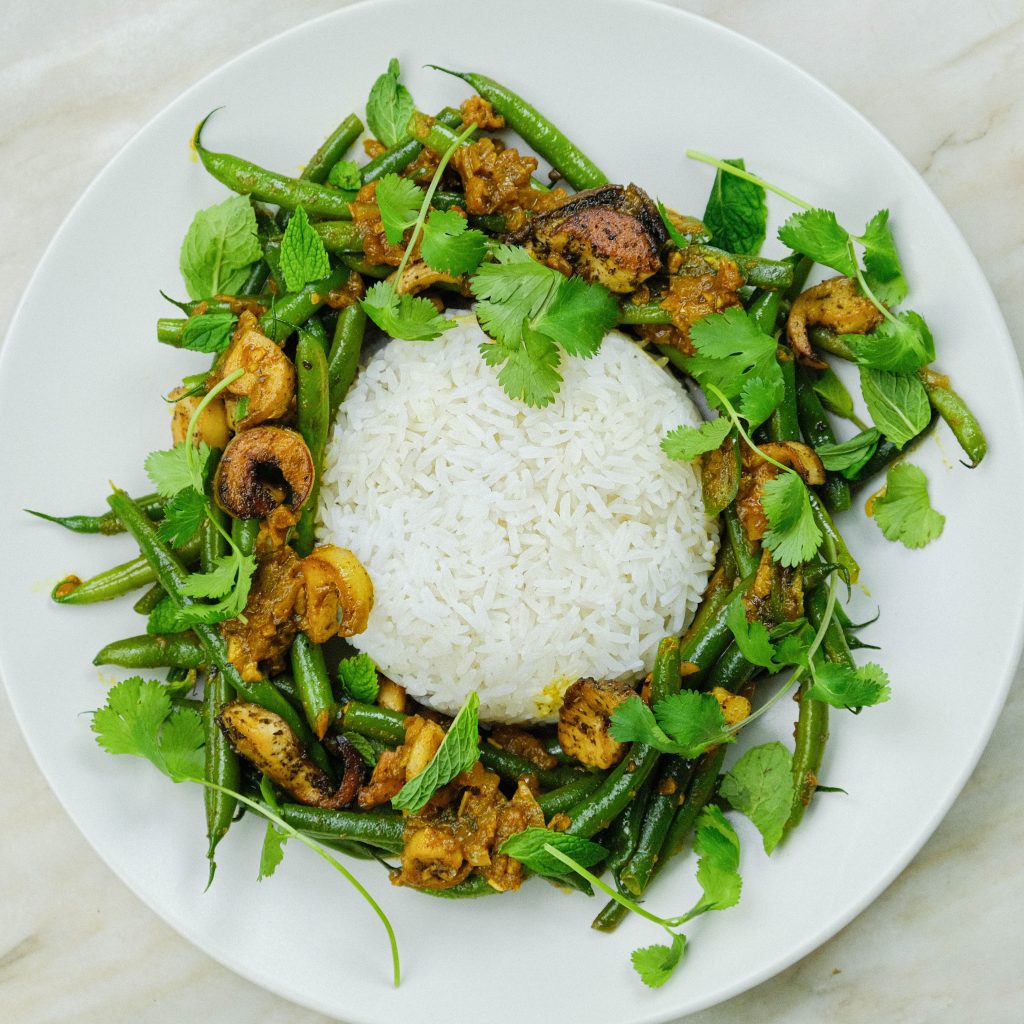 Chef's Tips
Bangladeshi Vegan Shrimp and Green Bean Stir Fry
Vegan shrimp made from king oyster mushrooms in a spicy rich sauce with green beans make an easy and tasty dinner or side dish.
Print Recipe
Ingredients
King Oyster Mushroom "Shrimp"
Garnish
½

cup

mint leaves

½

cup

cilantro leaves
Instructions
How to make King Oyster Mushroom "Shrimp"
Trim the bottom of the king oyster mushroom.

Using a pairing knife cut a Yin and Yang shape

Place the king oyster mushroom shrimp in a bowl.

Sean with the kelp granules, Old Bay seasoning, and lemon juice. Toss to coat and marinade for 20 minutes.

Heat a large cast iron pan over medium-high heat. Heat the extra virgin olive, and cook the mushrooms. Until golden brown on both sides.

Set the cooked mushrooms aside.
How to Make Bangladeshi saute
Heat a heavy cast iron over medium-low heat, and sauté the onions and garlic until soft, about 5 minutes.

Reduce the heat to low, and add the spices to the onions and garlic, cooking and stirring for 2 minutes.

Add the water or vegetable stock, and stir to combine.

Cover the pan for 5 minutes, the water should reduce by half, make sure to stir after 5 minutes.

Remove the stems for the green beans, and blanch the green beans in salted boiling water until just tender.

Slice the Serrano chile thinly.

Cook the sliced Serrano chili for 1 minute.

Add the green bean and the mushroom to the onion, and toss to evenly coat the green beans.

Serve with steamed Jasmine rice. Garnish the mint and cilantro leaves.
Nutrition
Calories:
193
kcal
|
Carbohydrates:
15
g
|
Protein:
3
g
|
Fat:
15
g
|
Saturated Fat:
2
g
|
Polyunsaturated Fat:
2
g
|
Monounsaturated Fat:
10
g
|
Sodium:
603
mg
|
Potassium:
417
mg
|
Fiber:
5
g
|
Sugar:
6
g
|
Vitamin A:
1539
IU
|
Vitamin C:
23
mg
|
Calcium:
86
mg
|
Iron:
2
mg