This vegan hamburger bun is a "must have" for your recipe collection. We know it can be hard to find a good bun from the store, so go ahead and try this recipe. You can always freeze the buns for later!
Vegan Hamburger Buns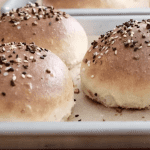 Vegan Hamburger Buns
Servings: 8 Buns
Calories: 306kcal
Print Recipe
Instructions
Place the flour into a bowl, combine all of the dry ingredients, mix. Combine the plant milk and the extra virgin olive oil. Add the wet ingredients to the flour. Stir to start forming the dough.

Place the dough on a floured surface and start to knead the dough. Start with folding the dough in half and pressing firmly down on the seam with the palms of your hands, press and push the dough forward at the same time. Repeat this for about 10 minute. The dough should become very smooth and the skin of the dough should be tight when shaped into a ball.

Place the dough in a lightly oiled bowl and cover with a cloth, place in a warm place for an 1 hour. The dough should double in size.

Remove the dough and portion buns into 8 pieces. The bun size is 4.5 ounce. After the dough has been portioned start to form the individual buns. Start with a ball and place your hand over the dough, gently roll in a circle using the finger tips to form a ball and tuck the sides down into the ball. The dough should have tight skin and be smooth.

Place the formed buns on a parchment lined baking sheet and cover with a cloth. Allow the dough to rise or 30 minus. The buns should double in size.

Mix the plant milk and maple syrup. Using a pastry brush, gently glaze the buns, making sure to not press too hard on the buns. Optional: Season with sesame seeds or Everything Seasoning.

Place the buns in a pre-heated oven set at 350 degrees. Cook for about 15 minutes. The buns should be a deep gold brown.

Remove buns from the oven allow to cool completely.
Notes
Nutritional Values are an estimate.
Nutrition
Serving: 4.5Ounces | Calories: 306kcal | Carbohydrates: 55g | Protein: 7g | Fat: 6g | Saturated Fat: 1g | Polyunsaturated Fat: 1g | Monounsaturated Fat: 4g | Sodium: 461mg | Potassium: 97mg | Fiber: 2g | Sugar: 10g | Vitamin A: 100IU | Calcium: 84mg | Iron: 3mg
Shop the Recipe...