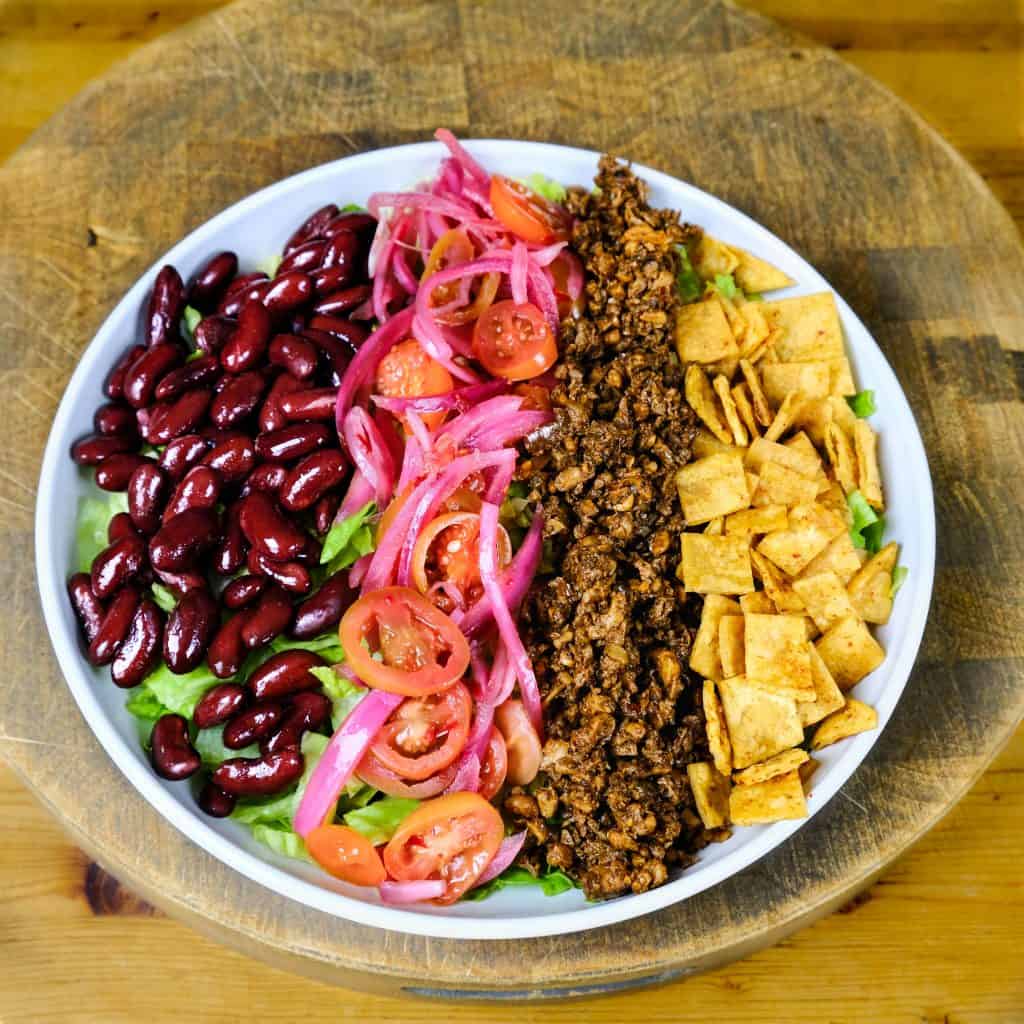 You're going to love this new Vegan Taco Salad recipe! Taco salad was a weekly dinner in rotation at our house growing up. In fact, my Mom would pull out the bright red Catalina dressing and we would throw together all of the elements to make a quick dinner that you can assemble to your personal tastes.
This tradition continued into adulthood. As a result, we would have the entire family over for Taco Salad night! However, after going plant-based, we found ourselves wanting this same simple pleasure so we adapted this recipe to fill the need. You can add countless elements to your vegan taco salad including the always-beloved avocado, black olives, and roasted peppers, just to name a few.
The "chorizo" crumble is a great meat substitute for a plethora of dishes including tacos, pasta dishes, or sloppy joe base.
As far as the assembly, there are innumerable ways to go about this. We like to make food look pretty so we made rows but for simplicity, you can put it all in a bowl and toss it to your liking. We hope you enjoy this Vegan Taco Salad as much as we do.
How to Make Vegan Taco Salad
Chefs Tips
You can make all of the elements for Vegan Taco Salad ahead of time. Then when it's time to eat, you can assemble and be eating within minutes.
Serving Suggestions
Making this salad look pretty is fun but really you want to toss it all together and get elements of all the flavors in one bite.
For groups, we recommend letting people build their own salad so they can get more of each of their favorite items.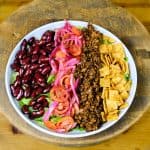 Vegan Taco Salad
Vegan Taco Salad is satisfying with vegan chorizo crumble, pickled red onions, homemade Fritos, tomato, kidney beans, and our own vegan Catalina dressing!
Print Recipe
Ingredients
Chorizo Crumble
8

oz

button mushrooms

2

cups

walnuts

2 ½

cups

cauliflower

small florets
Chili lime "Frito's"
4-5

corn tortillas

1

Tbsp

chili lime seasoning

4

cups

grapeseed oil
Salad
1

head

romaine lettuce

chopped

1

can

kidney beans

drained & rinsed
Instructions
Chorizo Crumble method
Heat a sauté pan over medium heat, add the extra virgin olive oil, followed with cumin, smoked paprika and poultry seasoning. Cook and stir for 2 minutes, add the brown sugar, molasses, tomato paste, minced onions and chopped garlic. Continue to cook on medium low heat for another 3 minutes, the spice mixture should be smelling very fragrant.

Place the cauliflower florets in a food processor, pulse a few times to create a small crumbly texture, and place in a bowl. Cut the button mushrooms into quarters, place the mushrooms in the food processor, looking for that same small crumble texture, and add to the bowl with the cauliflower. Lastly, add the walnut pieces, and pulse to get that small crumbly texture. Mix the three together.

Heat a large sauté pan over high heat, add extra virgin olive oil, add the crumble to the pan. Let the mixture cook without moving the crumble, we are looking to get a crust and sear on the crumble. After about 3 minutes go ahead and stir the mixture, and reduce the heat to medium. The goal here is to start to remove the moisture in the crumble, and cook for a total of 15 minutes.

Add the chili paste to the crumble, and stir to combine. Place in the oven, cooking for 15-20 minutes. Stir every 10-ish minutes to make sure the bottom doesn't start to stick and burn. The crumble should be starting to dehydrate but still have some moisture to it.
Catalina dressing method
Place all of the ingredients into a bowl except the Extra Virgin Olive Oil, using a handheld immersion blender slowly add the oil.
Quick Pickle salad method
Heat the red wine vinegar over low heat, add the salt and sugar to dissolve. Add the red onion and tomatoes. Place in a large bowl and set aside.
Chili lime "Frito's" method
Cut the corn tortillas into small squares.

Place small batches of the corn squares into the hot oil, be careful to not overload the pot otherwise the oil will bubble over the top of the pot. Cook until golden brown. Using a spider skimmer remove from the oil, place in a bowl and toss with the chili-lime seasoning to coat evenly. Place "Frito's" on a drip rack to cool. Repeat until all tortillas have been cooked.
Assembly
We like to make everything look nice so we tossed the romaine in about 2 Tbsp of dressing then made nice rows of each component. You can also just add as much of each of the elements to your salad as you like and toss to incorporate.
Notes
Nutritional values are an estimate.
Nutrition
Calories:
481
kcal
|
Carbohydrates:
54
g
|
Protein:
12
g
|
Fat:
28
g
|
Saturated Fat:
3
g
|
Polyunsaturated Fat:
19
g
|
Monounsaturated Fat:
4
g
|
Sodium:
2063
mg
|
Potassium:
1285
mg
|
Fiber:
10
g
|
Sugar:
34
g
|
Vitamin A:
12170
IU
|
Vitamin C:
43
mg
|
Calcium:
192
mg
|
Iron:
7
mg