We love this Mediterranean inspired chutney. The full bright flavors are perfect for the Zucchini Socca. This recipe is very easy to assemble. You can add more water to create a vinaigrette if you prefer.
Caper and Kalamata Olive Chutney
Chefs Tips
Toasting garlic is one of the most time-sensitive cooking techniques there is, however, once you have it down you are all set to start adding toasted garlic to your recipes.
The biggest thing to remember is that garlic cooks very fast, it will go from almost perfect to burnt before you even have time to react.
Here are the two methods to making perfect toasted garlic.
First, you have to pay attention to the color of the garlic as it is cooking. When the garlic first starts to turn a light brown that is when you need to turn the heat off and get it out of the hot pan. The heat of the oil will continue to cook the garlic slowly.

The second method to add a liquid to the oil to stop the cooking of the garlic. In the this recipe, I use red wine vinegar to stop the cooking of the garlic. I allow the garlic to cook until it reaches a deep golden brown then add the vinegar to stop the cooking.
Serving Suggestions
The final step in this recipe give you the option to keep it thicker like a chutney or thin it out like a vinaigrette. If you want to think it out, it would be a great salad dressing option.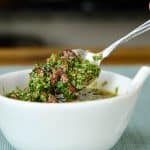 Caper Kalamata Olive Chutney
Servings: 8 ounces
Calories: 68kcal
Print Recipe
Instructions
How to make caper kalamata olive chutney
Heat the olive oil in a pan over low heat, add the garlic, cooking until the garlic just starts to turn a light brown. Turn the heat off.

Add the red wine vinegar to the olive oil and garlic. This will stop the cooking of the garlic.

Add the chopped capers, Kalamata olives, crushed red peppers, and salt.

Once the mixture is cool add the chopped herbs. Add water to adjust how thick you want your chutney to be. Mix and serve.
Notes
Nutritional values are an estimate.
Nutrition
Serving: 1oz. | Calories: 68kcal | Carbohydrates: 1g | Protein: 1g | Fat: 7g | Saturated Fat: 1g | Polyunsaturated Fat: 1g | Monounsaturated Fat: 5g | Sodium: 134mg | Potassium: 16mg | Fiber: 1g | Sugar: 1g | Vitamin A: 139IU | Vitamin C: 2mg | Calcium: 7mg | Iron: 1mg
Shop the Recipe...