Garlic Crusted Eggplant with Polenta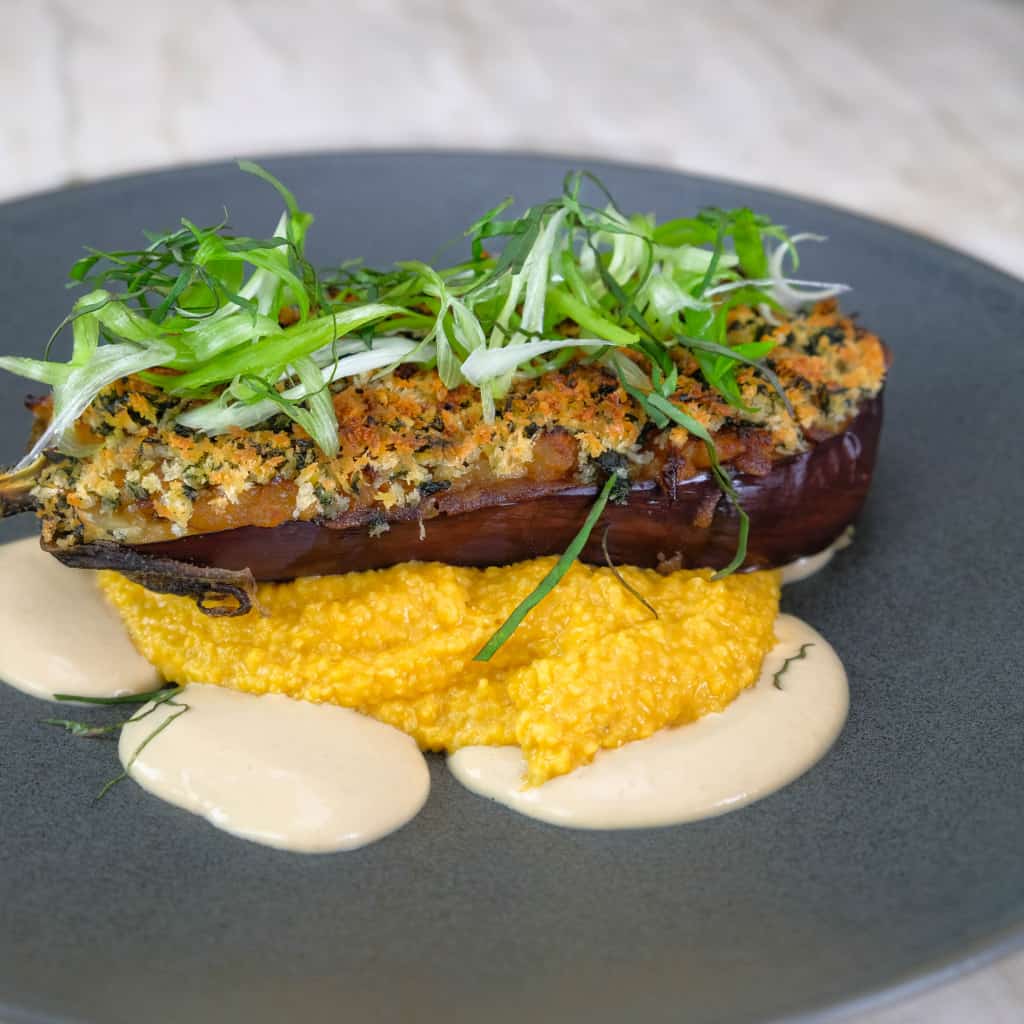 Garlic Crusted Eggplant with Miso Mascarpone Polenta is an eggplant polenta recipe that will thrill your tastebuds.
Polenta is a classic partner to roasted eggplant. This recipe is not your usual recipe. I have taken it to a new level of flavor. Garlic confit is a driver of flavor, umami, and creaminess. The eggplant is coated with garlic confit and topped with an aromatic Thai basil breadcrumb topping. 
A simple bowl of polenta with a spoonful of vegan mascarpone cheese in the middle turned out to be a moment that changed me on so many levels. A simple dish at Zuni Cafe has been on my mind for more than a decade. 
I have made this dish so many times I can't keep track, however, I have never made a vegan version that hit the same as that night at Zuni Cafe, until now.
It comes down to adding the vegan miso mascarpone cheese to this recipe. The creamy puree is flavored with aged red miso and a dash of sweetness for the maple syrup. It's this step that has recreated that creamy, smooth, rich creamy polenta. 
WHAT YOU NEED…
How To Make Miso Mascarpone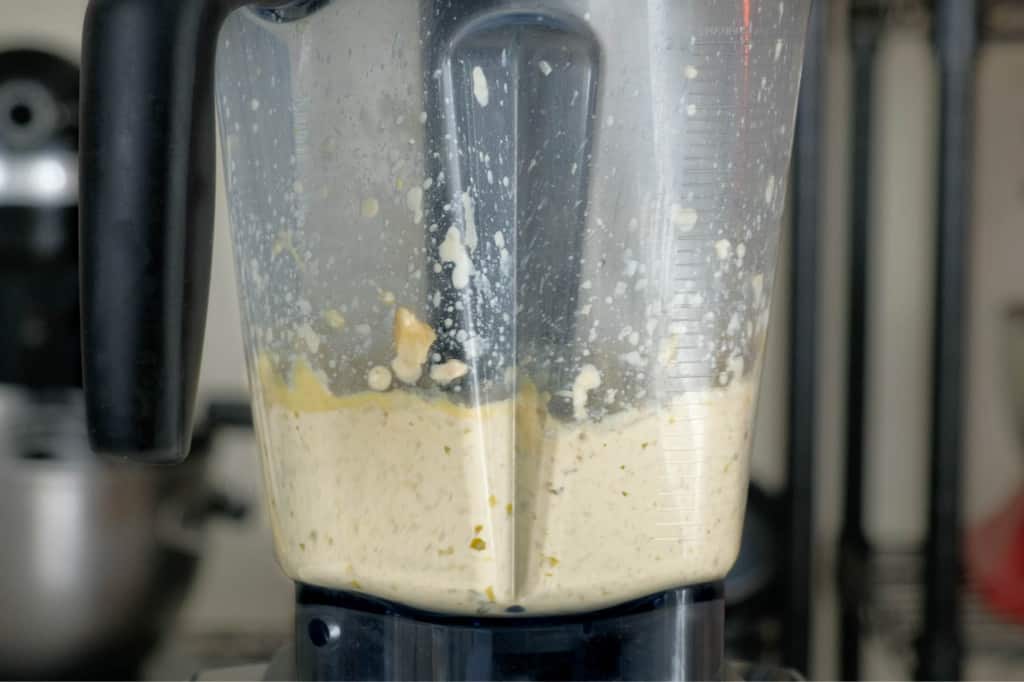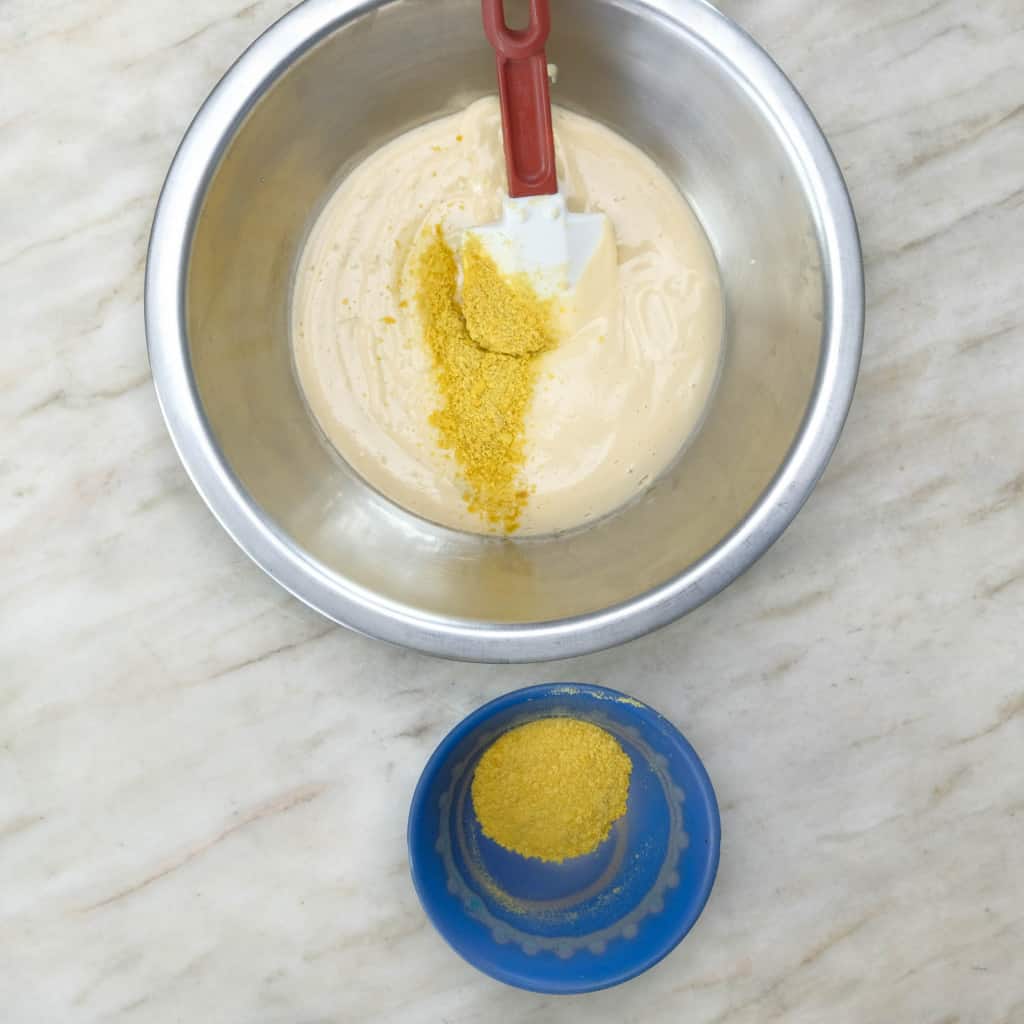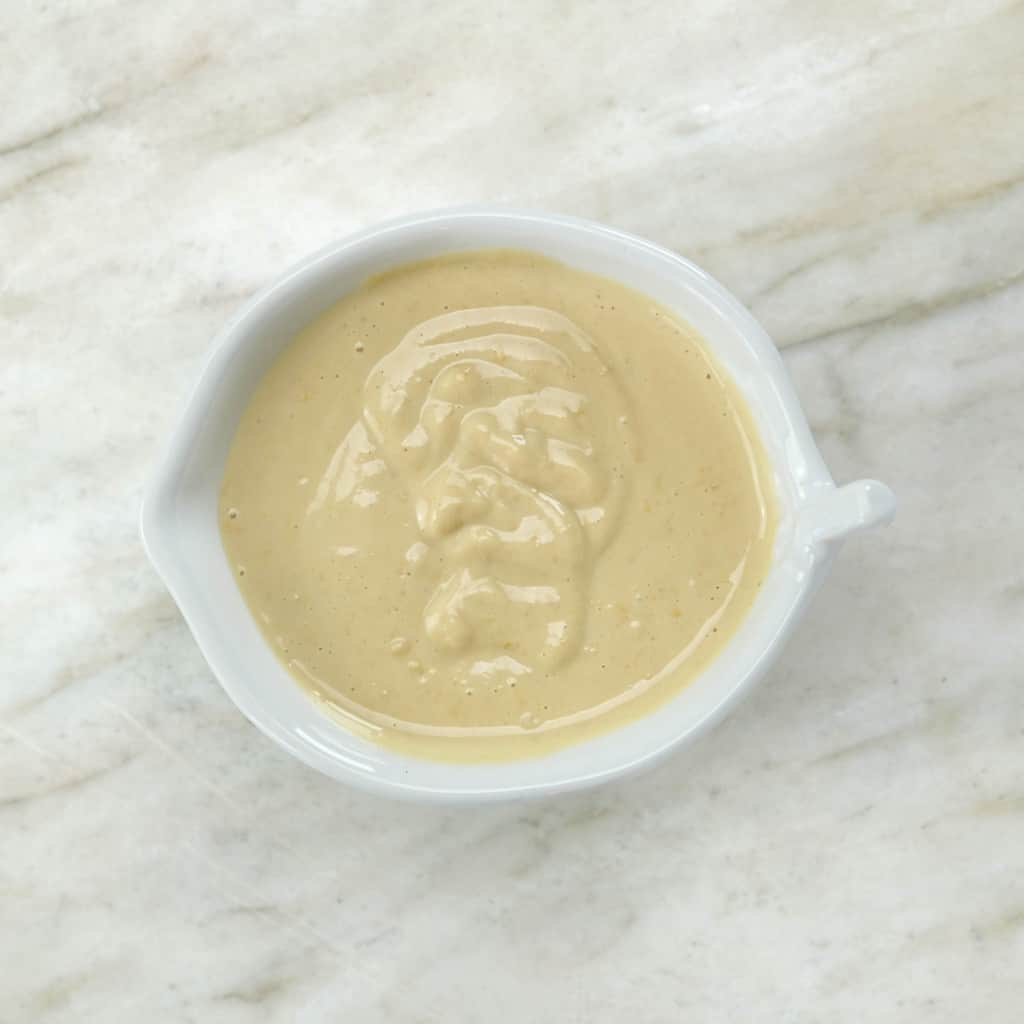 How to Make Creamy Polenta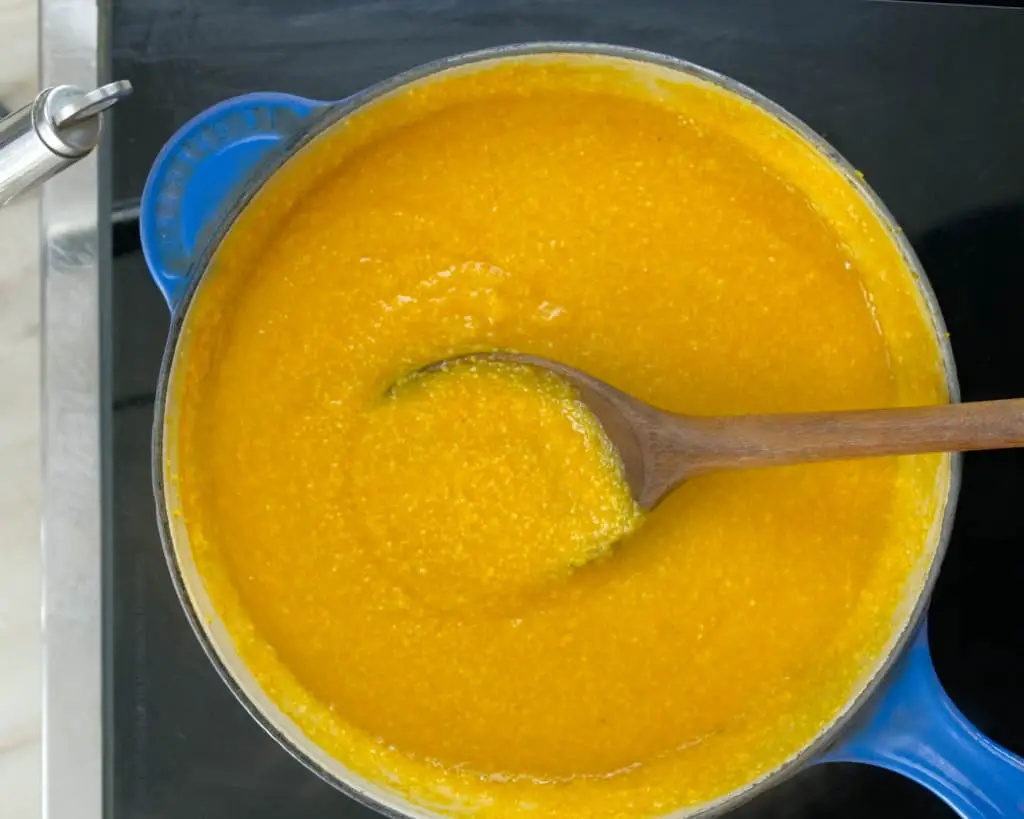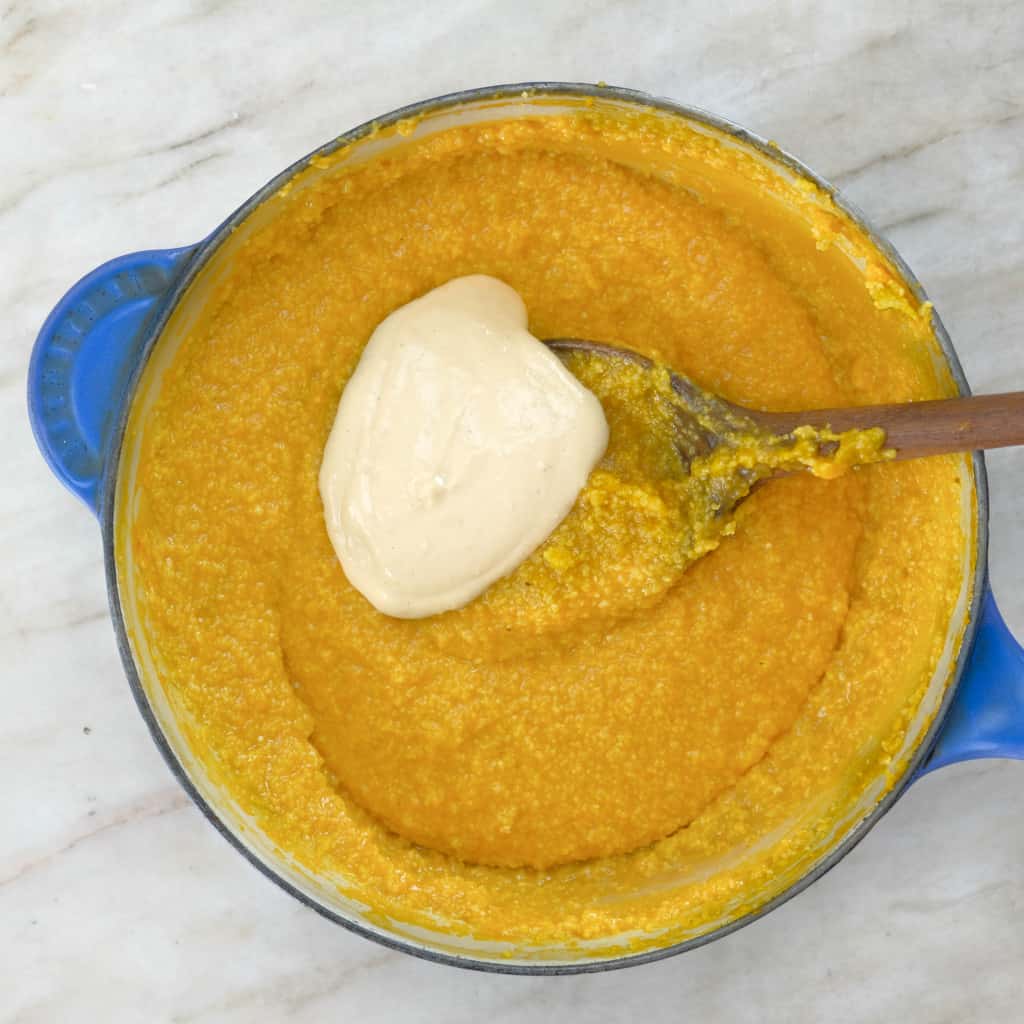 How to Make Balsamic Roasted Eggplant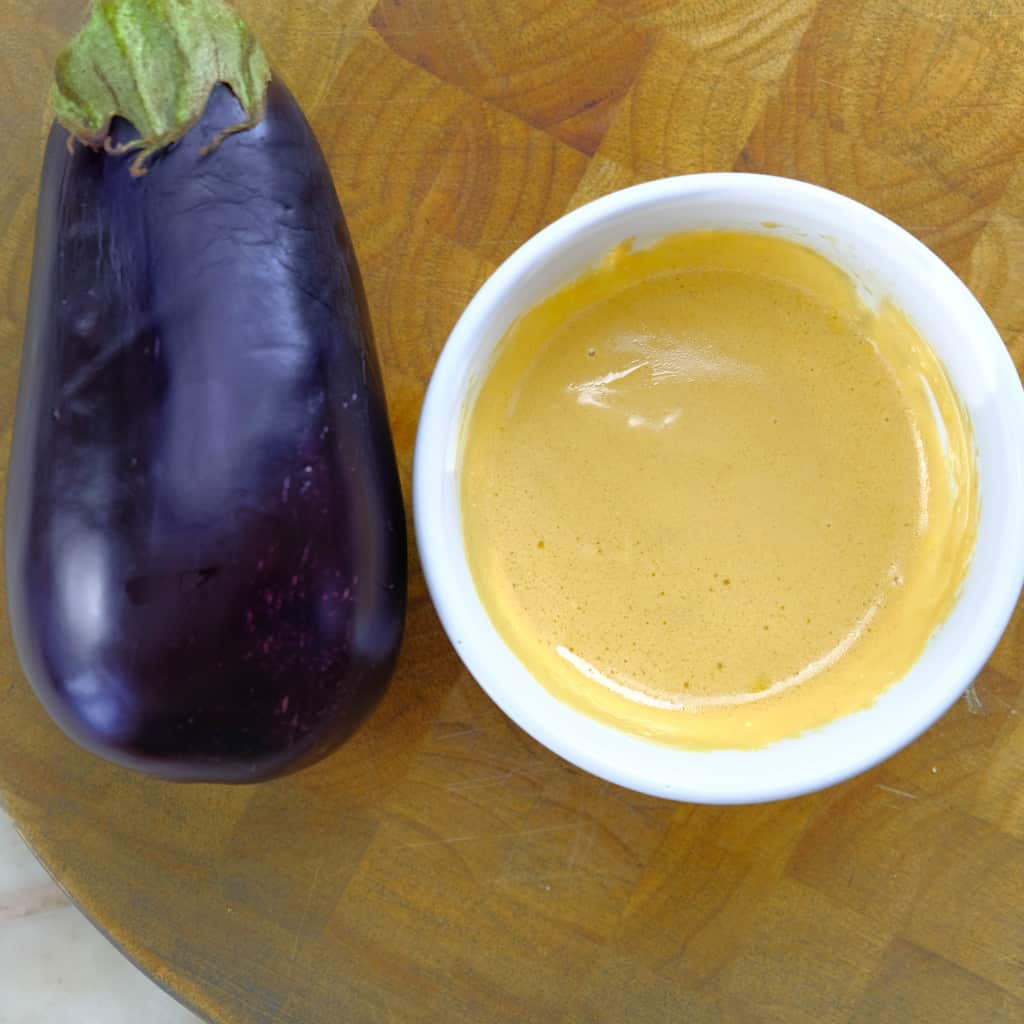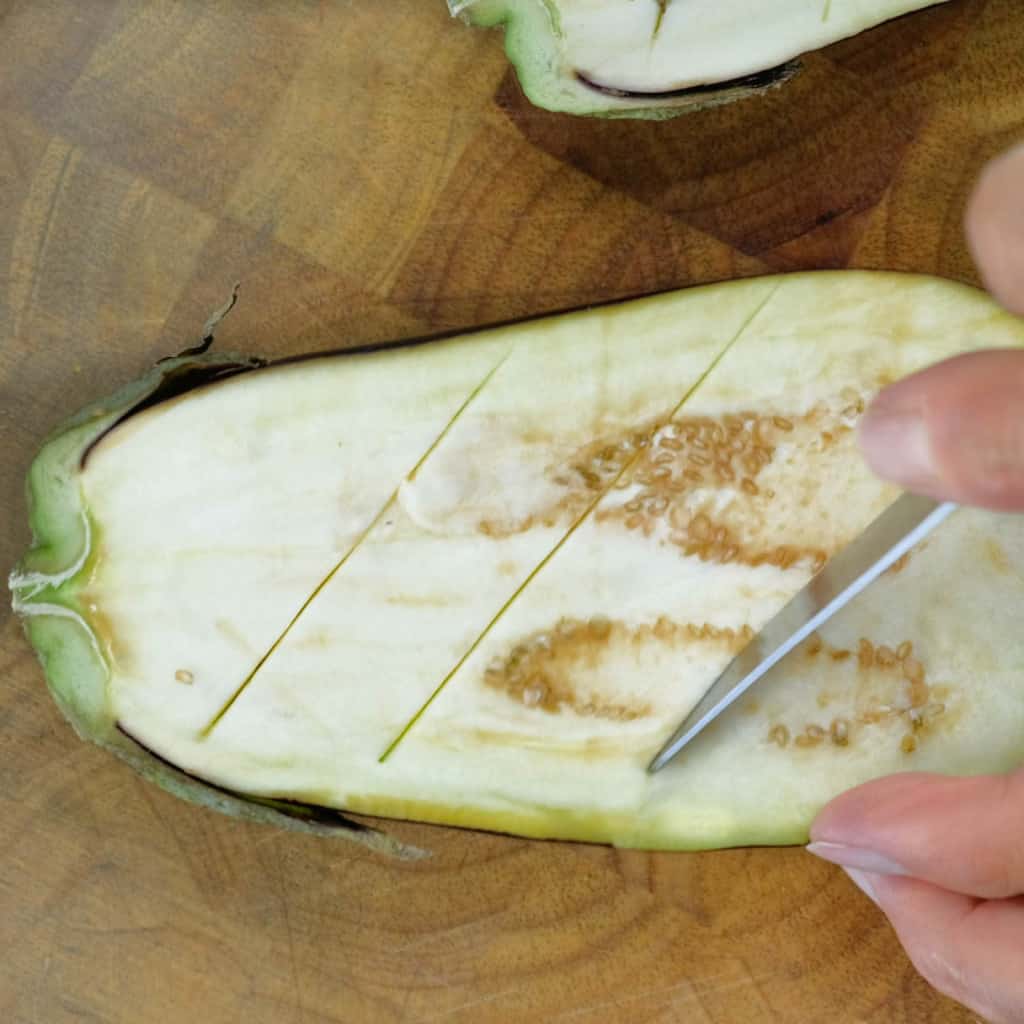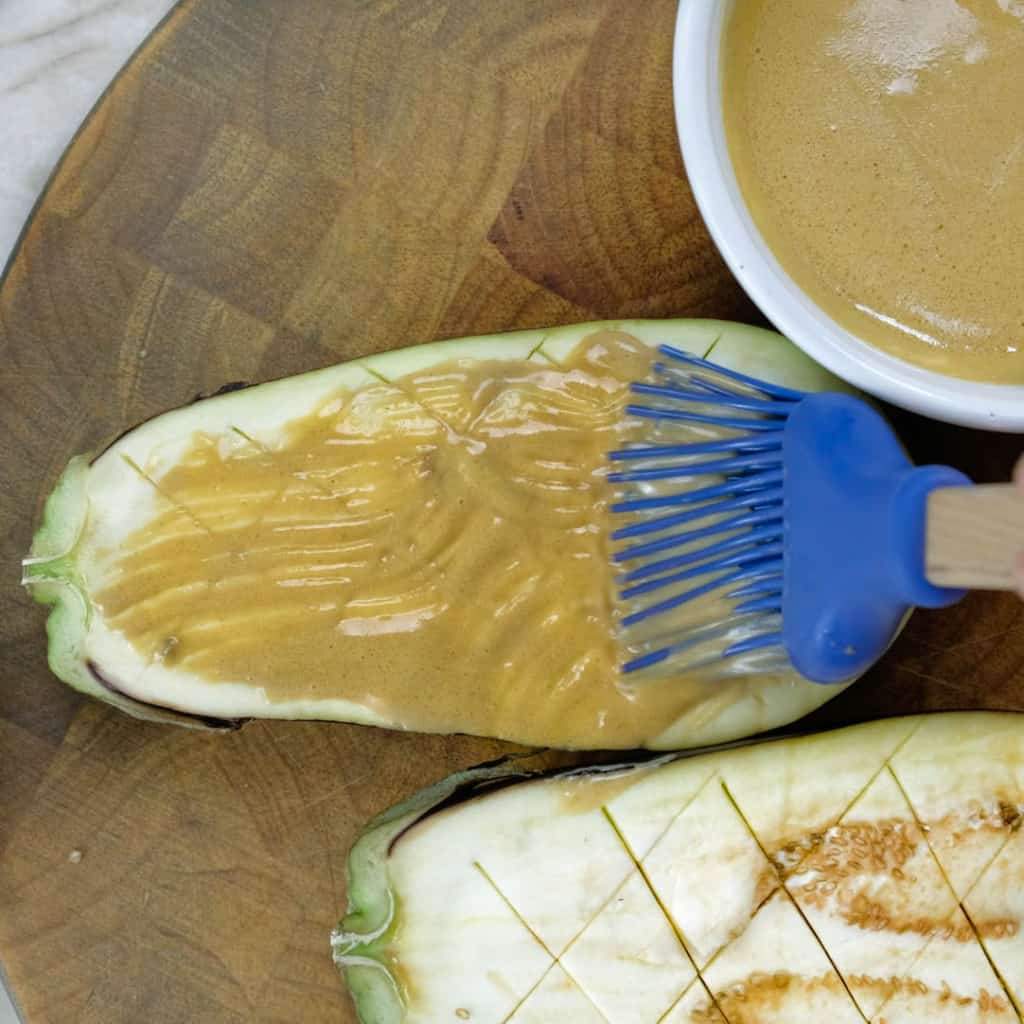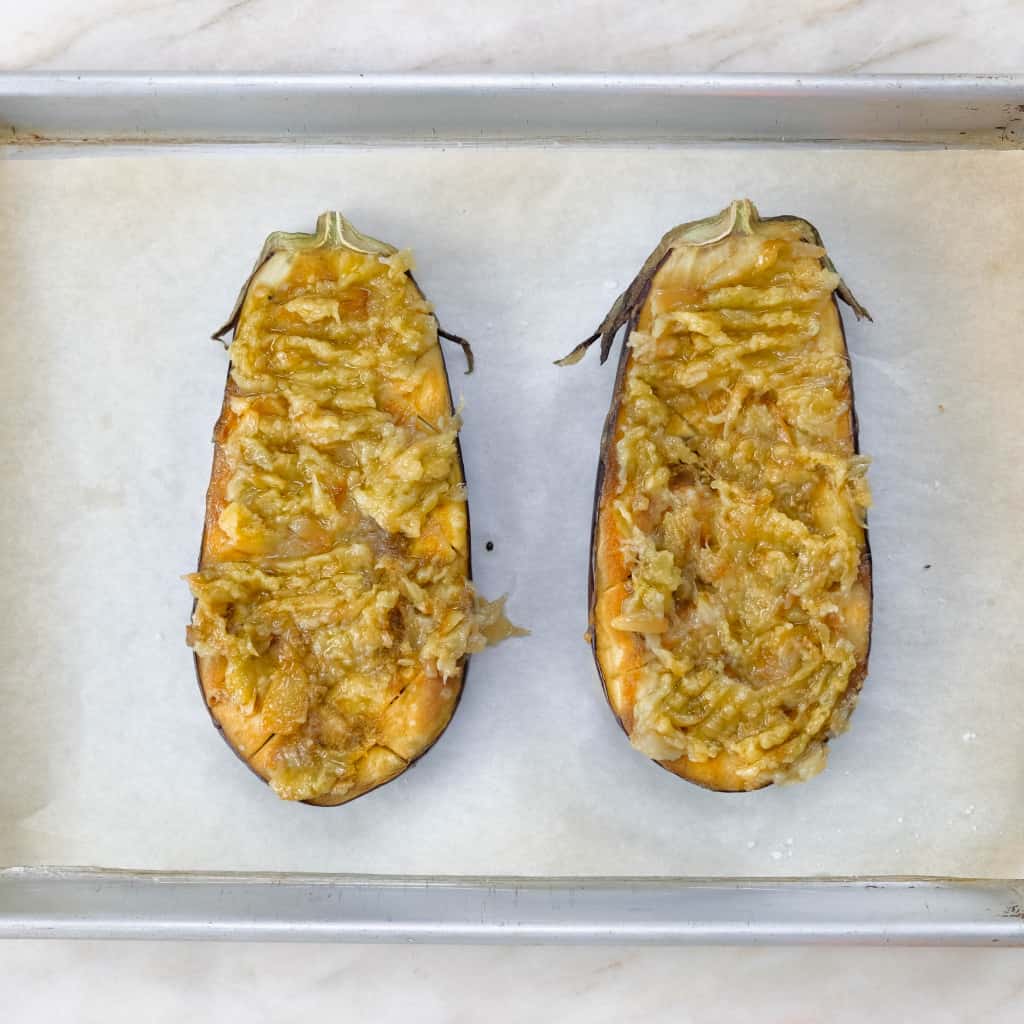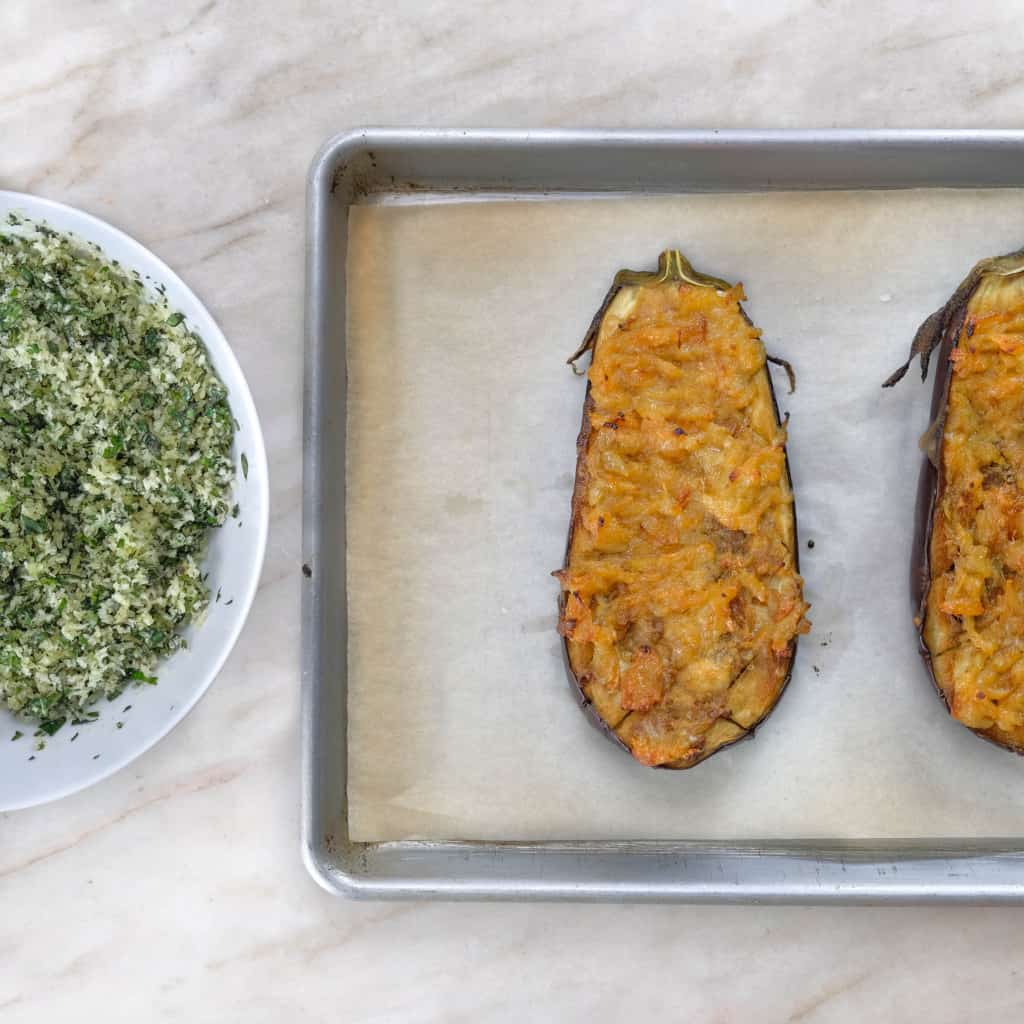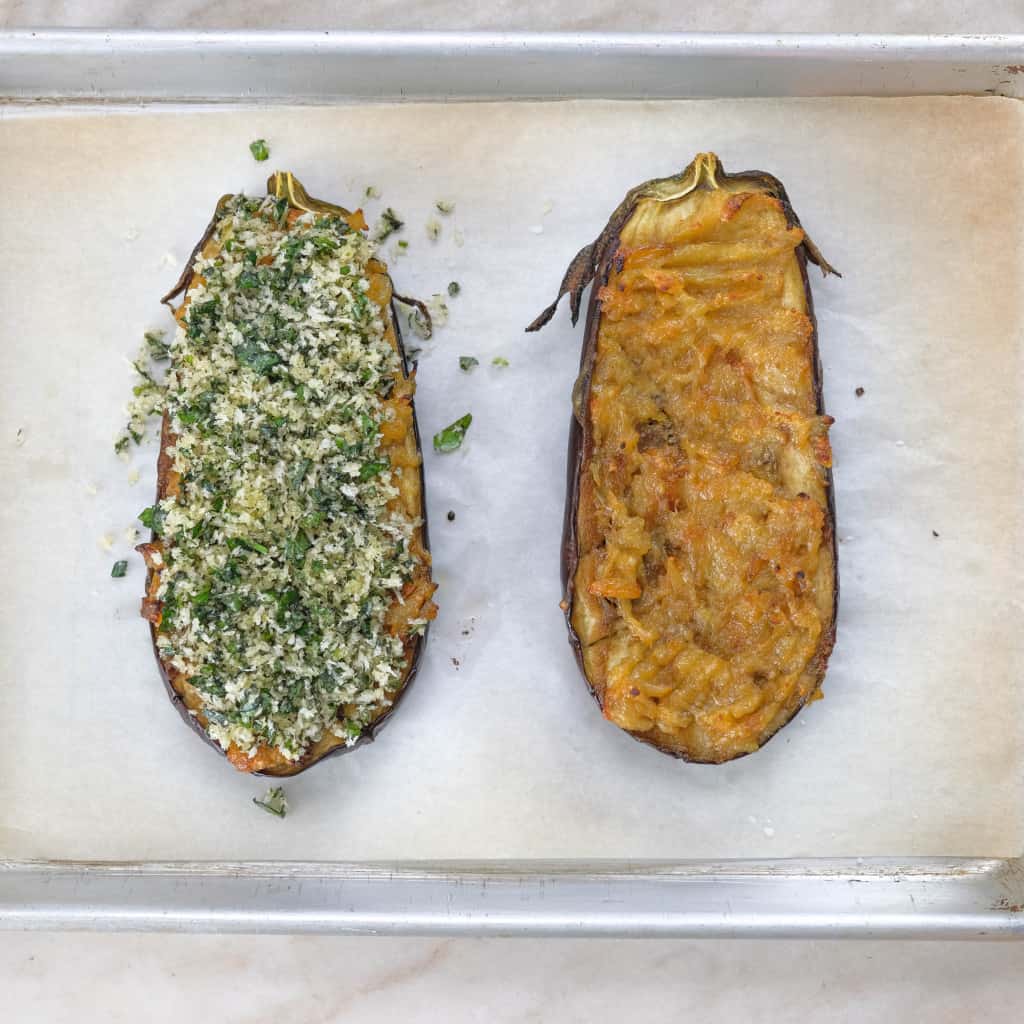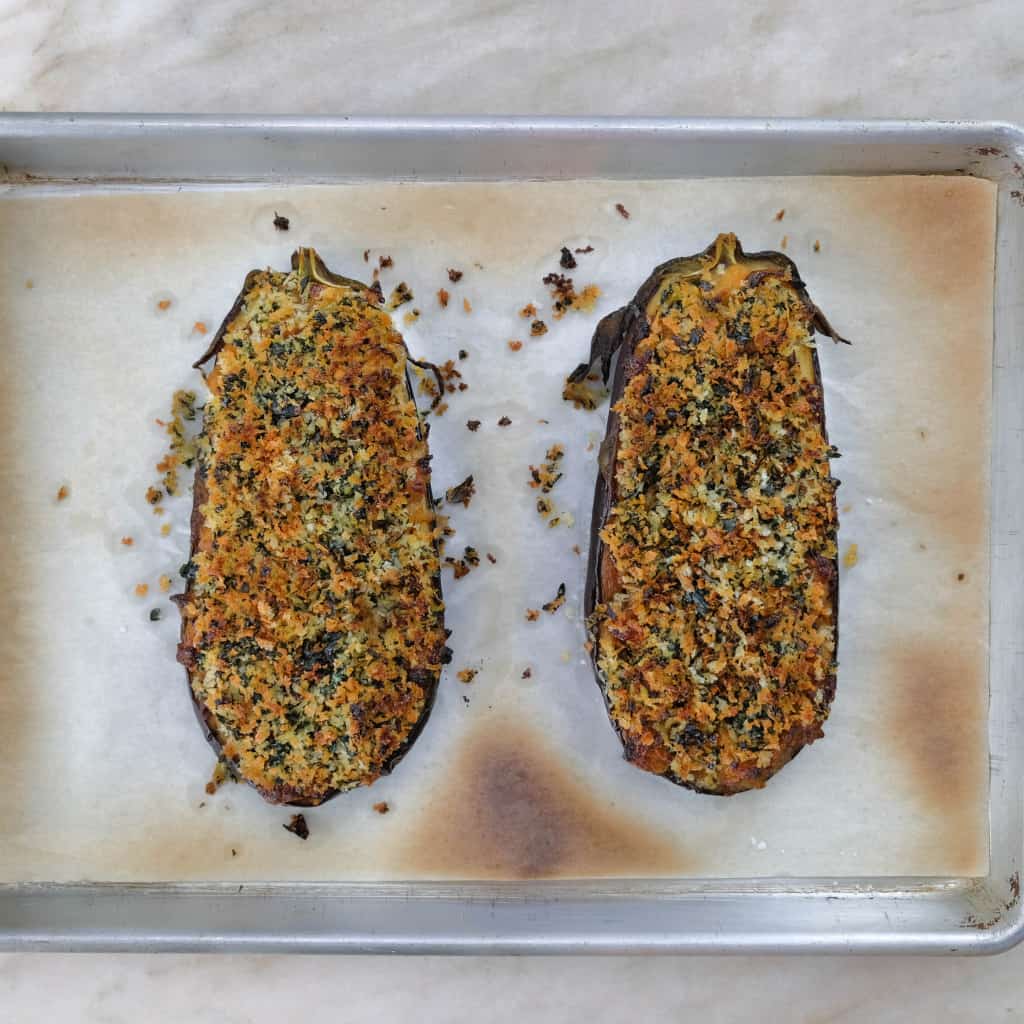 Chefs Tips
Alternative Dish Ideas
Both of these recipes are so good and versatile, they are stand-alone recipes that could be paired with other ingredients to create a brand-new dish.
The eggplant could be a side dish that is paired with pasta. I'm thinking it is served on the side and you cut a portion and place it on a plate with spaghetti mushroom Bolognese. What a dramatic presentation. 
Creamy polenta could be used in so many ways. One of the first ways to come to mind is roasted Brussels sprouts with garlic, ginger, and maple syrup during the holidays. Of course, a whole roster of butternut squash is needed to round out the dish, rubbed with five spices and basted with extra virgin olive oil and a splash of rice wine vinegar.
Substitutions and Swaps
Cornmeal can be used in place of polenta, the texture of cornmeal is finer than polenta. Cornmeal will cook faster and you will need to adjust your liquids.
Basil can be used in place of Thai Basil, it will not have a negative impact on the dish at all. 
Yellow miso works just as well as red, the flavors are not as bold or mature, but yellow miso still brings umami and fermented salty notes to the vegan miso mascarpone.
Globe Eggplant can be swapped with any other type of eggplant you have on hand. Just make sure to adjust the cooking time for different thicknesses.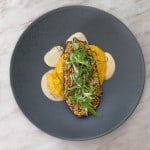 Garlic Crusted Eggplant with Mascarpone Polenta
Polenta is a classic partner to roasted eggplant. This eggplant recipe is not your normal recipe. I have taken it to a new level of flavor. Garlic confit is a driver of flavor, umami, and creaminess. The eggplant is coated with garlic confit and topped with an aromatic Thai Basil breadcrumb topping. 
Print Recipe
Ingredients
Balsamic Roasted Eggplant
Thai Basil Panko Bread Crumbs Topping
Garnish
¼

cup

scallions

thinly sliced on the bias, soaking in cold water.

¼

cup

Thai basil

chiffonade cut
Instructions
How to Make Miso Mascarpone
Boil the cashews for 2 minutes, and allow the cashews to soak for 10 minutes. Drain and rinse the cashews.

Using a high-speed blender, puree the tofu, cashews, water, kosher salt, rice wine vinegar, red miso, and maple syrup. Puree until very smooth, slowly add the garlic confit oil while the blender is pureeing on medium speed.

Pour the miso mascarpone into a bowl, fold the nutritional yeast and adjust the salt level.

Place in the refrigerator to cool and set.
How to make Creamy Polenta
Bring the vegetable stock to a boil, slowly whisk the polenta into the stock, and reduce the heat to low. Continue to stir every 5 minutes. Cover while not stirring. Cooking for 15 minutes.

Once the polenta has started to thicken, add the plant milk, and continue to cook for another 30 minutes. Make sure to stir and scrape the bottom of the pot.

To finish add the miso mascarpone into the polenta. Keep warm until time to plate.
How to make Balsamic Roasted Eggplant
Preheat the oven to 425 degrees

Cut the eggplant in half length-wise. Score the eggplant about 1/4inch in-depth cutting a diamond shape.

Combine the Dijon mustard, rice wine vinegar, balsamic vinegar, and extra virgin olive oil, and whisk to combine and emulsify.

Season the eggplant with a sprinkling of kosher salt. Brush the balsamic glaze generously over the scored eggplant. Place on a baking sheet lined with parchment paper.

Bake for 8 minutes.

Slather the garlic confit over the eggplant. Cook for another 5 minutes. Set aside.
How to make Thai Basil Bread Crumb Topping
Combine the panko bread crumbs with Thai basil, extra virgin olive oil, and salt. Mix to evenly coat the panko bread crabs with olive oil. Set aside.
How to Finish the Eggplant
Preheat the broiler.

Spread a thick layer of the Thai Basil Bread Crumb onto the eggplant.

Place the eggplant under the broiler, cooking until crispy and golden brown.

Place 5 small spoonfuls of the Miso Marscapone around the plate.

Pour a generous spoonful of the creamy polenta into the middle of the plate.

Place the eggplant on top of the polenta.

Garnish the eggplant with the sliced scallions in the Thai basil.
Notes
Nutritional values are an estimtate.
Nutrition
Calories:
642
kcal
|
Carbohydrates:
90
g
|
Protein:
18
g
|
Fat:
37
g
|
Saturated Fat:
5
g
|
Polyunsaturated Fat:
6
g
|
Monounsaturated Fat:
23
g
|
Sodium:
2074
mg
|
Potassium:
1079
mg
|
Fiber:
11
g
|
Sugar:
20
g
|
Vitamin A:
805
IU
|
Vitamin C:
17
mg
|
Calcium:
197
mg
|
Iron:
5
mg