Garlic Confit
Chefs Tips
The key to making Garlic Confit is time.
It takes about 30 - 45 minutes to cook. 

Make sure to cook on low heat.

Remember to remove the Bay Leaf and Thyme Sprigs after the oil has cooled.

Keep Garlic Confit refrigerated. It will keep for 7- 10 days or freeze for up to 3 months.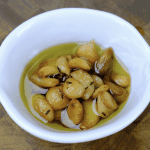 Garlic Confit
Servings: 8 ounces
Calories: 26kcal
Garlic Confit is very easy to make and will enhance just about anything you add it to. We've made Garlic Mashed Potatoes, Shepherd's Pie, and added it to Polenta with Stroganoff Sauce. Other great pairings ideas are to add it to pizza, Avocado Toast, Pasta and Garlic Bread! 
Print Recipe
Instructions
How to make Garlic Confit
Combine the garlic, extra virgin olive oil, bay leaf, and thyme. Cook over very low heat until the garlic cloves are a light golden brown. The garlic clove should smash easily when pressed against the bottom of the pan with a spoon. Allow the garlic to cool in the oil, and remove the thyme and bay leaf. Set aside.

Garlic confit can kept refirigerated for 7 -10 days. The oil, without the garlic cloves, will last up to a month refrigerated.
Notes
Nutritional values are an estimate.
Nutrition
Serving: 1oz. | Calories: 26kcal | Carbohydrates: 6g | Protein: 1g | Fat: 1g | Saturated Fat: 1g | Polyunsaturated Fat: 1g | Monounsaturated Fat: 1g | Sodium: 3mg | Potassium: 71mg | Fiber: 1g | Sugar: 1g | Vitamin A: 20IU | Vitamin C: 6mg | Calcium: 32mg | Iron: 1mg
Shop the Recipe...