Walnut chili crunch is our excuse for adding garlic to just about everything. This recipe is easily adapted to your taste. If you like it spicy, go ahead and add more chili flake, same goes for garlic. Enjoy
Chile Walnut Crunch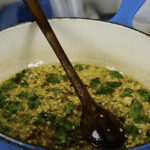 Chili Walnut Crunch
Servings: 2 Cups
Print Recipe
Instructions
In a large pot, heat the oil until just about at the smoke point(approx. 400 degrees).

Turn the heat off and add the walnuts, be careful the oil will bubble up and splatter when you start add ingredients. Add the remainder of the ingredients.

Allow to cool completely then place in a jar. This crunch only gets better with time.
Shop the Recipe...