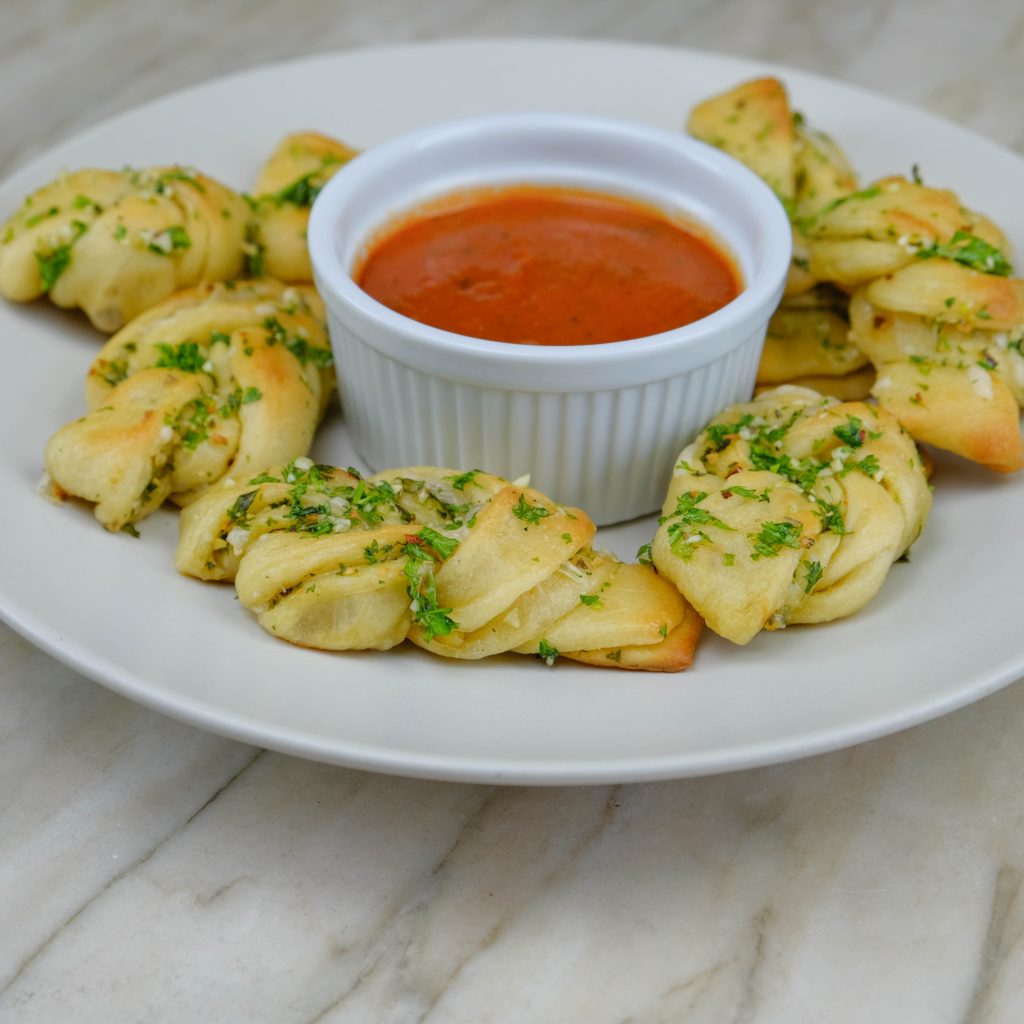 Introduction to Vegan Garlic Knots
Garlic knots have become a beloved staple in Italian cuisine, delighting taste buds around the world. These irresistible twists of dough, infused with the robust flavor of garlic, are a crowd-pleasing appetizer and a versatile addition to any meal. In this article, we'll dive into the intriguing history of garlic knots, and explore serving suggestions that elevate their taste. We'll highlight just how easy it is to prepare these delightful morsels in the comfort of your own kitchen.
Origins of Garlic Knots
The exact origins of garlic knots are shrouded in mystery, but they can be traced back to the traditional pizzerias of New York City. It is believed that garlic knots emerged as a clever way for pizzerias to utilize excess pizza dough scraps. Instead of wasting these remnants, they were rolled into knots, baked, and then brushed with a flavorful garlic-infused butter. Over time, these humble knots gained popularity, spreading beyond the borders of New York and becoming a beloved treat nationwide.
Serving Suggestions
The beauty of garlic knots lies in their versatility, making them an excellent addition to any meal. Here are some serving suggestions to inspire your culinary creativity:
Appetizer: Serve garlic knots as a mouthwatering appetizer with a marinara sauce or vegan cheese dip. Their warm, garlicky aroma will entice your guests and set the stage for a delightful meal.
Pasta Accompaniment: Garlic knots perfectly complement pasta dishes. Pair them with a classic spaghetti marinara or creamy fettuccine Alfredo to add a touch of indulgence and depth of flavor.
Sandwiches and Sliders: Split garlic knots horizontally and use them as a flavorful alternative to traditional bread for sandwiches and sliders. The garlic-infused knots will take your sandwich game to a whole new level.
Soup Companion: Dip garlic knots into a warm bowl of tomato soup or vegetable broth for a comforting and satisfying experience. Combining the soft, doughy knots with the rich soup will warm both body and soul.
Easy Preparation
Preparing homemade garlic knots is surprisingly easy and rewarding. Here's a simplified version of the recipe:
Start by preparing your favorite pizza dough or using a store-bought one for convenience.
Roll out the dough into a rectangular shape, about ¼ inch thick.
Slather half of the dough with olive oil, garlic, and parsley mixture then top with vegan mozzarella. then fold in half.
Cut the dough into approximately 1-inch wide and 5-8 inches long strips.
Twist the tie each strip into a knot. This is where the "knots" get their name!
Place the knots on a baking sheet lined with parchment paper.
Bake in a preheated oven at 400°F (200°C) for about 10-14 minutes or until they turn golden brown.
Once the knots are baked, brush them generously with the garlic-infused butter mixture.
Serve the warm garlic knots immediately and enjoy!
History
Garlic knots, with their enticing aroma and delectable taste, have a rich history rooted in New York City's pizzerias. Today, they have become a beloved treat enjoyed worldwide.
Whether you serve them as an appetizer, a side dish, or as part of a larger meal, garlic knots add a touch of garlic-infused bliss to any occasion. Best of all, their preparation is surprisingly easy, allowing you to recreate this classic Italian favorite in the comfort of your own kitchen. So, roll up your sleeves, let the aroma of freshly baked garlic fill the air, and savor the delicious simplicity of homemade garlic knots.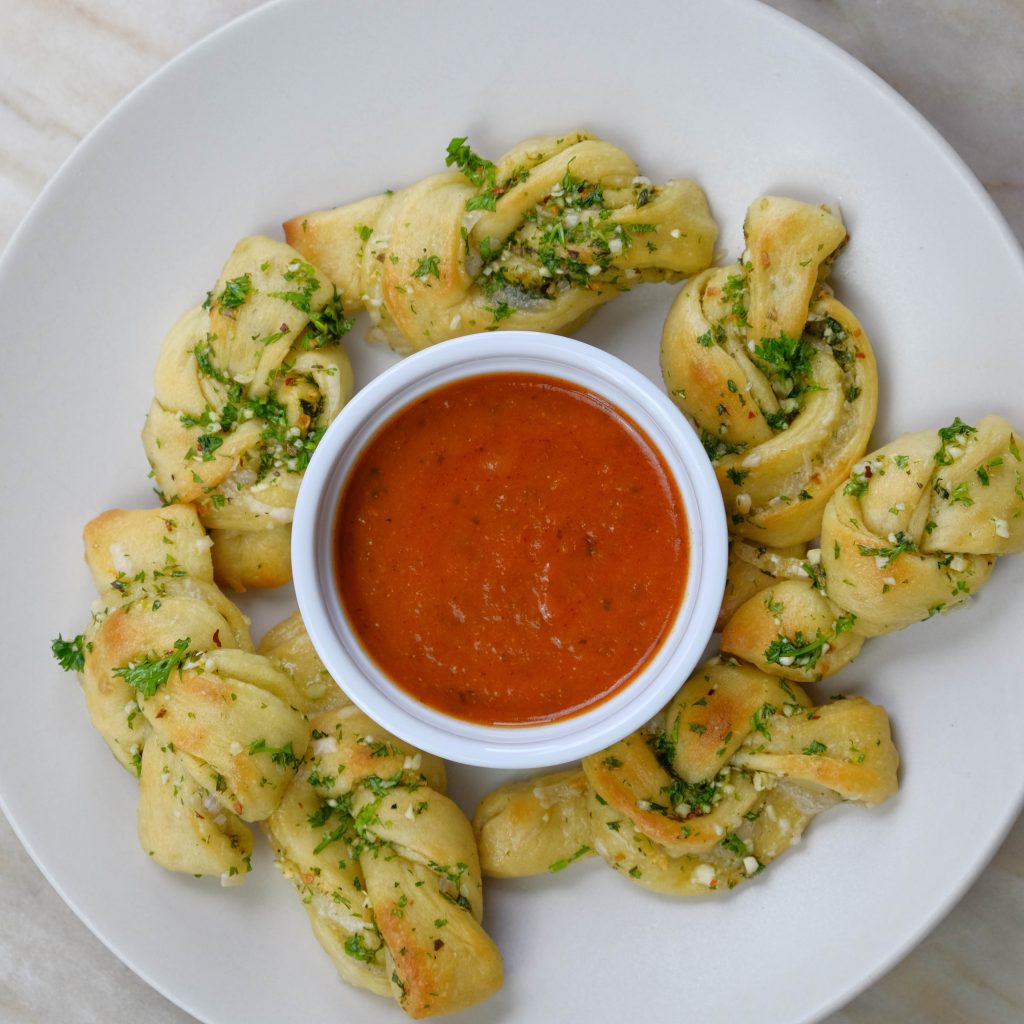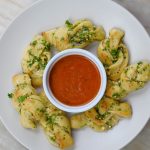 Garlic Knots
Garlic pizza dough is a fun and easy appetizer served with marinara sauce.
Print Recipe
Instructions
Combine garlic, oregano, red chili pepper, salt, parsley and olive oil. Mix to combine.

Follow the directions on the pizza package to allow the pizza dough to rise.

Roll out the pizza dough.

Spread the parsley, garlic mixture onto half of the pizza dough

Sprinkle the vegan mozzarella onto the parsley, garlic mixture.

Fold the pizza dough in half and press down.

Cut the pizza into one inch strips.

Twist and tie gently into a loose knot.

Place onto a sheet pan covered with parchment paper.

Cook for 10-12 minutes. Until golden brown on top.

Spread with the garlic parsley mixture.

Serve with marinara sauce.
Nutrition
Calories:
293
kcal
|
Carbohydrates:
6
g
|
Protein:
1
g
|
Fat:
30
g
|
Saturated Fat:
5
g
|
Polyunsaturated Fat:
3
g
|
Monounsaturated Fat:
20
g
|
Sodium:
442
mg
|
Potassium:
52
mg
|
Fiber:
1
g
|
Sugar:
0.1
g
|
Vitamin A:
473
IU
|
Vitamin C:
6
mg
|
Calcium:
32
mg
|
Iron:
1
mg