Tomato Concasse is one of the special recipes that will thrill the senses and impress the most picky eaters around. This simple and easy to make recipes is perfect for Summer Tomatoes.
Tomato Concasse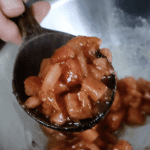 Tomato Concasse
Servings: 1 Cup
Print Recipe
Instructions
Bring a large pot of salted water to a boil.

Remove the core and score the bottom of the tomato, making an X, make sure to not cut too deep into the flesh of the tomato.

Place the tomatoes in the boiling water, cook for 30 seconds. Using a spider skimmer or tongs, remove and plunge the tomatoes into an ice bath to stop the cooking.

Gently dry the tomatoes, peel the skin from the flesh.

Cut the tomato meat away from the seeds, then dice the tomato into a small dice.

Place the tomatoes in a bowl, season with salt, extra virgin olive oil and cracked black cumin.
Shop the Recipe...