mashed potatoes were a very common side dish in my childhood home. My mom loved making them and she was very good at it. They were always creamy, smooth, and well-seasoned. 

It was Joel Robuchon that opened my eyes to what mashed potatoes could be or should I say Puree de Pommes could be. It was during my first few months at California Culinary Academy that I learned about this iconic chef. The level of detail that goes into this puree is off the charts. The potatoes are treated with great care from the very first step, such as cooking the potatoes with their skin to insure that the potatoes do not become waterlogged, to the last step of making sure the butter is perfectly emulsified. It really IS a work of art.

The other chef that changed my view of mashed potatoes was Joyce Goldstein, I had the opportunity to spend a few nights working in her kitchen, Square One, while I was attending the California Culinary Academy. One of the jobs I had was helping one of the PM line cooks make mashed potatoes, that night forever changed my view on potatoes and what you can do with them. That night we boiled baby red potatoes with the skin on whole, drained the potatoes put them in a huge stand-up mixer with a whip, add milk, and roasted garlic puree, and this is part that made me stop and rethink everything. We started adding extra virgin olive oil. What, who puts olive oil in mashed potatoes? That's just crazy. However, those potatoes were fantastic, the roasted garlic with the creamy potatoes and the bright, peppery, nutty flavor of the olive oil. It expanded my horizon on what potatoes can be.

Mashed Potatoes are the perfect side dish to so many meals including Beet Bourguinon and Vegan Salisbury Steak.
WHAT YOU NEED…
How To Make Vegan Mashed Potatoes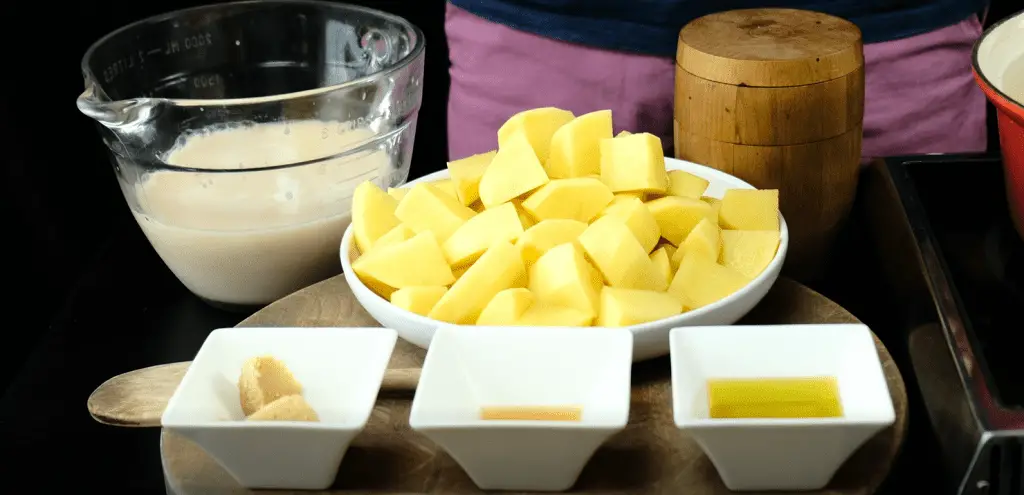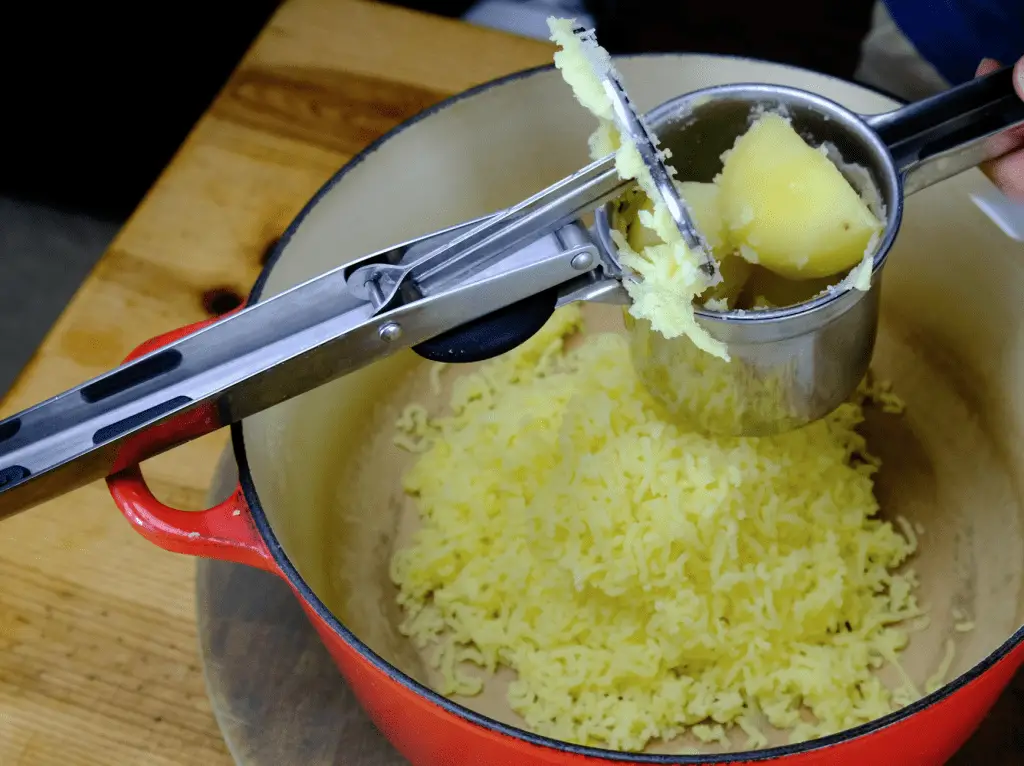 Chefs Tips
Mashed Potatoes
Creamy smooth Mashed Potatoes are the perfect side dish for a plethora of meals.
Print Recipe
Instructions
Cut the potatoes into 6th's or 4th's depending on the size.

Place the potatoes in a large pot and cover with cold water.

Add the kosher salt, miso paste and the cloves of garlic to the potatoes.

On high heat, bring the potatoes to a boil then reduce the heat to a low simmer. Cook the potatoes until tender.

Heat a small pan over low heat to melt the vegan butter and the plant milk.

Drain the potatoes. While still hot, pass all of the potatoes through a ricer into a large bowl.

Add about half of the warm milk and butter liquid to the potatoes, stir to combine. Continue to add the milk until creamy and smooth. Add salt to taste.

Serve or place back in the pot, cover and keep warm until ready to serve.
Notes
Nutritional values are an estimate.
Nutrition
Calories:
247
kcal
|
Carbohydrates:
43
g
|
Protein:
5
g
|
Fat:
6
g
|
Saturated Fat:
1
g
|
Polyunsaturated Fat:
1
g
|
Monounsaturated Fat:
4
g
|
Trans Fat:
0.01
g
|
Sodium:
1002
mg
|
Potassium:
978
mg
|
Fiber:
5
g
|
Sugar:
4
g
|
Vitamin A:
202
IU
|
Vitamin C:
45
mg
|
Calcium:
73
mg
|
Iron:
2
mg