Ever since switching to a vegan diet, I have searched for the perfect Vegan Reuben. If someone has it on the menu, I'm ordering it. So now we've made our own and it is delicious. The Thousand Island Dressing is amazing with the Sauerkraut and seasoned Tofu. Give it a try and let us now what you think!
Vegan Tofu Reuben Sandwich
Chefs Tips...
Seasonings are front and center on this sandwich. I know the list is long, but I am guessing that you already have most of the spices in your spice rack. Cooking allows the freedom to add or subtract ingredients to fit what you have on hand, I would say some of the most exciting dishes have been born out of a lack of ingredients rather than an abundance.
The most important factor is keeping robustness that evokes the smells and flavors of Fall. Spices like allspice and ground ginger are examples you most likely have on hand. Cardamom might be one of those spices that you don't, but you have the rest on hand no worries just leave it out.
Shortcut
I do have an easier way if you don't want to purchase more spices, you can buy pickling spice that's already mixed, put it in a spice grinder, and buzz it into a powder.
Thousand Island dressing is another example of an easy fix if you don't want to make our amazing Chili Lime Vegan Mayo, just replace it with your favorite vegan mayo and follow the recipe.
For the Sauerkraut, you can pick up some at the store and skip making it as well.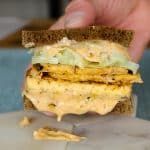 Tofu Reuben Sandwich
Servings: 2 Sandwiches
Calories: 366kcal
Print Recipe
Instructions
Making Quick Tofu "Corned Beef"
Note: This is a very loose interpretation of "Corned Beef" made with tofu. It is meant to be a fast sandwich that does not take a lot to pull together.
Combine all of the spice rub seasoning ingredients, mix to evenly incorporate.

Press the tofu for 5 minutes.

Slice the tofu into 8 thin slices.

Line a baking sheet with parchment paper, using a pastry brush spread the oil over the parchment paper.

Season both sides of the tofu, place on the baking sheet

Cook tofu in a preheat oven at 425 degrees for 30 minutes.
Building and Cooking Your Reuben Sandwich
Heat a heavy sauté pan over medium heat.

Spread a generous amount of 1000 Island dressing on one side of each piece of the bread. Place the top on the bread, followed with the Sauerkraut. Place the bread on top giving it a little squish.

Spread some of the vegan butter on the top slice of bread, place the butter side down in the pan. Butter the top slice of bread.

Cook over medium heat for 5 -7 minutes, the goal is to cook the bread until crispy and heat the inside. If the pan is too hot it will cook the bread too fast.

Flip the sandwich and cook for another 5 minutes.
Video
Notes
Nutritional values are an estimate.
Nutrition
Calories: 366kcal | Carbohydrates: 15g | Protein: 19g | Fat: 26g | Saturated Fat: 3g | Polyunsaturated Fat: 14g | Monounsaturated Fat: 6g | Cholesterol: 12mg | Sodium: 1069mg | Potassium: 92mg | Fiber: 3g | Sugar: 9g | Vitamin A: 180IU | Vitamin C: 1mg | Calcium: 282mg | Iron: 4mg
Shop the Recipe...