Those Vegan Chefs have created a Vegan classic with this Tiramisu. This traditional Italian dessert has had a complete make over. We have a cashew cream (aka vegan Mascarpone) that is flavored with vanilla bean, coffee with a shot of Kahlúa for that extra hit a flavor. Our vegan lady fingers are made with coconut butter. Creating a moist and full of flavor wonderful cake and it has just the right amount of tooth and texture to hold up to the soaking syrup of coffee and maple syrup. The dusting of cocoa powder is the final touch to this Vegan Tiramisu. This is the perfect dessert to blow away your dinner guest! They will never believe it's vegan, it is also a great dessert for the dairy-free people in your life.
Shop the Recipe
Making the Cake
For the Vegan Mascarpone
Scraping the Vanilla from the bean
Vanilla infused plant milk
Adding coffee liqueur (Kahlua)
Building the Tiramisu
Start with a dollop of Vanilla Mascarpone
Add a layer of the cake and add the soaking liquid (alternatively soak first)
Add a dollop of the coffee Mascarpone then dust with Cocoa powder
Repeat the steps above until your container is full (we did 3 layers)
Final dusting of Cocoa Powder. Allow to set in refrigerator.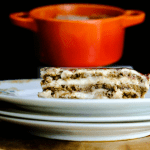 Vegan Tiramisu
Servings: 10 People
Calories: 447kcal
This tiramisu is the perfect dessert to blow away your dinner guest! They will never know it's vegan, it is also a great dessert for the dairy-free people in your life.
Print Recipe
Ingredients
Soaking Syrup:
1 ½ cup Freshly Brewed Coffee cooled
⅓ cup Maple Syrup
⅓ cup Kahlua
Vegan Mascarpone Filling:
3 ½ cup Raw Cashews no need to soak
⅔ cup Maple Syrup
¼ tsp. Salt
Seeds of 1 Vanilla Bean Pod
1 ½ cup Almond Milk
For Coffee Mascarpone:
1 Tbsp Kahlua
1 Tbsp freshly brewed Espresso cooled
Instructions
Sheet Cake Method:
Preheat oven to 350 degrees. Grease and line an 18x24 inch cookie sheet with baking paper. Set aside.

Whisk Milk and Apple Cider Vinegar in a bowl set aside for 5 minutes to curdle. Sieve the Flour, Baking Powder and Baking Soda into a bowl. Set aside.

Melt Coconut butter (either stovetop or Microwave). In another bowl, whisk Coconut Butter, Sugar, and Salt till light and fluffy, about a minute. Whisk in the Vanilla Extract.

Alternate whisking in the Soy Milk mixture and dry ingredients, starting with 1/3 of the dry and ending with the last third of the dry mixture.

Spread mixture out onto prepared cookie sheet (it should seem thin) and bake for 20 minutes, or until cooked through. It's okay if you overbake it slightly, it doesn't make a difference.
Soaking Syrup Method:
Mix Coffee, Kahlua, and sugar together till the sugar has dissolved. Set aside.
Vegan Mascarpone Filling Method:
In a small pot add 1 ½ Cups of Almond Milk and scrape the Vanilla Bean into the Almond milk add the whole pod and simmer for 5 minutes. Allow to cook. In a high-speed blender, combine Cashews, Maple Syrup, Salt, Vanilla/Almond Milk mixture. Blend thoroughly until smooth and silky.

Divide mixture into half.

For Vanilla Mascarpone: Use the first half of the mixture and thoroughly whisk in Vanilla Set aside.

For Coffee Cream: Mix the second half of the Mascarpone mixture with Kahlua and Espresso.
Assembly:
To assemble, have ready a tiramisu dish or individual ramekins/glasses.

Add a dollop of Vanilla Mascarpone.

Cut a piece of sheet cake to fit the bottom of your ramekin or glass. Dip in Soaking Syrup for just a second or two and place on top of Vanilla Mascarpone.

Add a dollop of Mocha Mascarpone & dust with Cocoa powder.

Freeze for 10 minutes.

Once out of the freezer, repeat the process twice more (three layers).
Notes
Nutritional values are only an estimate.
Nutrition
Calories: 447kcal | Carbohydrates: 69g | Protein: 11g | Fat: 25g | Saturated Fat: 5g | Polyunsaturated Fat: 4g | Monounsaturated Fat: 11g | Sodium: 287mg | Potassium: 417mg | Fiber: 4g | Sugar: 42g | Vitamin C: 0.4mg | Calcium: 157mg | Iron: 4mg