We made this recipe out of a combination of desperation and frugality. I was going to purchase some Sauerkraut to add to the Vegan Reuben but could not find any or the one I did find was so expensive I just couldn't justify it. So we made a quick style version of this classic and it turned out great. If you have the time, space and equipment, you should go for the fermented version but if you're in a pinch like we were, this Quick Sauerkraut Recipe is delicious and easy to make.
Quick Sauerkraut
Chefs Tips
Sauerkraut is an amazing fermented food that packs a huge flavor full of umami, saltiness with a hint of acid; then there are all of the probiotics that fermented foods provide. Of course, making a traditional prepared fermented food can take up to 4 weeks, which is a fun adventure.
The goal of this recipe is to recreate the flavor and texture of sauerkraut. Some fun additions you could play with are adding fresh ginger to the recipe, or other whole spices or herbs that compliment the recipe that you are adding the sauerkraut to. This recipe is a fun way to create unique flavored quick-cook sauerkrauts.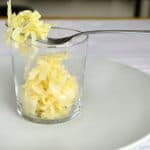 Quick Sauerkraut
Servings: 2 Cups
Calories: 68kcal
Print Recipe
Ingredients
1/2 Green Cabbage Head about 3 cups shredded
1 3/4 Water
1/2 cup Distilled Vinegar
1 Tbs Kosher Salt
Instructions
How to make Quick Sauerkraut
Remove the core, shred the cabbage

Place the water, vinegar, and salt in a pot and bring to aboil.

Add the cabbage to the water, reduce heat to a low simmer, and cover (if bottom of pan starts to brown, add 1/4 cup more water). Cook until the cabbage is tender, about 30 minutes.

To store, refrigerate up to 2 weeks.
Notes
Nutritional values are an estimate.
Nutrition
Serving: 2oz. | Calories: 68kcal | Carbohydrates: 13g | Protein: 3g | Fat: 1g | Saturated Fat: 1g | Polyunsaturated Fat: 1g | Monounsaturated Fat: 1g | Sodium: 3531mg | Potassium: 388mg | Fiber: 6g | Sugar: 7g | Vitamin A: 222IU | Vitamin C: 83mg | Calcium: 97mg | Iron: 1mg
Shop the Recipe...