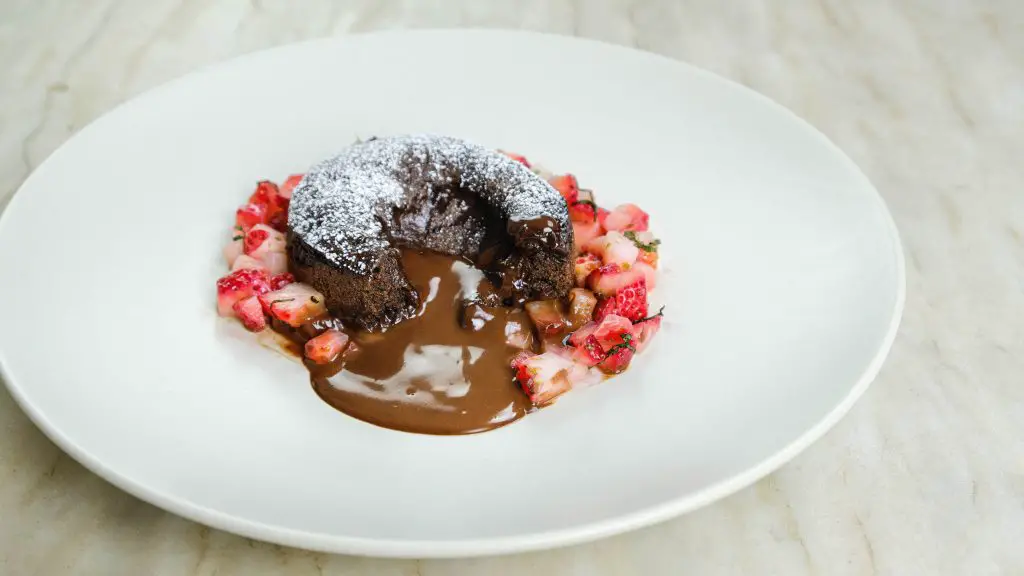 Introduction to Vegan Molten Lava Cake
Hey there, fellow vegan dessert enthusiasts! I am always on the lookout for delicious and easy-to-make recipes that align with my dietary choices. One of my all-time favorite desserts is molten lava cake – that ooey-gooey chocolatey goodness is simply irresistible! However, finding a vegan version of this classic dessert can be a bit of a challenge. That's why I decided to experiment in the kitchen and come up with my own recipe for vegan molten lava cake.
In this blog post, I'll be sharing with you my step-by-step guide on how to make molten lava cake vegan. Trust me, it's not as complicated as it may sound! With a few simple substitutions and some basic baking techniques, you'll be able to enjoy this decadent dessert without compromising on your vegan values.
To start off, we'll be swapping out traditional ingredients like butter and eggs for plant-based alternatives. We'll also be using high-quality vegan chocolate to give our lava cake that rich and velvety texture. And don't worry, even if you're not a seasoned baker, this recipe is easy enough to follow and will yield impressive results.
Whether you're a vegan or simply looking to try something new, this vegan molten lava cake recipe is sure to impress. So, grab your apron, and let's get baking!
What You Need…
How To Make Vegan Molten Lava Cake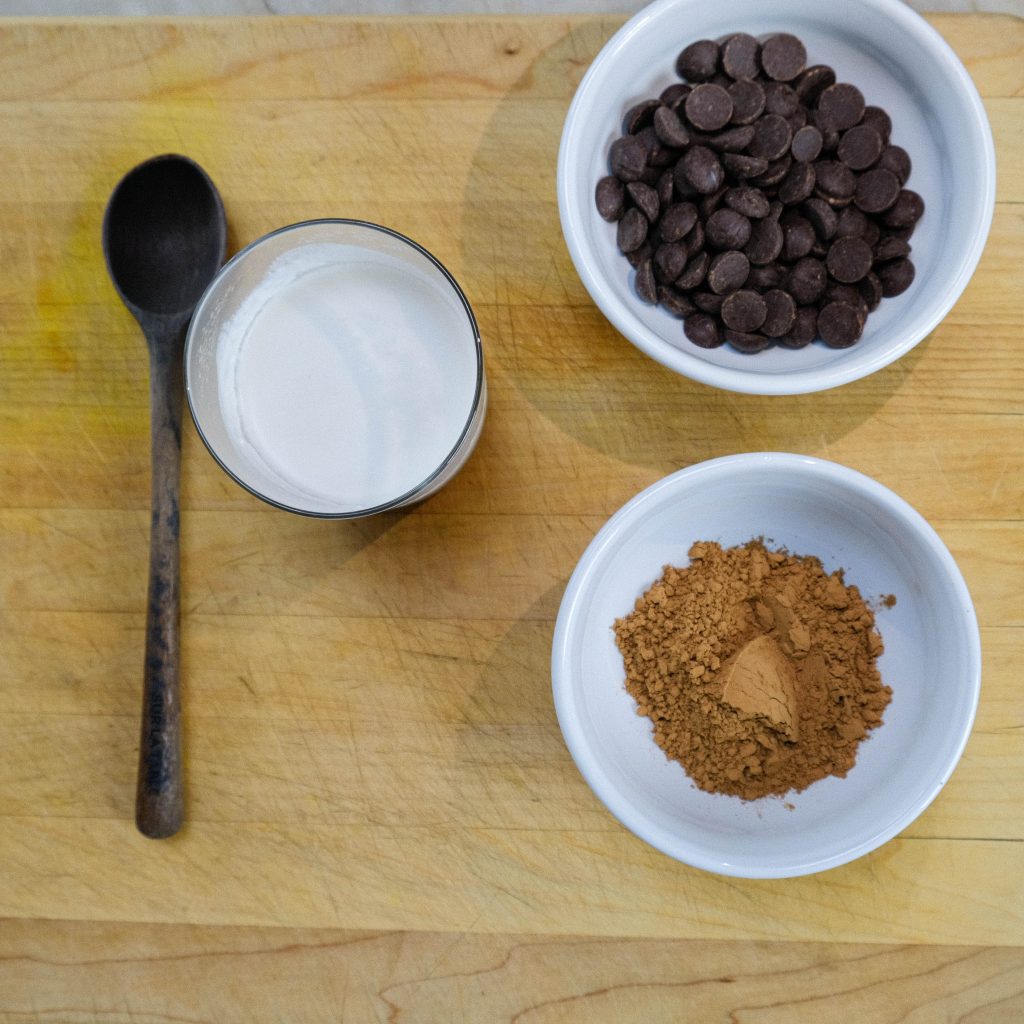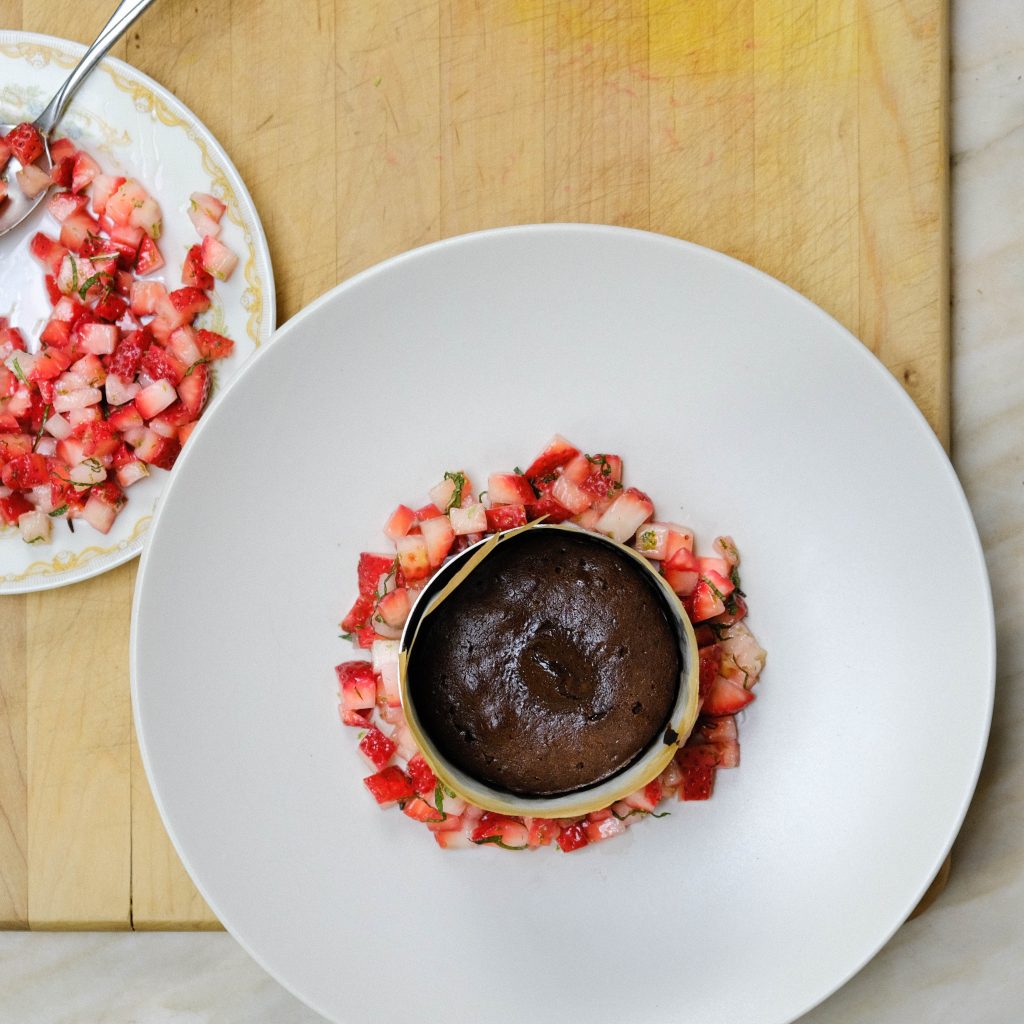 Chefs Tips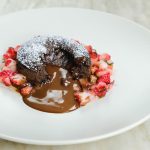 Vegan Molten Lava Cake
One of my all-time favorite desserts is molten lava cake – that ooey-gooey chocolatey goodness is simply irresistible!
Print Recipe
Equipment
Parchment paper

Ring molds
Ingredients
Vegan Chocolate Truffles
1

cup

vegan chocolate chips

⅔

cups

coconut milk

¼

cup

cocoa powder
Vegan Chocolate Cake Batter
Strawberry Lime and Mint Salad
2

cups

strawberries

small dice

2

Tbsp

mint

fresh chiffonade

1

lime

grated on a Microplane

1

Tbsp

sugar
Instructions
How to make Vegan Chocolate Truffles
Gently heat the coconut milk over medium heat.

Once hot pour the hot coconut milk over the chocolate chips.

Stir to melt the chocolate. Once melted place the chocolate ganache in the refrigerator.

Scoop about 2 tbsp size worth of ganache into a ball, gently roll the ganache ball in the cocoa powder, coating completely.

Place the truffle back on a plate, and keep cold until time to bake the molten lava cake.
How to make Vegan Chocolate Cake
Sift the flour, cocoa powder, baking powder, salt, and sugar.

Combine the vanilla extract, plant milk, and coconut oil.

Add the dry ingredients to the liquid mixture. Stir to combine completely.
Baking Molten Lava Cake
Preheat the oven to 425 degrees.

Cut the parchment paper into strips the same width as your ring mold.

Lightly grease the inside of the parchment paper.

Add a layer of vegan chocolate batter, place a vegan truffle in the middle, and cover with just enough cake batter to cover the truffle.

Place in the oven cooking for 10-12 minutes. The edges need to be fully cooked and formed, and the middle with be soft.

If you do not have ring molds you can cook and serve the cake in a ramekin.
How to make Strawberry Lime and Mint salad
Cut the strawberries into small dice.

Toss the diced strawberries, mint, and sugar together.

Grate the lime over the salad and toss to combine.
Plating Molten Lava Cake
Place the baked cake in the middle of a plate. Place the mint salad around the cake.

Using a small metal spatula, gently run it along the cake and the ring mold. This will help release any cake that is stuck to the ring mold.

Slide the ring mold off slowly, if the ring mold is sticking gently use a knife tip to release the ring mold. You didn't want to tear the cake and release the molten chocolate.

Remove the parchment paper, and dust the top of the cake with powdered sugar.
Nutrition
Calories:
685
kcal
|
Carbohydrates:
103
g
|
Protein:
8
g
|
Fat:
31
g
|
Saturated Fat:
23
g
|
Polyunsaturated Fat:
1
g
|
Monounsaturated Fat:
5
g
|
Cholesterol:
8
mg
|
Sodium:
259
mg
|
Potassium:
484
mg
|
Fiber:
6
g
|
Sugar:
73
g
|
Vitamin A:
183
IU
|
Vitamin C:
39
mg
|
Calcium:
212
mg
|
Iron:
4
mg