Easy vegan baked donuts are full of flavor and healthy at the same time! We repurposed healthy muffin recipe and turn it into a baked vegan donut. These vegan banana walnut donuts freeze perfectly and thaw within minutes, making an amazing snack. You want to make these every week and the Vegan Chocolate Glaze is simply divine!
How to Make Vegan Donuts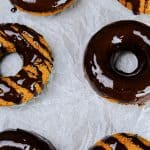 Banana Walnut Oat Bran Donuts
Servings: 12 Donuts
Calories: 155kcal
Print Recipe
Instructions
How to make Vegan Donuts
Preheat the oven to 350 degrees

Place the bananas in a bowl, using a fork, mash the banana until smooth.

Mix the plant milk and apple cider vinegar, let stand for 5 minutes. Then mix with the mashed banana.

Mix the flour, oat bran, sugar, baking soda, spices, and walnuts in a large bowl to incorporate the ingredients.

Add the banana/milk mixture to the flour, stir to combine.

Using a pastry brush, oil the inside of the donut baking pan.

Fill the donut molds ¾ of the way full.

Bake for 12 minutes.

Allow the donuts to rest for 5 minutes before removing the donuts from the molds, place them on a cooling rack.

The donuts must be cool before you glaze them with the chocolate ganache.
Glazing the donuts 
Dunking the donuts into the chocolate ganache is the best, it's fun and there is nothing better than a chocolate glazed donut. You can of course drizzle the glaze on top of the donut in any style that you like. 

It's best to store the donuts in an airtight container in the refrigerator for 7 days. You can also freeze the donuts.
Notes
Nutritional values are an estimate.
Nutrition
Calories: 155kcal | Carbohydrates: 29g | Protein: 4g | Fat: 4g | Saturated Fat: 1g | Polyunsaturated Fat: 3g | Monounsaturated Fat: 1g | Sodium: 150mg | Potassium: 122mg | Fiber: 2g | Sugar: 12g | Vitamin A: 50IU | Vitamin C: 1mg | Calcium: 40mg | Iron: 1mg
Shop the Recipe...