When you think of scones, you may think of High Tea or something very fancy but these vegan scones are really easy to make. They are light and fluffy and very versatile to different fillings you may want to use. If you aren't a chocolate lover, you can substitute  blueberries just have them plain. The glaze is also optional. Try these out and let us know how you made them.
Vegan Chocolate Chip Scones
with Maple Glaze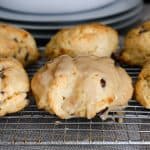 Vegan Scones
Servings: 7 scones
Calories: 452kcal
Vegan scones are light and fluffy and very versatile for different fillings you may want to use. 
Print Recipe
Instructions
Scone Method
Preheat oven to 400 degrees

Place the flour, sugar, baking powder, kosher salt in a bowl, mix to evenly combine all of the ingredients. Cut the cold vegan butter into small pieces then cut the butter into the flour, the flour should resemble a grainy texture. The flour is being coated with the fat which help limit the gluten from forming when the liquid is added.

Next, add the chocolate chips and the coconut milk, mix together until it starts to bind and come together, do to over mix the dough.

Line a baking sheet with parchment paper, using an ice cream scoop, scoop the scone dough onto the sheet and lightly press down. Cook at 400 degrees for 20 minutes. Place on a rack to cool before glazing.
Glaze Method
Melt the vegan butter over low heat. Combine the maple syrup, powdered sugar, whisk to dissolve the sugar, continue to whisk as you add the vegan butter to the maple sugar mixture.

Allow to cool before glazing the scone.
Notes
Nutritional values are an estimate.
Nutrition
Calories: 452kcal | Carbohydrates: 70g | Protein: 5g | Fat: 17g | Saturated Fat: 6g | Polyunsaturated Fat: 3g | Monounsaturated Fat: 6g | Trans Fat: 0.1g | Cholesterol: 4mg | Sodium: 389mg | Potassium: 142mg | Fiber: 1g | Sugar: 41g | Vitamin A: 622IU | Vitamin C: 0.2mg | Calcium: 162mg | Iron: 2mg
Shop the Recipe...