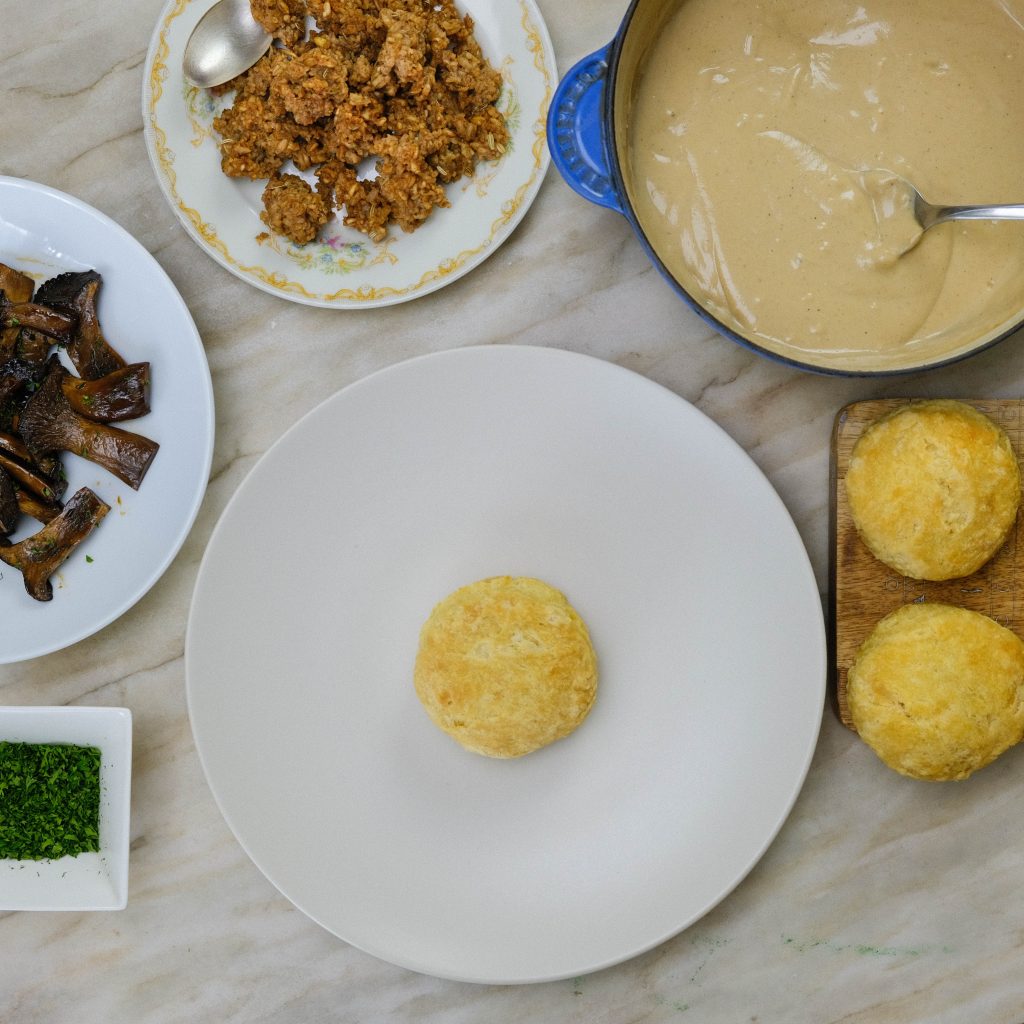 Introduction to Vegan Biscuits and Gravy
Vegan Biscuits and Gravy is my go-to meal for family brunch celebrations. They are a delicious and satisfying breakfast that's both vegan and comforting.
These are easy to make vegan and just as tasty and satisfying. In fact, you might not even be able to tell the difference!
One of the biggest challenges in making vegan biscuits and gravy is creating a gravy that's just as rich and creamy as the original. My go-to is fennel seed and caramelized onions to re-create these classic flavors
As for the biscuits, there are many vegan butter substitutes on the market that work just as well as traditional butter in biscuit recipes. You can also use plant milk like almond milk or soy milk instead of regular milk to make the biscuits.
With the addition of our vegan Spicy Italian Sausage crumble and Molasses-Glazed Mushrooms, this version of Vegan Biscuit and Gravy is elevated to a new level.
Overall, vegan biscuits and gravy are a delicious and comforting breakfast that's perfect for anyone looking to cut down on their animal product intake. With just a few simple substitutions, you can enjoy this classic southern dish without any guilt or sacrifice in taste.
What You Need…
How to Make Vegan Biscuits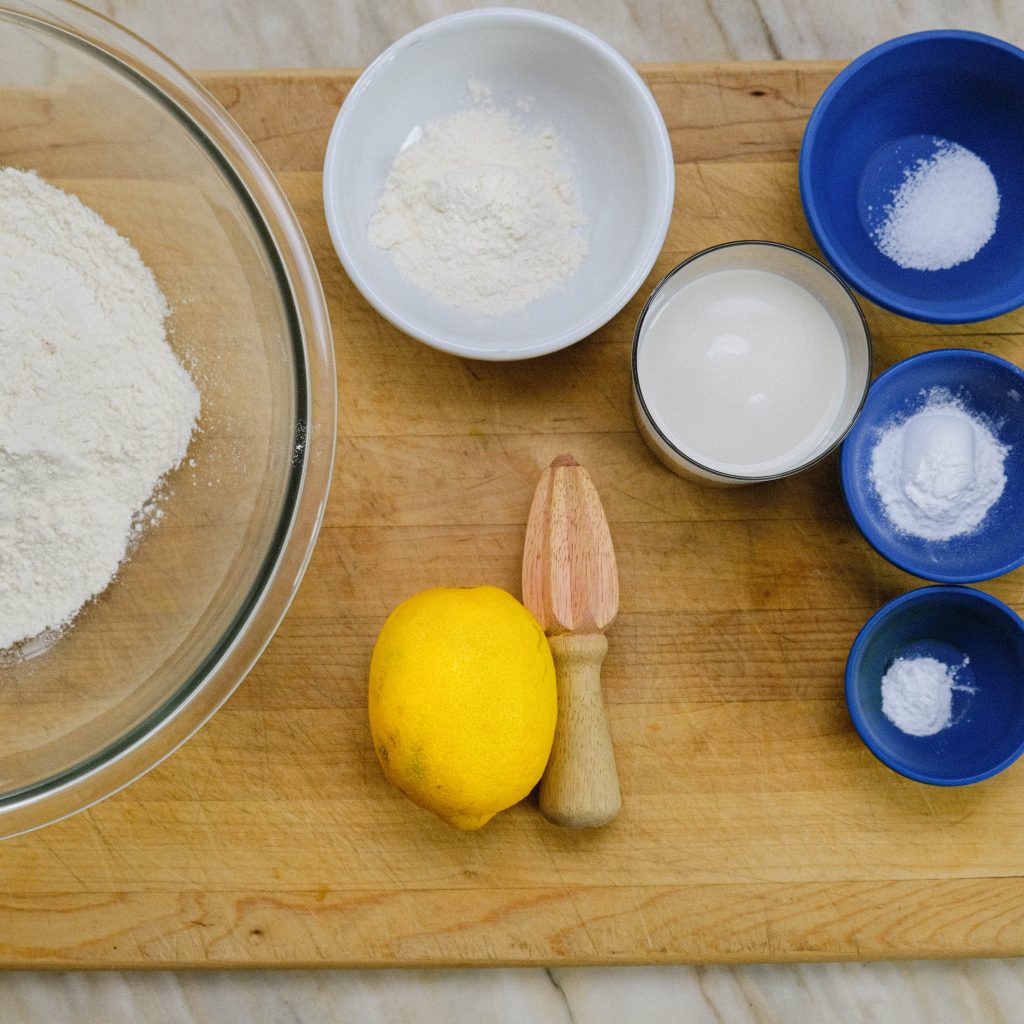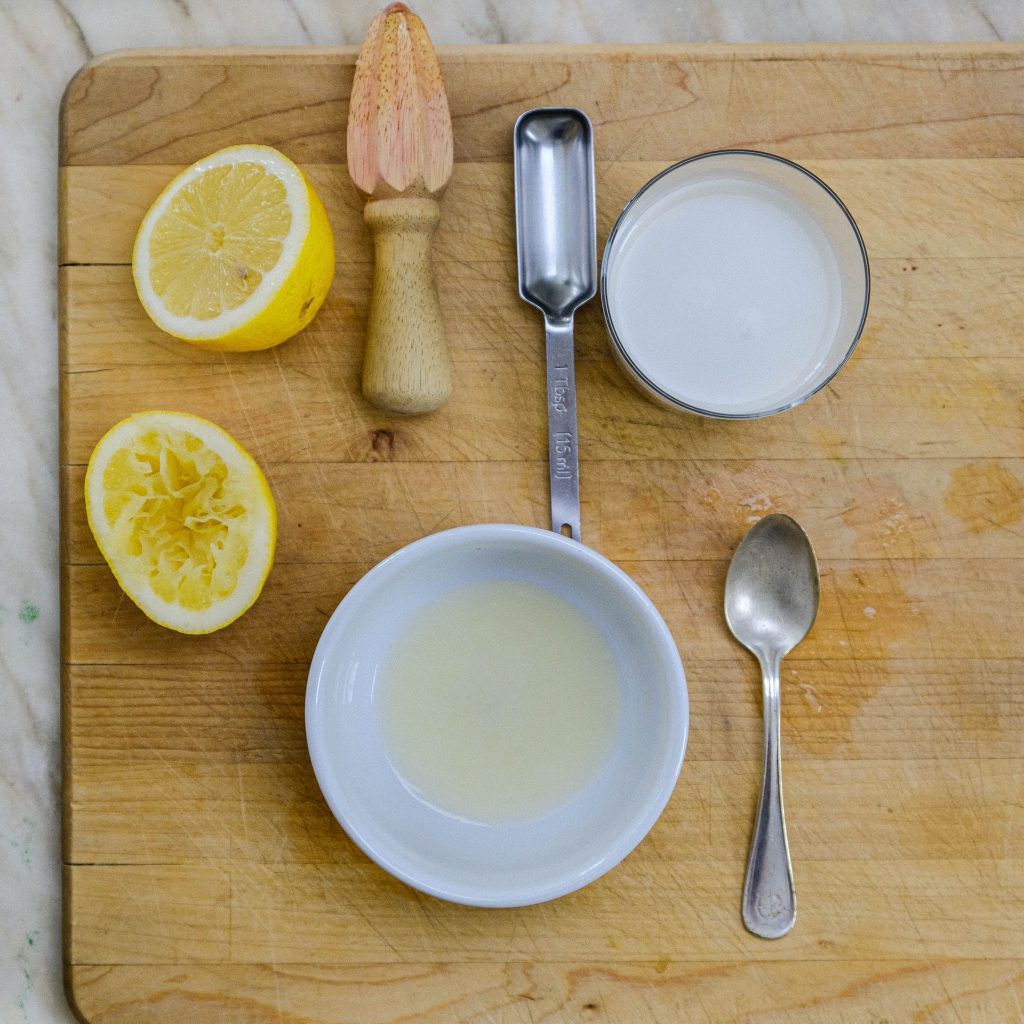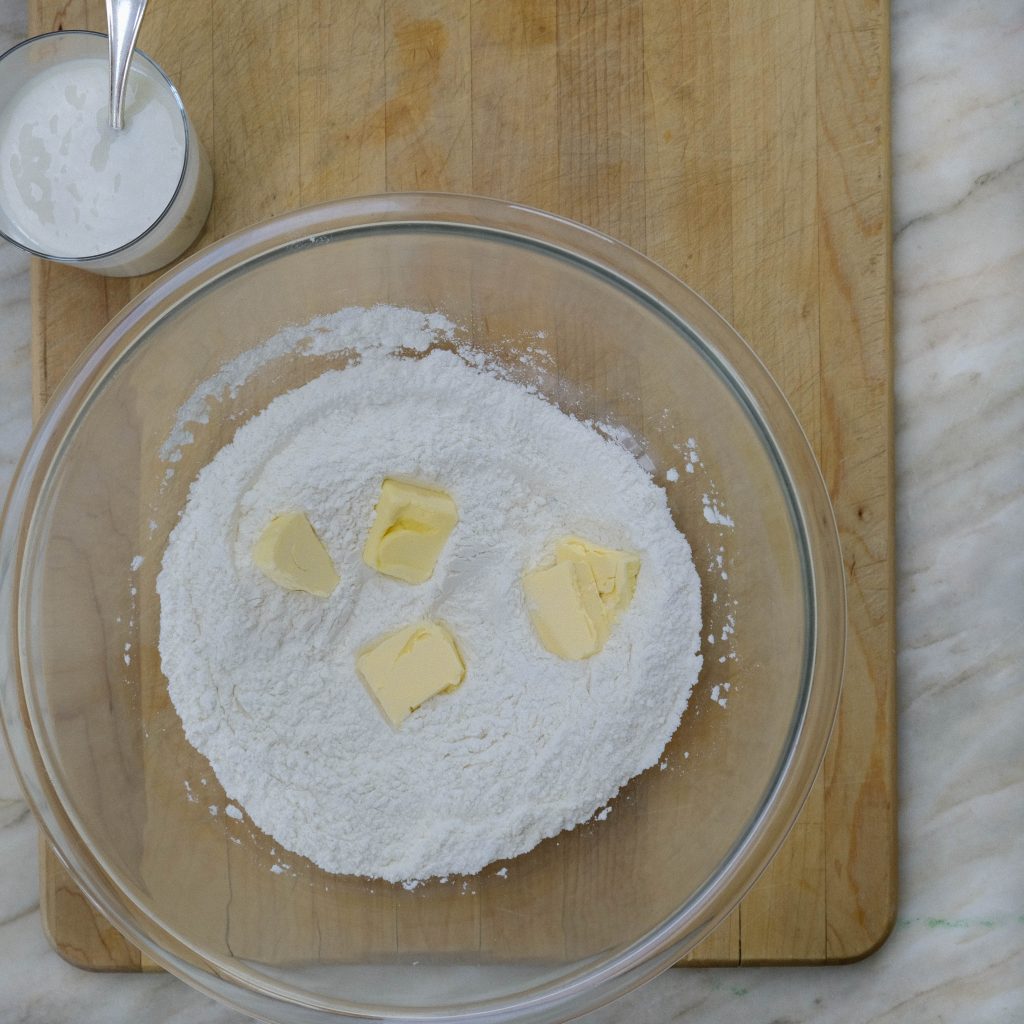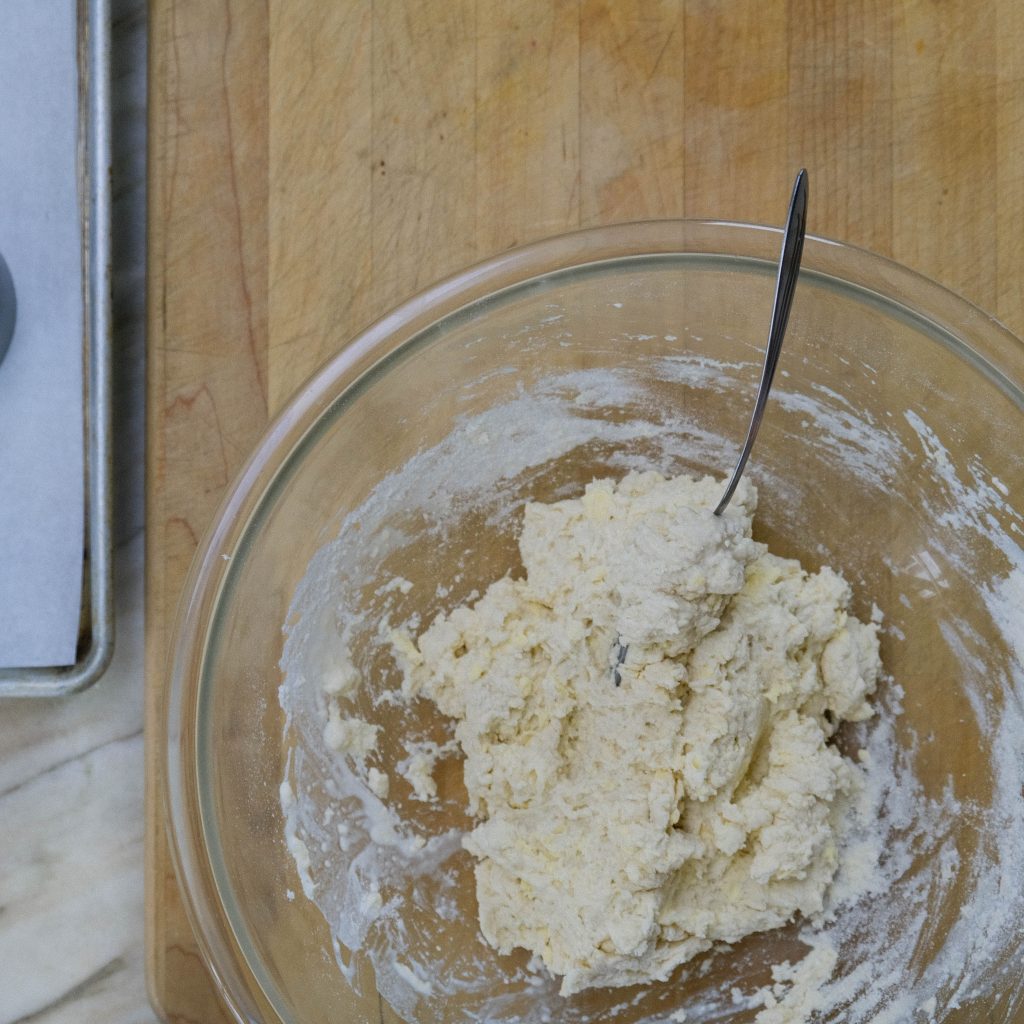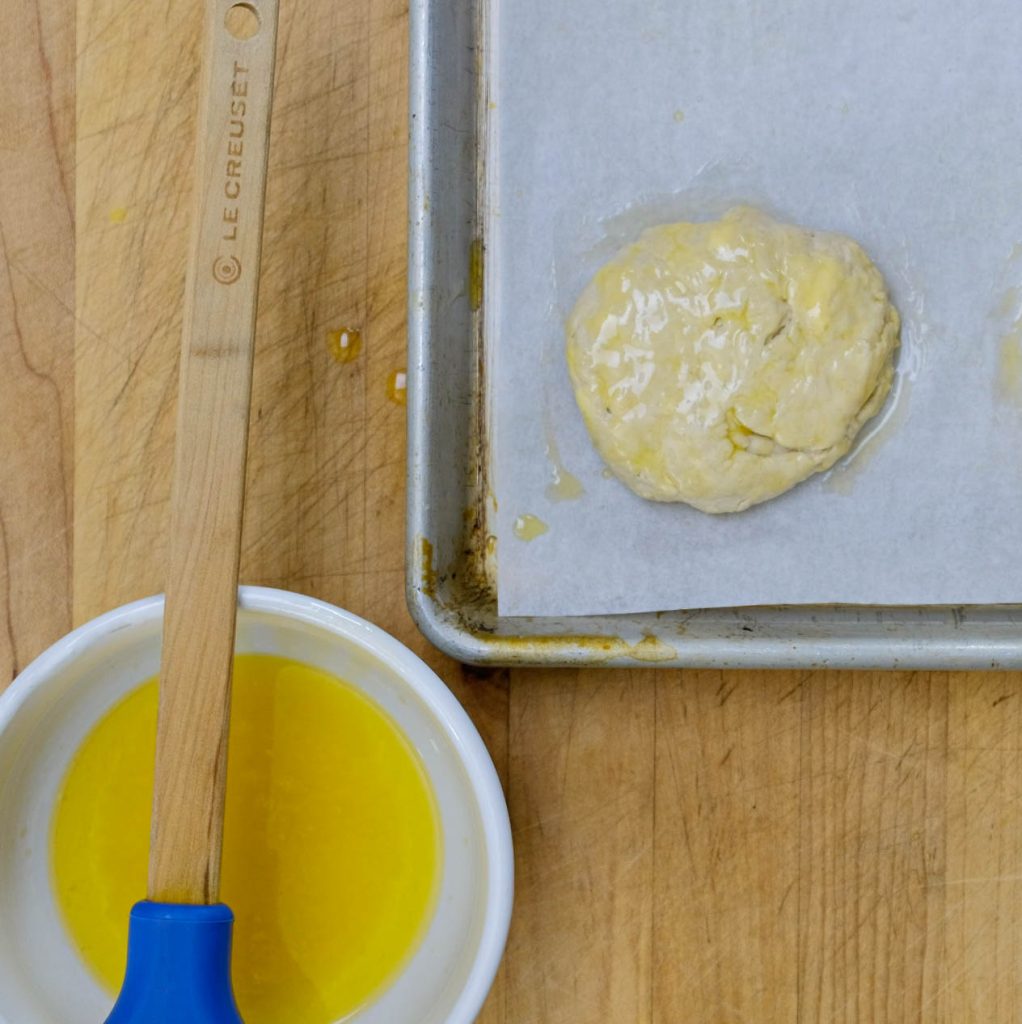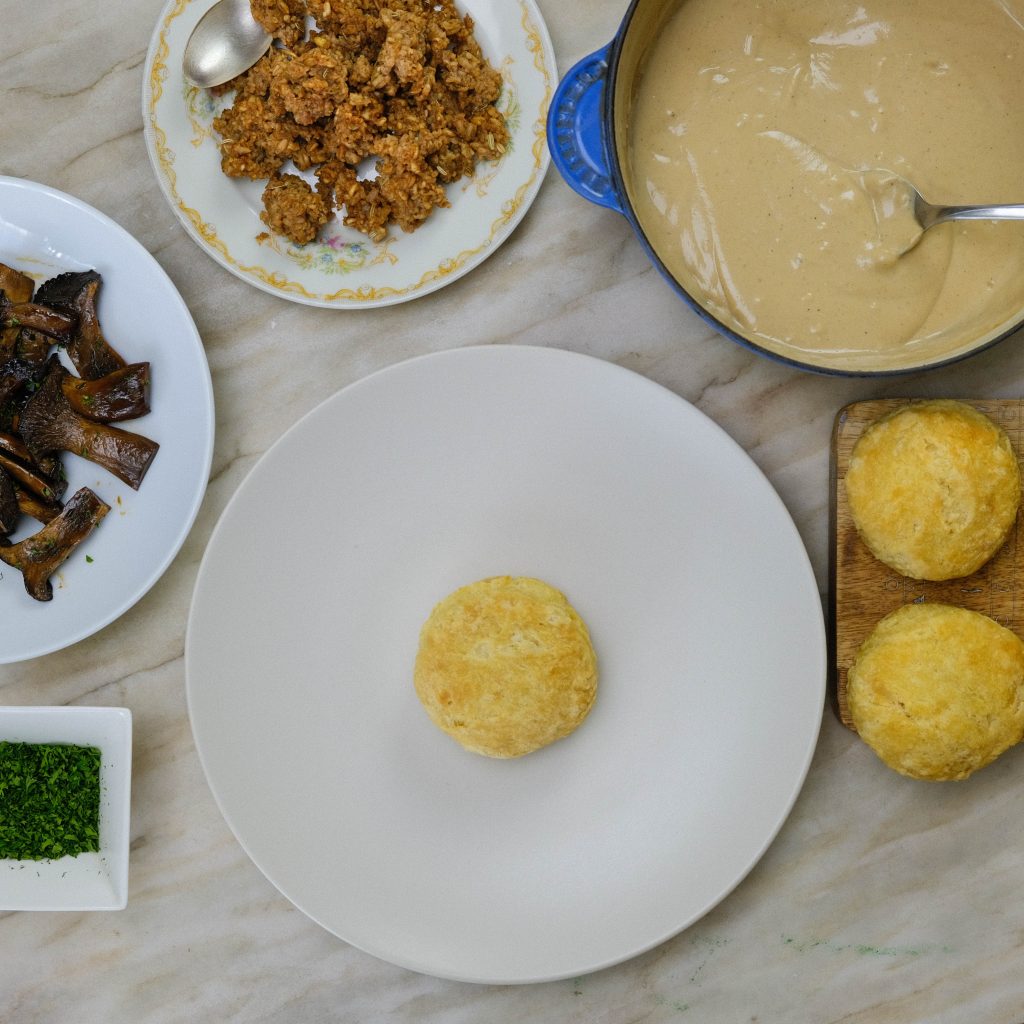 How to Make Vegan Gravy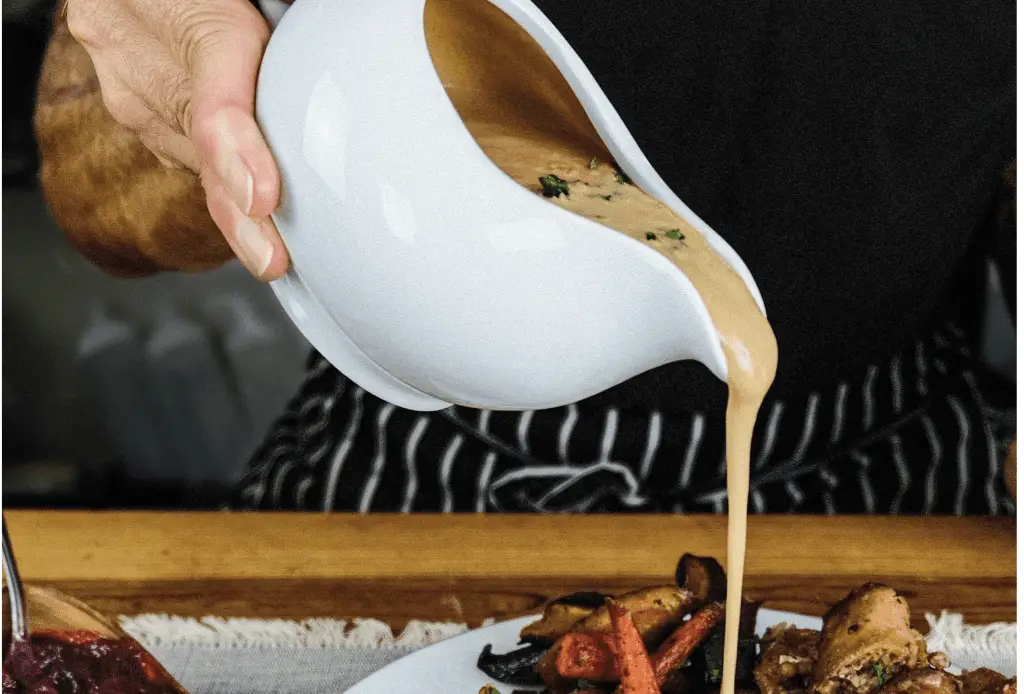 How to Make Molasses-Glazed Mushrooms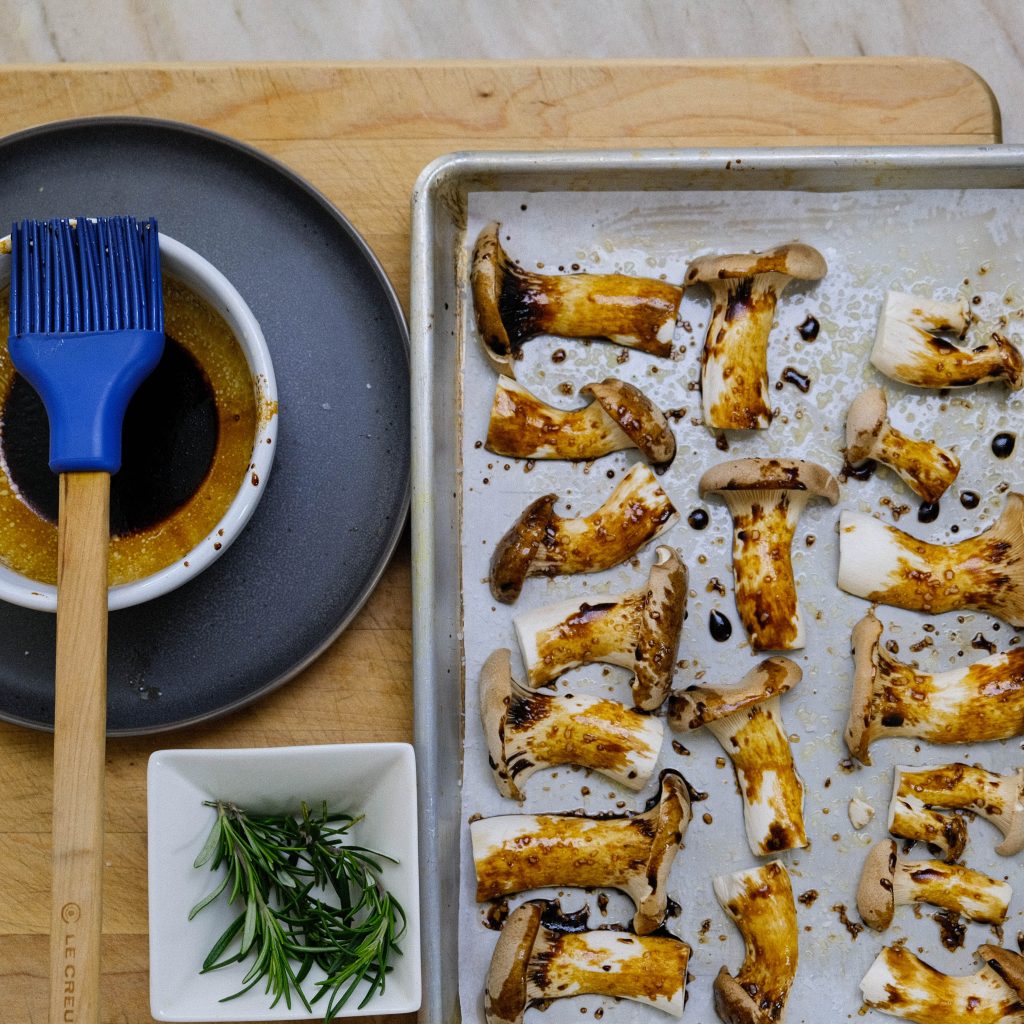 How to Make Vegan Sausage Crumble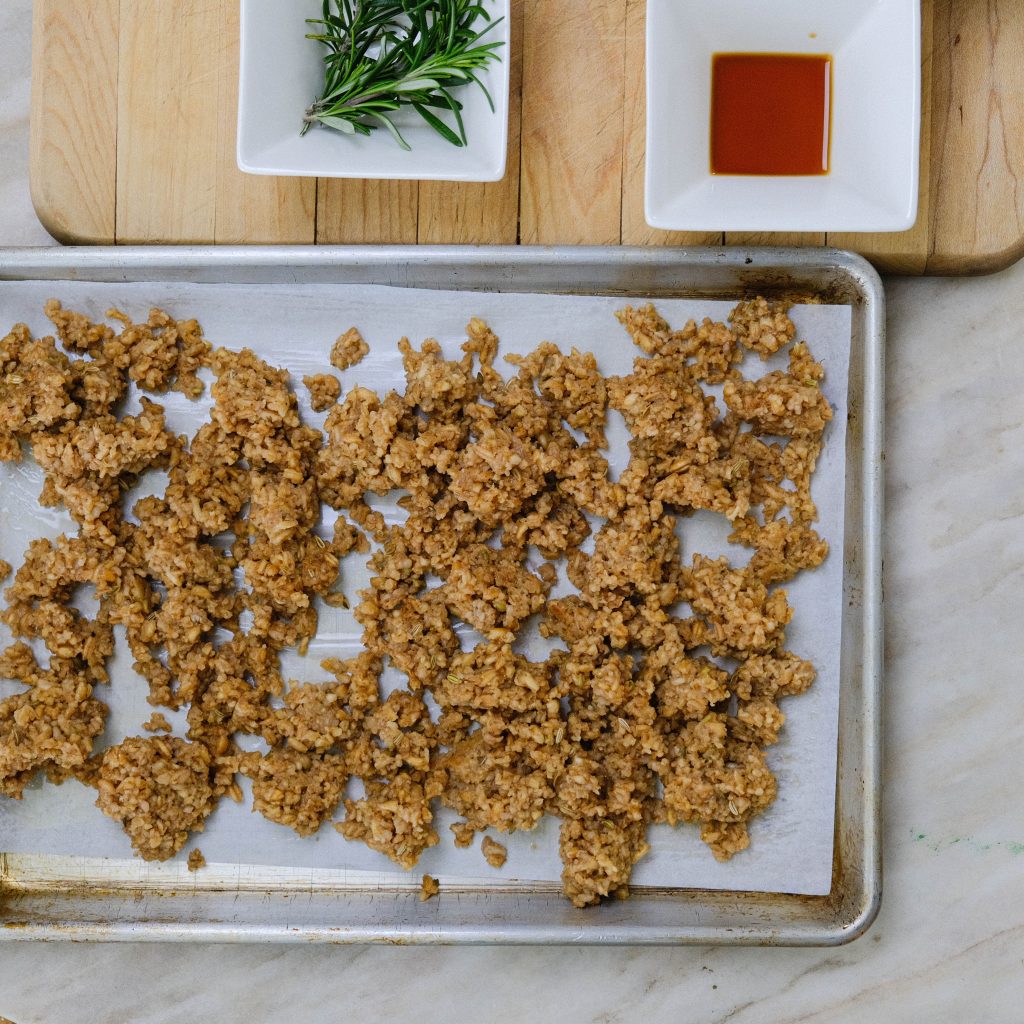 Chefs Tips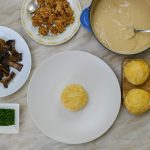 Vegan Biscuits & Gravy
Vegan Biscuits and Gravy is my go-to meal for family brunch celebrations. They are a delicious and satisfying breakfast that's both vegan and comforting.
Print Recipe
Instructions
How to Make Vegan Biscuits
Preheat oven to 450 degrees F.

Add lemon juice to plant milk to make "vegan buttermilk." Set aside.

In a large mixing bowl, whisk together dry ingredients.

Add cold butter and use a fork or a pastry cutter to combine the two until only small pieces remain and it looks crumbly. Work quickly so the butter doesn't get too warm.

Combine the dry ingredients with the plant milk mixture (vegan buttermilk) ¼ cup at a time. You may not need all of it. Stop when all the flour is combine and it's a bit tacky to the touch.

Turn onto a lightly floured surface, dust the top with a bit of flour, and then gently turn the dough over -5 times – barely kneading. Add more flour as needed to prevent sticking.

Form into a thick disc, handling as little as possible.

Use a cookie cutter or a similar-shaped object with sharp edges, push straight down through the dough, then slightly twist. Repeat and place biscuits on a baking sheet in two rows, making sure they just touch – this will help them rise uniformly. Gently reform the dough and cut out one or two more biscuits.

Brush the tops of the biscuits with melted vegan butter and gently press a small divot in the center using two fingers. This will also help them rise evenly, so the middle won't form a dome.

Bake for 10-15 minutes or until fluffy and slightly golden brown. Serve immediately. Let remaining biscuits cool completely before storing them in an airtight container.
How to Make Vegan Gravy
Warm 2 tablespoons of olive oil in a saute pan. Add the sliced onions and cook slowly until they are golden brown.

Add the fennel seed to the pan and allow it to cook for 3-5 minutes, allowing the fennel to release its oils.

Add the soy sauce and vegan Worcestershire sauce. Allow to cook and reduce by half.

Add the cashews, thyme sprigs, potatoes, and vegetable stock. Cook until the potatoes are soft, about 20-30 minutes.

Remove the thyme sprigs. Add to your blender with plant milk and apple cider vinegar. You may need to do this in 2 batches depending on the size of your blender.

Add the blended gravy back to the saucepan. Adjust the thickness with plant milk if needed. Finish with chopped parsley.
How to Make Molasses Glazed Mushrooms
Combine the molasses, olive oil, and truffle oil and stir to emulsify.

On a parchment-lined sheet pan, lightly oil and sprinkle salt. Place the cut mushrooms onto the pan. Use a pastry brush to glaze the mushrooms with the molasses glaze. Salt the top of the mushrooms.

Place in the oven for 5-7 minutes. Flip the mushrooms and glaze on the other side. Place back into the oven for another 5 minutes.

Once the mushrooms are cooked, finish with minced rosemary.
Notes
Nutritional values are an estimate.
Nutrition
Calories:
471
kcal
|
Carbohydrates:
65
g
|
Protein:
17
g
|
Fat:
18
g
|
Saturated Fat:
3
g
|
Polyunsaturated Fat:
4
g
|
Monounsaturated Fat:
8
g
|
Trans Fat:
0.04
g
|
Sodium:
5647
mg
|
Potassium:
853
mg
|
Fiber:
6
g
|
Sugar:
14
g
|
Vitamin A:
730
IU
|
Vitamin C:
15
mg
|
Calcium:
253
mg
|
Iron:
6
mg