Garlic Confit Mashed Potatoes are creamy and rich. You're going to fall in love with this simple recipe.
Garlic-Confit Mashed Potatoes
Peeled and Cut Yukon Potatoes
Cooking the potatoes in salted water
Adding hot potatoes to the ricer
Riced Potatoes with Garlic Confit
Chefs Tips
Cut the peeled potatoes into equal sizes. Maintaining consistency in the potato sizes is key here. If you have different sizes of potatoes you will end up with over cooked and under cooked pieces of potato—this will be a problem later in the recipe.

Always start your potatoes in cold water. The Cold water allows the potatoes to cook evenly, if you start with boiling water the potatoes will cook on the outside faster that the inside leaving you with over cooked on the outside and under cooked on the inside.

Using hot milk and butter will help the liquid absorb quicker into the potato helping to limit the starches being released into the puree, the more you mash or whip the more starch is released and the mashed potatoes can become gummy.

Ricing the potatoes is secret to perfect mashed potatoes. Ricing the potatoes is a fast way to create a smooth, creamy and airy potato puree.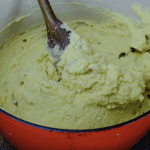 Garlic Mashed Potatoes
Servings: 6 People
Calories: 349kcal
Print Recipe
Instructions
Cut the potatoes into quarters.

Place the potatoes in a large pot and cover with cold salted water. The water should be salty like the sea.

On high heat, bring the potatoes to a boil then reduce the heat to a low simmer. Cook the potatoes until tender.

Heat a small pan over low to warm the plant milk.

Drain the potatoes. While still hot, pass all of the potatoes through a ricer into a large bowl.

Add the garlic confit, garlic oil, nutritional yeast and ½ of the plant milk. Using a potato masher, combine. Continue to add the milk until creamy and smooth. Add salt to taste.
Notes
Nutritional values are an estimate.
Nutrition
Calories: 349kcal | Carbohydrates: 69g | Protein: 9g | Fat: 5g | Saturated Fat: 1g | Polyunsaturated Fat: 1g | Monounsaturated Fat: 3g | Sodium: 1192mg | Potassium: 1564mg | Fiber: 8g | Sugar: 4g | Vitamin A: 29IU | Vitamin C: 74mg | Calcium: 97mg | Iron: 3mg
Shop the Recipe...