One of the things I love about this Creamed Spinach recipe is that is high in protein and low in fat but has all of the trademark richness and deep flavor with a hint of spice. This dish is perfect with 50-Hour Tofu Steak.
Shop the Recipe...
How To Make Vegan Creamed Spinach
Creamed Spinach ingredients
Saute shallots and garlic
Add cooked and chopped spinach
Mix to incorporate and warm
Chefs Tips
You can make this ahead of time and reheat if needed.
This Vegan Creamed Spinach can be used as a perfect spread for your next lasagna recipe. Just add it to a few layers and it will take on a whole new level of creamy flavor.
It would be great for stuffed pasta shells as well.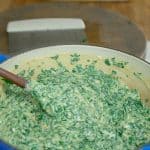 Creamed Spinach
Servings: 4 People
Calories: 162kcal
Print Recipe
Ingredients
Ice Bath
3 cups ice cubes
3 cups cold water
Instructions
How to make Creamed Spinach
Add the ice cubes to the cold water in a large bowl.

Bring a medium-sized pot of water to a rolling boil, and add 2 tsp of kosher salt to the pot. Add the baby spinach. Stir and cook the spinach for 1 minute. Drain the spinach. Plunge the cooked spinach into the ice water to stop the cooking.

Remove the spinach from the ice bath and squeeze as much water out of the spinach as possible.

Chopped the drained cooked spinach, the spinach needs to be chopped fairly fine. Set aside.

Heat a pan over medium heat, and add the olive oil, shallots, and garlic along with 2 tsp of kosher salt. Cook the shallot and garlic until a deep golden brown.

Add the flour to the shallots and garlic, stir to incorporate the flour, cooking for 1 minute. Reduce the heat to low.

Add the plant milk to the shallots and garlic, cooking for 5 minutes until the mixture starts to thicken

Add the silken tofu, using a handheld immersion blender puree the sauce until smooth.

Add cayenne pepper, nutmeg, and nutritional yeast. Stir to combine.

Add the chopped spinach, and heat over low. Keep warm until time to plate.
Notes
Nutritional values are an estimate.
Nutrition
Calories: 162kcal | Carbohydrates: 18g | Protein: 6g | Fat: 8g | Saturated Fat: 1g | Polyunsaturated Fat: 1g | Monounsaturated Fat: 5g | Sodium: 1545mg | Potassium: 495mg | Fiber: 3g | Sugar: 8g | Vitamin A: 5863IU | Vitamin C: 18mg | Calcium: 199mg | Iron: 3mg