This recipe has been a long time in the making. The first time I had Farro Sausage was in New York at a vegan pizza restaurant. The one pizza that really stuck out for me was a white sauce pizza with Farro Sausage, I fell completely in love with the Farro Sausage. In the following weeks and months, I couldn't stop thinking about how they made the sausage and how I was going to start making it myself. The first thing I did was to start working backwards on this recipe. You need to get the texture right, after that you need the fat, sweetness, salt and smoke. Of course the ever important umami must be BIG and I mean BIG. The sausage has a balance of texture, creamy and enough umami and smoke to bring you back to the memory of what sausage tastes like. The power of memory is enough to bring an emotional response to the surface with each bite.
Farro Sausage
Chefs Tips
The first step in the recipe is to crack the farro. This can be tricky but you want to see some pieces split, some whole a just a bit of powder. Remember not to over blend.
Serving Suggestions
The Farro Sausage freezes perfectly so go ahead and make a big batch.
We suggest either making these into patties or as a crumble. We use this in the Tofu Benedict recipe. We also put this into our tacos or Taco Salad recipe or anywhere you need a crumbled meat substitute.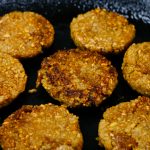 Farro Sausage
Servings: 20 ounces
Calories: 73kcal
Print Recipe
Instructions
Place the quick cook farro in a blender, pulse the farro 3-5 times. You are looking to break the farro up into small and medium sized pieces. DO NOT over blend, this will lead to creating farro flour which is not the goal.

Heat a large sauce pan over medium heat, add 1 Tbsp extra virgin olive oil.

Add the farro into the olive oil. We are looking to toast the farro just a little, when you can smell a light nuttiness that's the time to start adding the soy sauce, molasses and maple syrup. Continue to cook stirring for another 3 minutes to combine.

Add the vegetable stock, spices and salt. Stir to combine, reduce the heat to low. Cover and cook for 15-20 minutes.

Preheat the oven to 400 degrees. Spread the cooked farro in a thin layer on a baking sheet. Place in the oven for 15 minutes. Baking the farro reduces some of the moisture and creates a nice texture with some crispy bits.

Place the baked farro into a large bowl, its ok to let it cool enough so that you can handle it with your hands.

Add the panko breadcrumbs, 1 Tbsp extra virgin olive oil and oat milk. You'll need to adjust the moisture level here if you're making patties or crumble. Patties may need more plant milk to bind together.

Heat a sauté pan over medium-high heat, add enough olive oil to lightly cover the bottom of the pan, add your sausage patty or crumble, cooking until golden brown.
Notes
Nutritional values are an estimate.
Nutrition
Calories: 73kcal | Carbohydrates: 13g | Protein: 2g | Fat: 2g | Saturated Fat: 1g | Polyunsaturated Fat: 1g | Monounsaturated Fat: 1g | Sodium: 343mg | Potassium: 65mg | Fiber: 2g | Sugar: 3g | Vitamin A: 79IU | Vitamin C: 1mg | Calcium: 17mg | Iron: 1mg
Shop the Recipe...