Vegan Benedict for beginners! This dish uses soft tofu in a way that you will not believe. Placing the soft tofu in the flavored brine adds huge flavor and is an easy step in adding a ton of flavor to this dish. This Vegan Tofu Benedict looks and tastes like you have been cooking in the kitchen all day, the truth is you can get all of this done in less than an hour.
Shop the Recipe...
How to make the Tofu for Vegan Benedict
Adding the tofu to the brine
Vegan Hollandaise Sauce
Vegan Hollandaise Ingredients
Tofu Benedict
Chefs Tips
The idea of poaching the tofu came from poaching eggs in traditional eggs Benedict recipes. I wanted to recreate the step of poaching. The soft tofu creates the most delightful texture with a surprising flavor.
To save time, you can make the poached tofu the day before, all you have to do is cook the tofu for 30 minutes. Allow the tofu to cool then place in the refrigerator overnight.
Additionally, you can make and form the farro sausage the day before as well. You will just need to sauté them until golden brown.
If you are in a serious pinch for time you can substitute your favorite store-bought vegan sausage.
Another addition that I like to add is a side of sautéed spinach to put under the farro sausage, it brings a nice freshness to the dish and you get the added benefit of greens into your diet.
Serving Suggestions
We recommend home fried potatoes as a side (recipe coming soon). As well as fresh sliced tomato, avocado and fresh poached asparagus.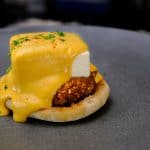 Tofu Benedict
Servings: 8 people
Print Recipe
Ingredients
What you need to build the Tofu Benedict
Instructions
How to Make Brine Poached Tofu
Use a pot large enough to hold all eight portions of tofu. Combine all of the ingredients in the pot, heat over medium, stir to mix and dissolve the salt and sugar.

Remove the tofu from its package and drain.

Cut the tofu in half, starting with the shorter side, then cut those halves into 4 portions.

Gently place the tofu into the brine and reduce the heat to low. The goal is to gently poach the tofu, if the brine boils it may break the tofu and the brine will reduce. The longer the tofu can poach the better. We recommend 30 minutes to 1 hour.
Building the Tofu Benedict 
Butter the English muffin, toast under the broiler until golden brown and crispy. 

Place the farro sausage patty on top of the English muffin.

Gently remove the tofu from the brine, placing it on top of the farro sausage.

Cover the tofu with vegan hollandaise sauce.

Garnish with a dash of cayenne pepper and chopped parsley.
Video
Notes
Nutritional values are an estimate.