Stuffed Peppers with BBQ Lentils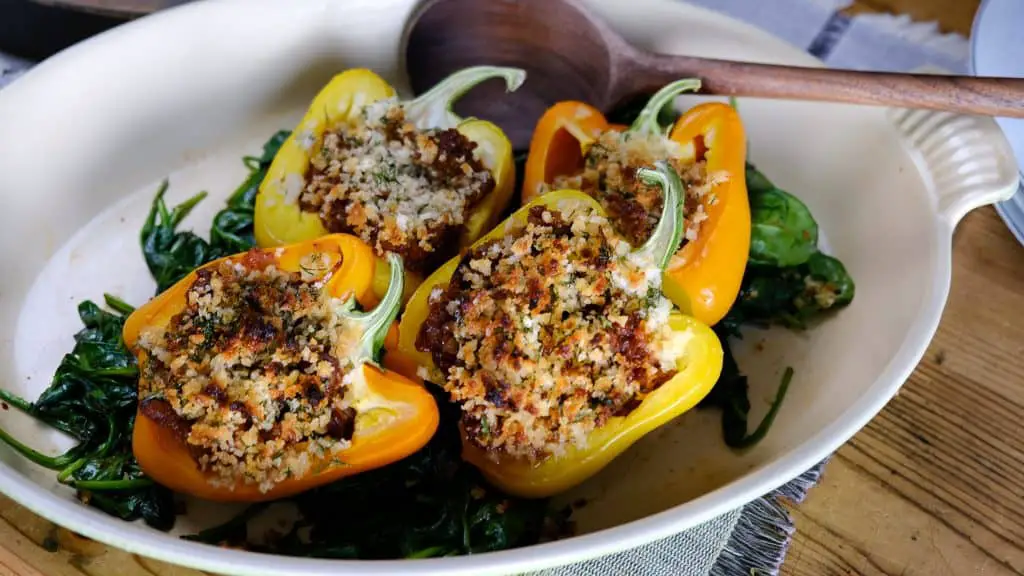 Stuffed peppers are the perfect easy vegan dinner. This recipe is healthy, delicious, and super easy to make.
If you've ever found yourself wondering if you were going to eat the same thing as you did last week and are looking for something wholesome, healthy, and really simple, you're in the right place.
Lentils are full of healthy plant-based protein combined with bell peppers which are full of vitamin C, antioxidants, and an excellent source of fiber.
I included sautéed spinach which is high in potassium and one of the most nutrient-rich leafy greens around so don't skip it.
Serve the stuffed peppers with roasted potatoes, baked sweet potato wedges, potato salad, or green beans.
How to Make Stuffed Peppers with Lentils
Chefs Tips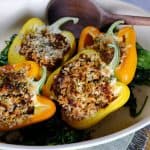 Stuffed Bell Peppers with BBQ Lentils
Vegan Mushroom Stroganoff with Crispy Polenta is a dinner that is perfect for a mid-week family dinner. It looks fancy and tastes like you're eating dinner out, but it's easier than you could ever have imagined.
Print Recipe
Instructions
BBQ Red Lentils Method
Preheat the oven to 375 degrees

Rinse the red lentils, bring a pot of water to a boil, place the lentils into the water cooking for 5 minutes. Drain and rinse the lentils under cold water.

Heat a saute pan over medium-high heat, add 1 Tbsp olive oil add the sliced yellow onions, cook until a golden brown, season with salt and pepper. Remove the onions from the pan, add the remaining 1 Tbsp of olive oil to the pan, add the cut mushrooms, cook until the mushrooms are a beautiful light brown, you do not want to overcook the mushrooms, the mushrooms should still have a meaty texture. Add the onions to the mushrooms along with the red chili flakes and the cumin, stir to combine, lightly toast the spices. Add cooked lentils and the BBQ sauce over low heat. Mix to incorporate the sauce, cooking for 5 minutes, enough for the sauce to reduce a bit.

Cut the bell peppers lengthwise, the best way to accomplish this is to take a sharp chef's knife and cut through the stem straight down the pepper. Once cut, remove the seeds and some of the rib meat if it seems like a lot. Place the BBQ red lentils into the Pepper and cover with a generous about of the panko dill bread crumbs. Cook in oven for 30-40 minutes.
Dill Panko Bread Crumbs
Gently melt the butter, add the chopped dill to the panko bread crumbs along with the melted butter, just the seasoning with salt and fresh cracked black pepper.
Notes
Nutritional values are an estimate only.
Nutrition
Calories:
323
kcal
|
Carbohydrates:
38
g
|
Protein:
14
g
|
Fat:
13
g
|
Saturated Fat:
2
g
|
Polyunsaturated Fat:
2
g
|
Monounsaturated Fat:
7
g
|
Trans Fat:
1
g
|
Sodium:
112
mg
|
Potassium:
684
mg
|
Fiber:
16
g
|
Sugar:
5
g
|
Vitamin A:
2244
IU
|
Vitamin C:
80
mg
|
Calcium:
53
mg
|
Iron:
5
mg