Socca is a chickpea pancake or flatbread. The great thing about this dish is the flexibility it has. You can add just about any vegetable or none at all. You can top with dressings, cheeses, chutneys in an endless variety of flavor profiles to suit you tastes. We chose zucchini here and it turned out beautiful and delicious. We also recommend using the Caramelized Onions as an option!
Zucchini Socca
Chefs Tips
Make sure the pan hot and use enough oil when cooking the Socca, it will help to caramelize the edges and creates great flavor and texture.
Serving Suggestions
We suggest serving this with a light Arugula Salad with a Lemon Vinaigrette.
If serving as an hors d'oeuvres, pair with chutney or salsa that guests can add themselves.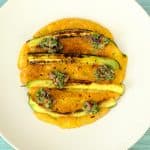 Zucchini Socca
Servings: 2 pancakes
Calories: 392kcal
Print Recipe
Instructions
How to make Socca with roasted zucchini.
Preheat the oven to 450 degrees.

Whisk the water into the chickpea flour, add 2 Tbsp of olive oil, thyme leaves, and salt. The socca batter should have the consistency of full-fat coconut milk. The batter should be free of lumps, allow the batter to rest for 30 minutes.

Cut the zucchini into quarters length-wise. Season with olive oil, lemon zest, salt, and fresh cracked black pepper.

Heat a heavy 8-inch pan over medium-high heat, add 4 marinaded zucchini strips, and cook until lightly chard for about 2-3 minutes.

Flip the chard zucchini, add 1Tbsp olive oil, pour half of the batter over the zucchini, try to fill the gaps between the zucchini and the edge of the pan. Cook on top of the stove for 2 minutes then place in the oven for 3 minutes.

Place a small plate over the socca, invert the pan to flip the socca out onto the plate.

Repeat steps 4-6 to make a second socca.
How to serve zucchini Socca.
Cut the zucchini socca into quarters, spoon some of the caper Kalamata olive chutney over each portion.
Video
Notes
Nutritional values are an estimate.
Nutrition
Calories: 392kcal | Carbohydrates: 44g | Protein: 15g | Fat: 19g | Saturated Fat: 2g | Polyunsaturated Fat: 3g | Monounsaturated Fat: 11g | Sodium: 1798mg | Potassium: 860mg | Fiber: 9g | Sugar: 10g | Vitamin A: 399IU | Vitamin C: 52mg | Calcium: 76mg | Iron: 4mg
Shop the Recipe...