Caramelized Onions are one of those cooking techniques that will never let you down and if you are an avid cook it's great to know how to make them. I have been making them my whole career and the memories run deep. I can see a large pot filled with 5 gallons of sliced onions and the smell as they caramelize is as fresh in my mind as if it were yesterday. One of my first tasks as a young chef was to make caramelized onions for all the cooks—hence the 5 gallon memory. One morning the Chef showed up early and caught all of us off guard. That large pot of onions that all the cooks stirred and took care of would take hours to cook properly and if we weren't careful it might burn in certain areas—well that day of course it burned and we never heard the end of it and of course I got the brunt of it as it was ultimately my responsibility. To this day I am still very careful when caramelizing onions not to burn them.
As an ingredient, caramelized onions have the power to elevate a dish from good to great. Caramelized Onions are so diverse, they can boost a soup and bring flavor or texture to an endless variety of dishes.
We utilize Caramelized Onions in a number of dishes including the Smashed Potatoes recipe.
Caramelized Onions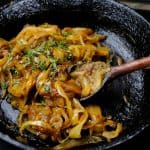 Caramelized Onions
Servings: 1 Cup
Calories: 18kcal
Print Recipe
Ingredients
1 yellow onion sliced thinly
1 Tbsp olive oil
1 Tbsp thyme fresh
Kosher Salt to taste
Fresh cracked black pepper to taste
Instructions
How to Make Caramelized Onions
Heat a heavy pan or pot large pot over medium-high heat. Add the olive oil to the pan.

Add the sliced onions to the pan. Allow the onion to cook for 1 -2 minutes before you start stirring the onions, stir the onions scraping the bottom of the pan. Continue to cook and sit the onions for 4 more minutes.

Reduce the heat to medium-low, allow the onions to lightly brown on the bottom before you stir, and scrape the bottom with a wooden spoon. Continue to cook stirring and scarping for another 35 minutes.

The finished onions should be a deep golden brown and the onions should be tender and sweet.

Finish the onions with the thyme leaves, adjust the seasoning with kosher salt and fresh cracked black pepper. I like to add a little dash of olive oil to the caramelized onions to finish.
Notes
Nutritional values are an estimate.
Nutrition
Serving: 1oz. | Calories: 18kcal | Carbohydrates: 12g | Protein: 2g | Fat: 14g | Saturated Fat: 2g | Polyunsaturated Fat: 2g | Monounsaturated Fat: 10g | Sodium: 5mg | Potassium: 203mg | Fiber: 3g | Sugar: 5g | Vitamin A: 335IU | Vitamin C: 19mg | Calcium: 54mg | Iron: 2mg
Shop the Recipe...