Vegan Artichoke Spinach Dip is a must for any gathering from casual to the upscale event. However, there are so many uses for this recipe. Use it for a spread on your wrap or sandwich or use it as a sauce for pasta. How will you use this amazingly creamy Vegan Artichoke Spinach Dip?
How to Make Vegan Artichoke Spinach Dip
Start with making cashew cream. This is going to bring creaminess to the dip.

Artichokes can either be chopped or pureed depending on your preference in texture, some like it chunky others smooth. I tend to fall into the category of a little of both.

Next season with spices and lemon juice add spinach. This is the basic outline of Vegan Artichoke Spinach Dip.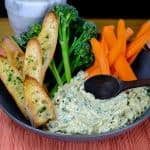 Artichoke Spinach Dip
Servings: 10 As a dip
Calories: 124kcal
Print Recipe
Instructions
Heat a sauté pan over medium heat, add 1 tbsp olive oil, add diced onions and minced garlic. Cook until the onions start to take on a light brown color. Season with salt and black pepper. Set aside too cool.

Place the cashews, plant milk, dijon mustard, ½ of the artichoke hearts, nutritional yeast, Old Bay seasoning, cayenne pepper, in the blender puree until smooth. Remove and place in a bowl.

Heat a heavy sauté pan over high heat. Cook and season the spinach with salt in small batches, The goalie to almost toast the spinach more than just wilt it. Nice call of the spinach is cooked and cooled die the spinach a gently pressing to remove any extra water. Give the spinach a rough chop.

Chop the remaining the other ½ of the artichokes, I like a little texture in the dip but not too much, this is a personal choice.

Place all of the ingredients into a bowl and mix to incorporate, zest the whole lemon with a micro-plane grater, add a squeeze of fresh lemon juice. Adjust the salt and the lemon juice to taste.
Notes
Nutritional information is an estimate.
Nutrition
Serving: 56grams | Calories: 124kcal | Carbohydrates: 9g | Protein: 4g | Fat: 9g | Saturated Fat: 1g | Polyunsaturated Fat: 1g | Monounsaturated Fat: 5g | Sodium: 138mg | Potassium: 203mg | Fiber: 2g | Sugar: 3g | Vitamin A: 954IU | Vitamin C: 11mg | Calcium: 41mg | Iron: 2mg
Shop the Recipe...