Shiitake Mushroom Sauce is the perfect pairing for the 50 Hour Tofu Steak.
The Shiitake Mushroom Sauce and Braised Potato combination are a great side to just about any dinner. The layering of flavors and the cross-utilization of cooking techniques is fun and time-saving.
Shop the Recipe...
How To Make Shiitake Mushroom Sauce
Remove the stem
Chefs Tips
Shiitake mushroom sauce will pair well with a variety of dishes including mashed potatoes, Polenta or Rice cakes.
Add chopped parsley and rosemary to the shiitake sauce and you just created a new dish that will pair great with sautéed polenta.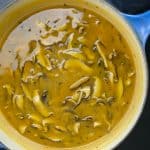 Shiitake Mushroom Sauce
Servings: 16 ounces
Calories: 29kcal
Print Recipe
Instructions
How to make Shiitake Mushroom Sauce
Heat a pot over medium-high heat, add the olive oil, and shiitake mushrooms. Cook for 8-10 minutes until light golden brown.

Reduce the heat to low, add the flour, and stir to combine. Cook for 2 minutes.

Add the potato braising liquid, including the garlic cloves and thyme sprigs. Add the vegetable broth. Stir to combine. Increase the heat to medium heat. Cook for 5 minutes.

The broth should be starting to thicken. Add the molasses and red wine vinegar.

Cook over low heat for 5 minutes. Remove the time sprigs.

Keep warm until time to plate.
Notes
Nutritional values are an estimate.
Nutrition
Calories: 29kcal | Carbohydrates: 3g | Protein: 1g | Fat: 2g | Saturated Fat: 1g | Polyunsaturated Fat: 1g | Monounsaturated Fat: 1g | Sodium: 62mg | Potassium: 93mg | Fiber: 1g | Sugar: 1g | Vitamin A: 31IU | Vitamin C: 1mg | Calcium: 2mg | Iron: 1mg