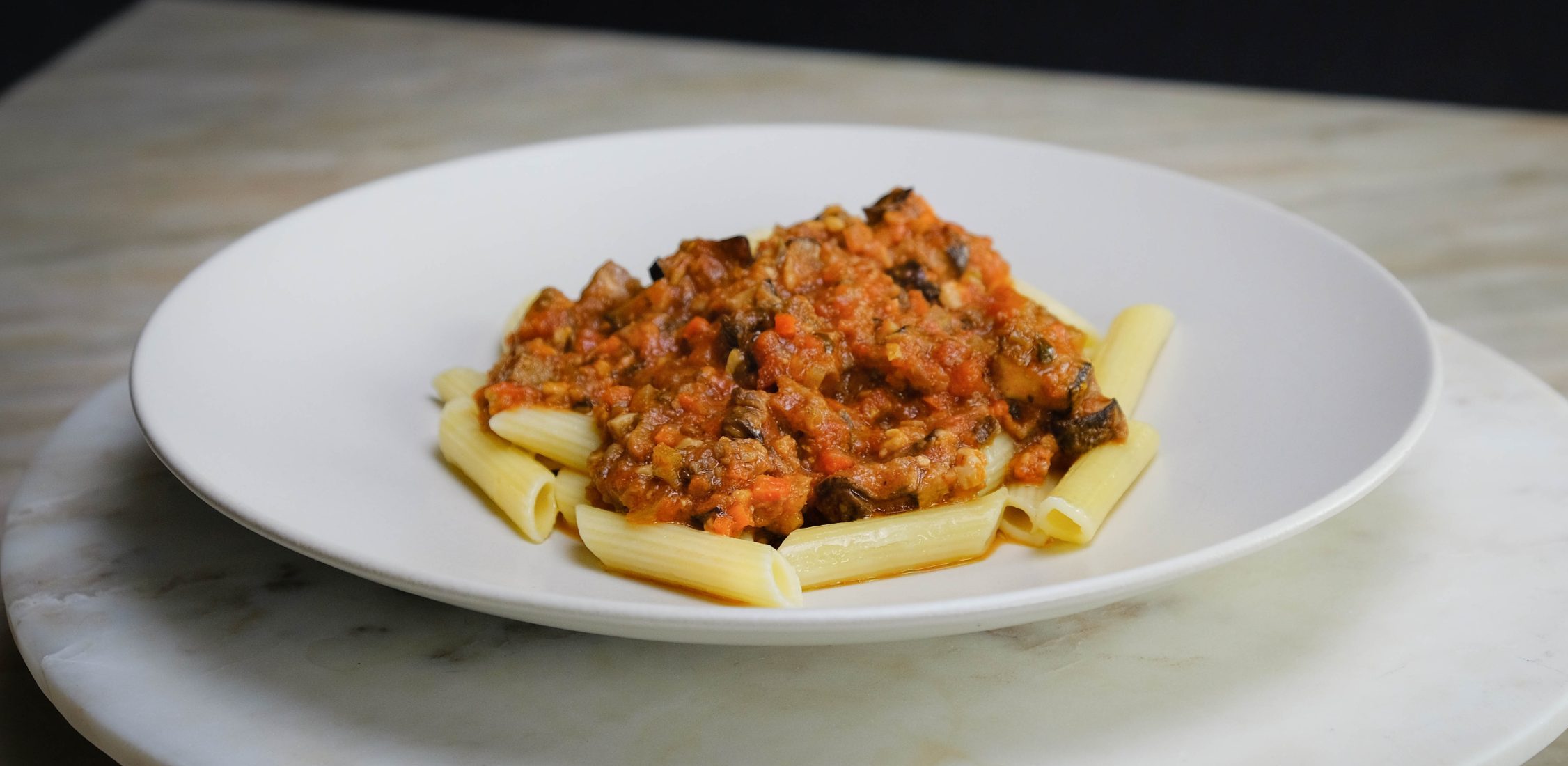 Introduction to Mushroom Bolognese
With an array of mushrooms at my disposal, from meaty portobellos to delicate shiitakes, I embarked on my culinary exploration. What I discovered was nothing short of a revelation. As I sautéed these fungi treasures with mirepoix, garlic, and red miso, an irresistible umami aroma filled the kitchen, promising a comforting and satisfying meal.
The secret to the success of vegan mushroom Bolognese lies in its ability to mimic the texture and depth of flavors found in traditional meat-based versions. Mushrooms, with their earthy essence and meaty texture, provide the perfect foundation. They absorb the seasonings and spices, transforming into savory morsels that are both satisfying and nourishing.
Using three different mushrooms, button, shiitake, and portobello, I am able to create a blend of flavors and textures that will have you coming back for more.
Join me on this epicurean adventure as we celebrate the incredible versatility of mushrooms and explore the endless possibilities of plant-based cuisine. Whether you're a vegan, a curious foodie, or simply seeking new culinary delights, vegan mushroom Bolognese sauce is a journey you won't want to miss. Get ready to savor the bold flavors and revel in the joy of compassionate cooking.
What You Need…
How to Make Mushroom Bolognese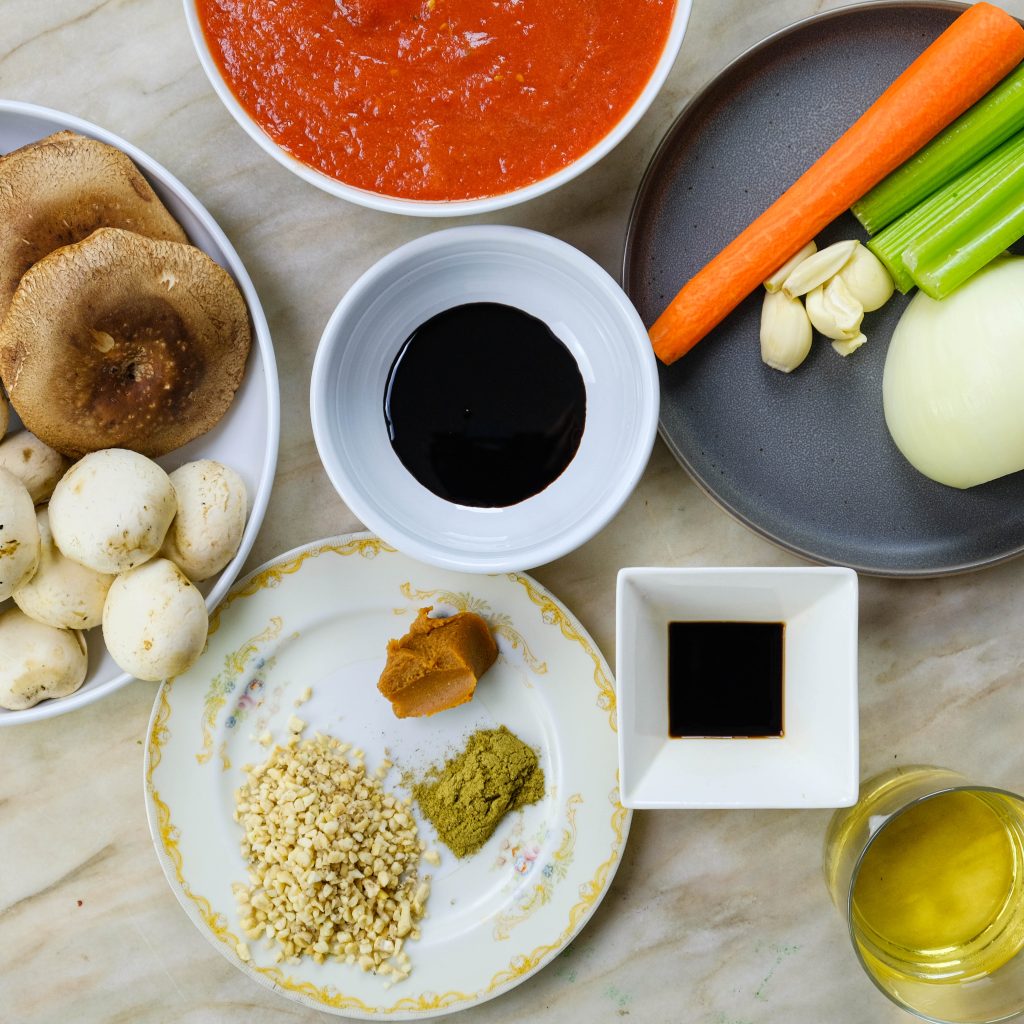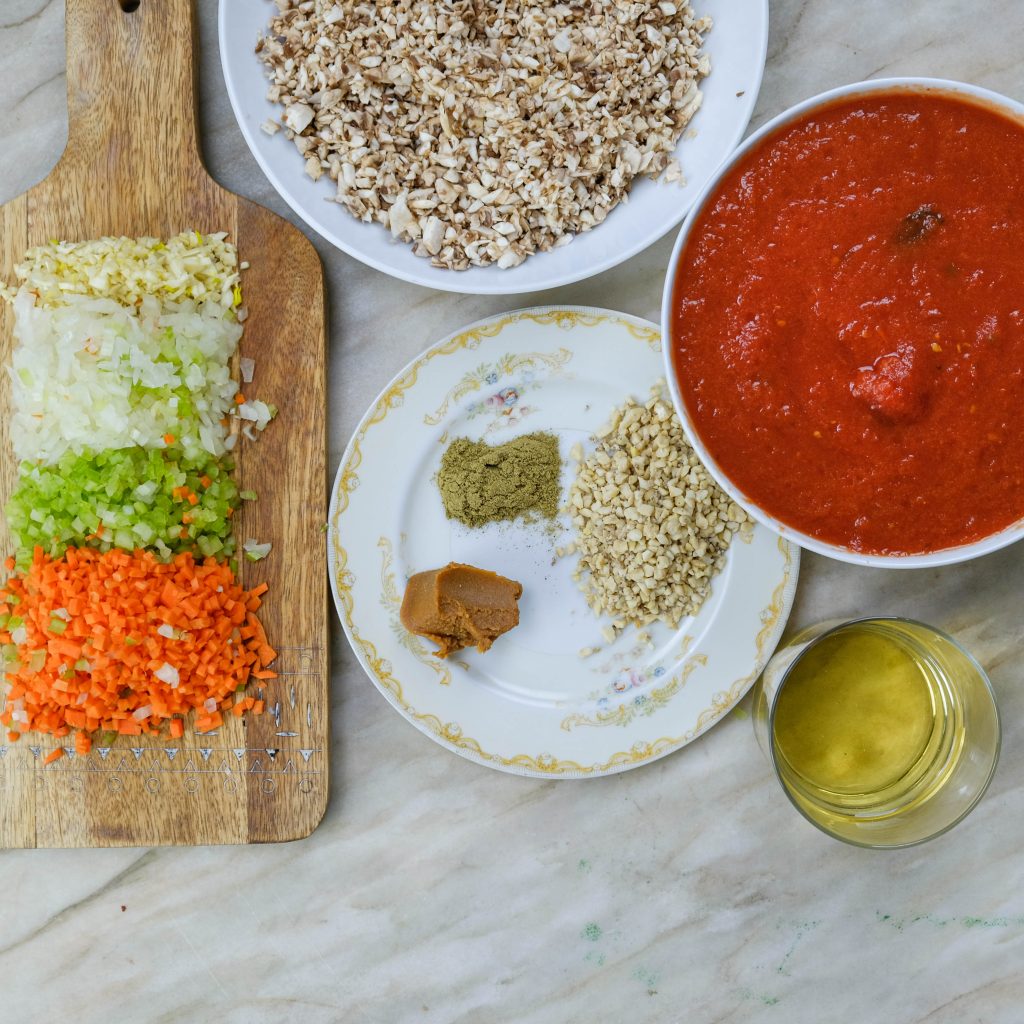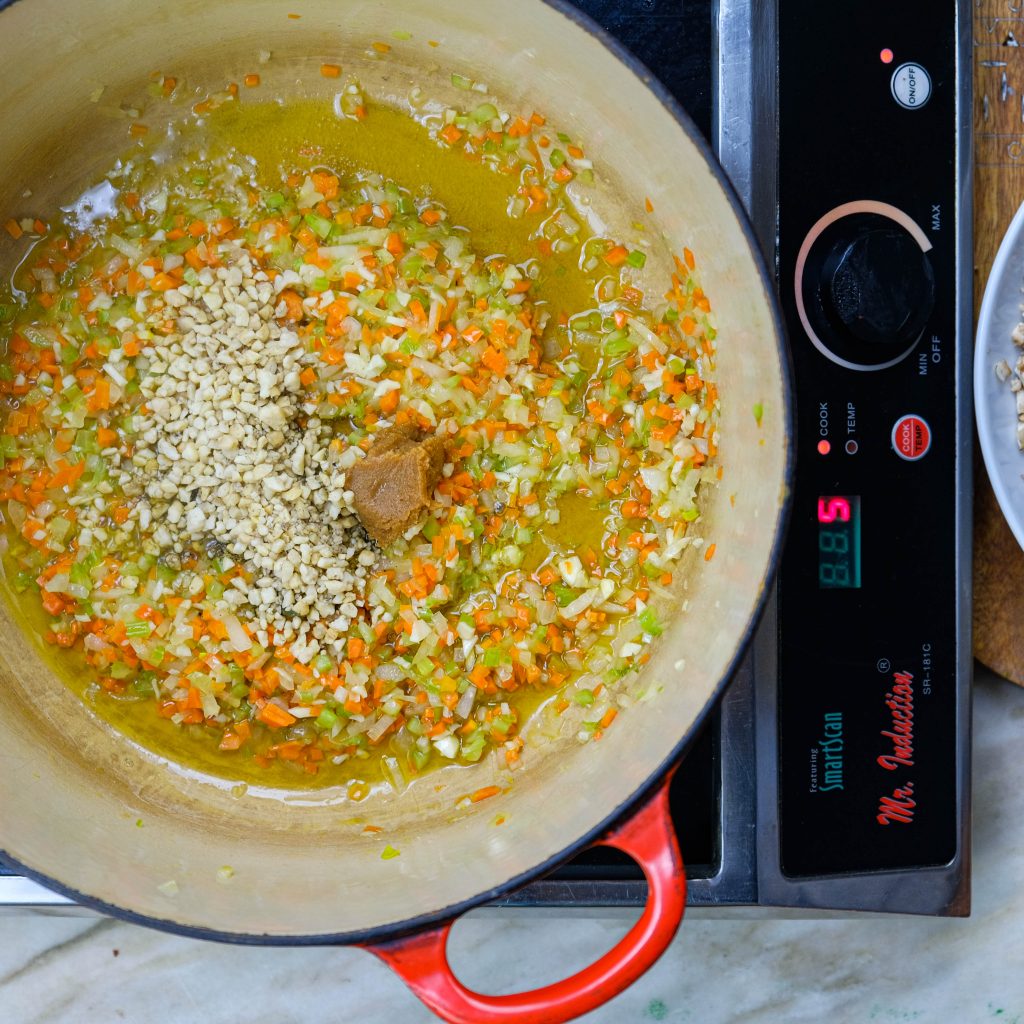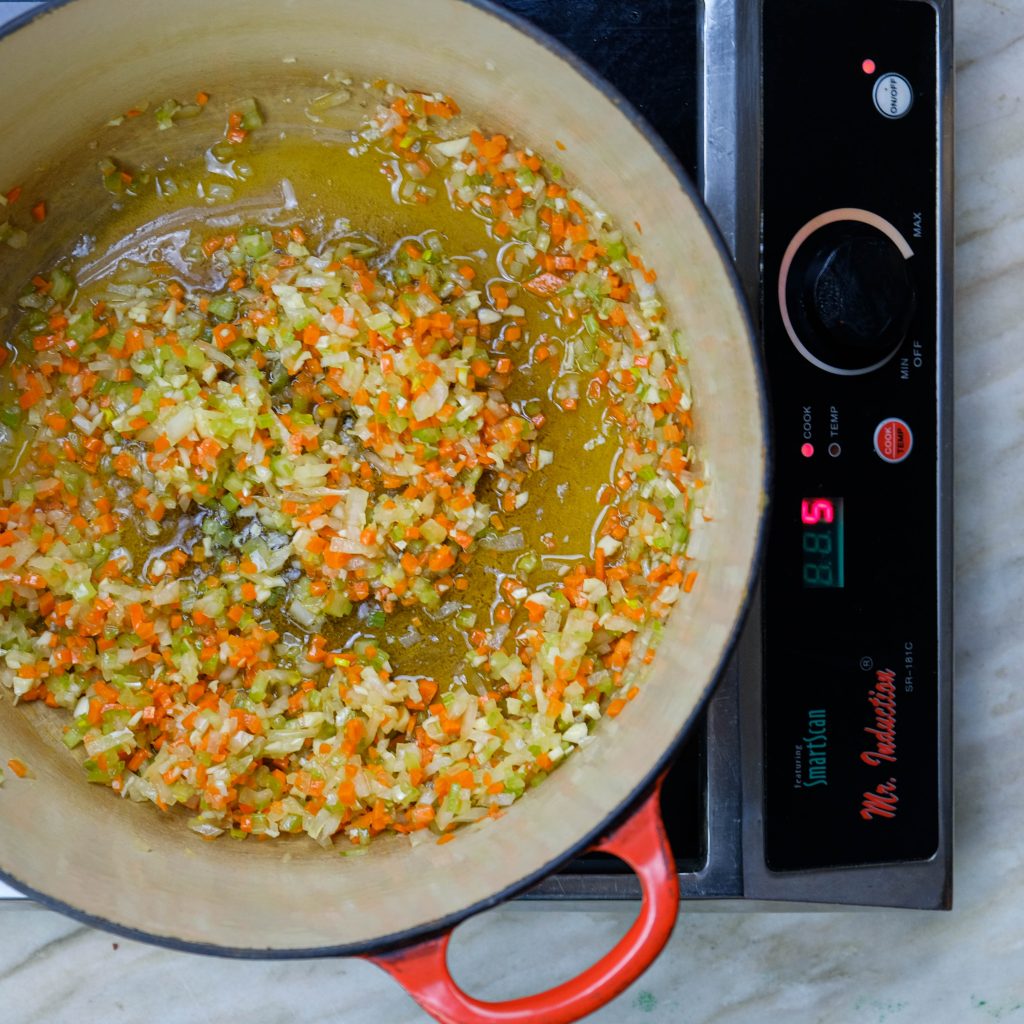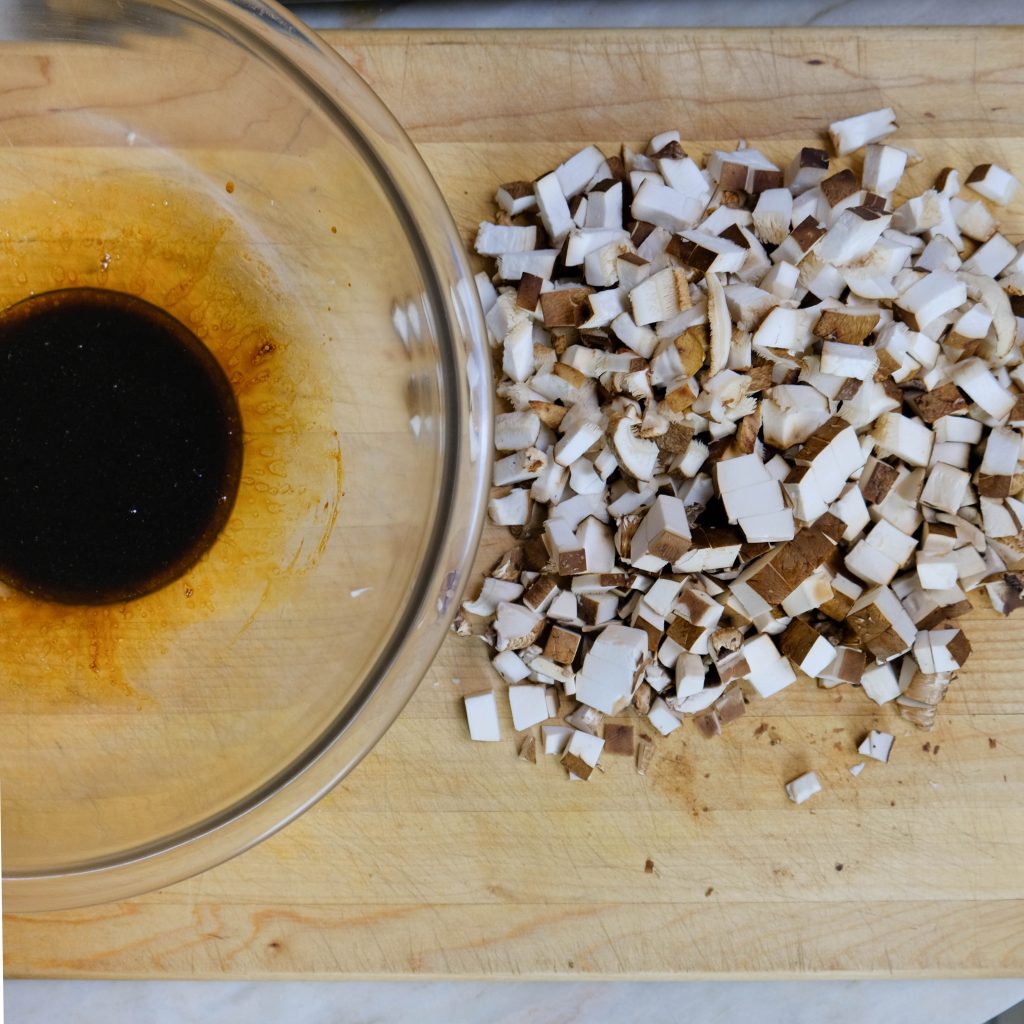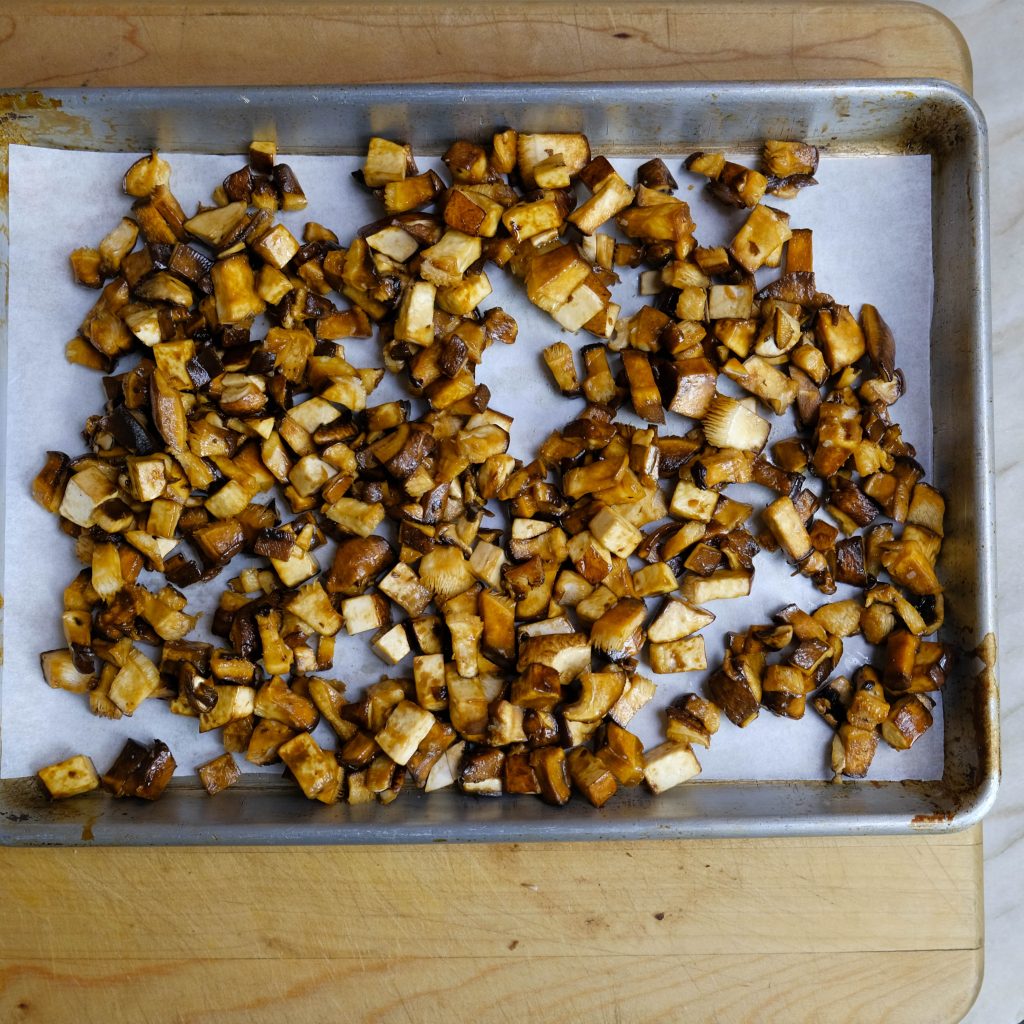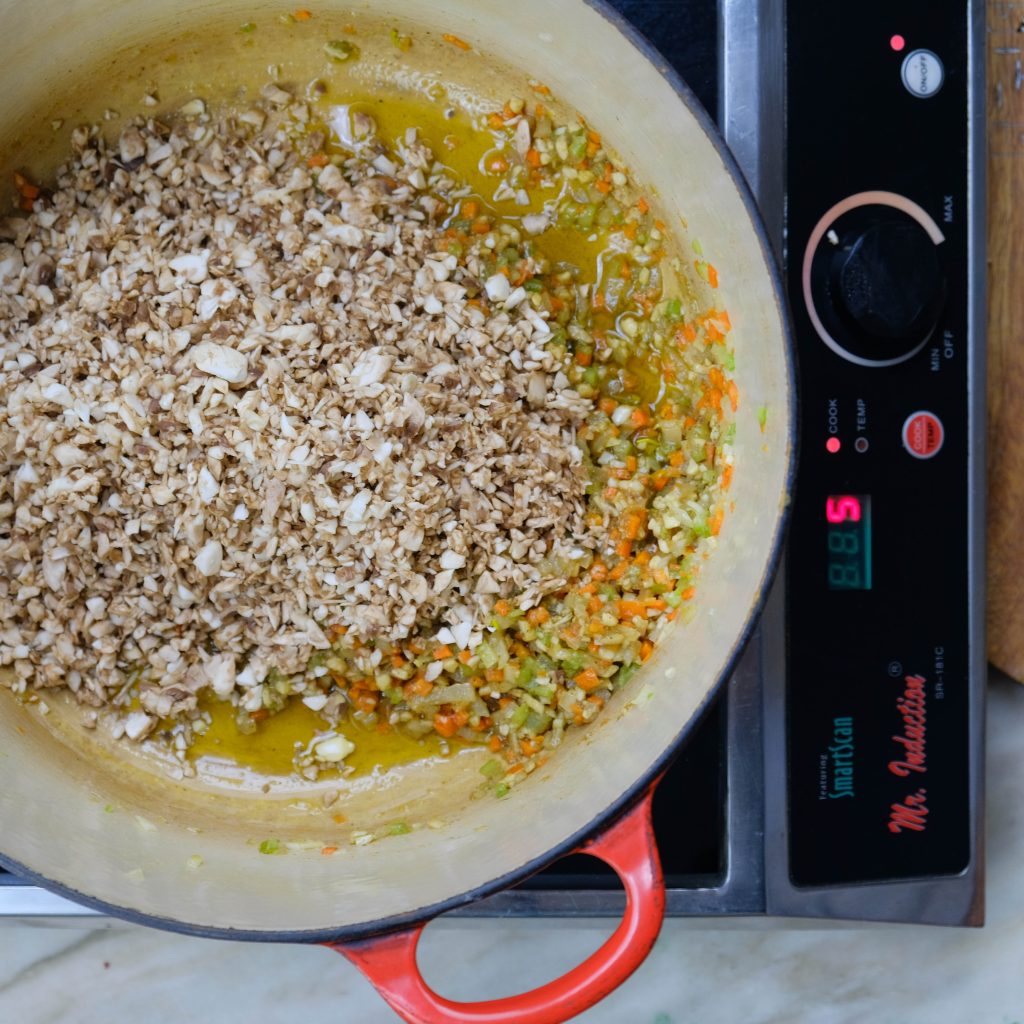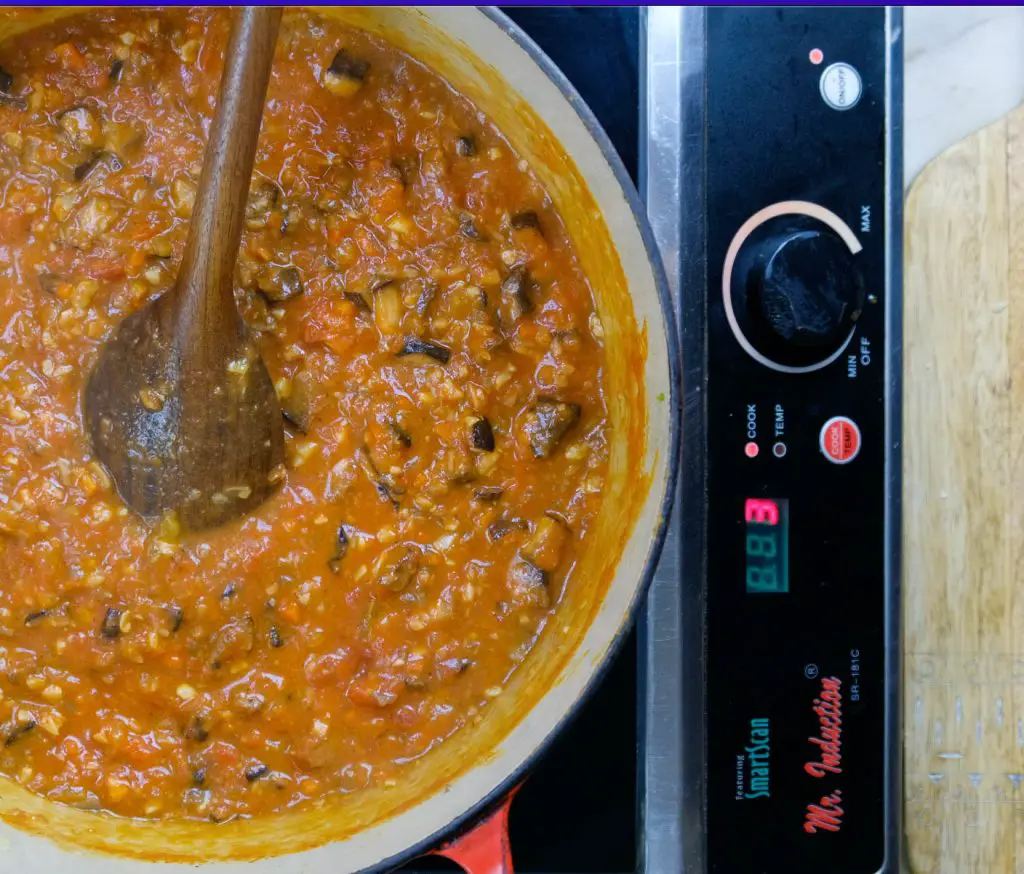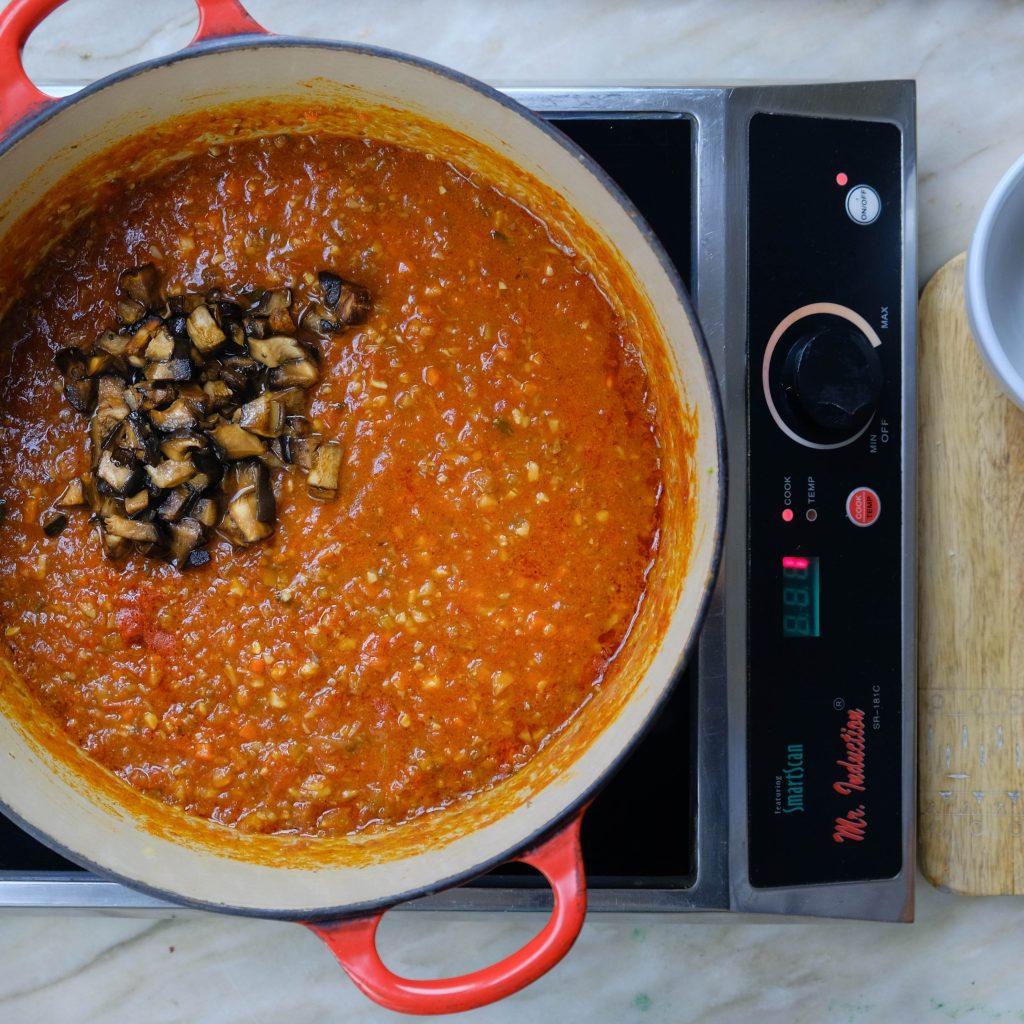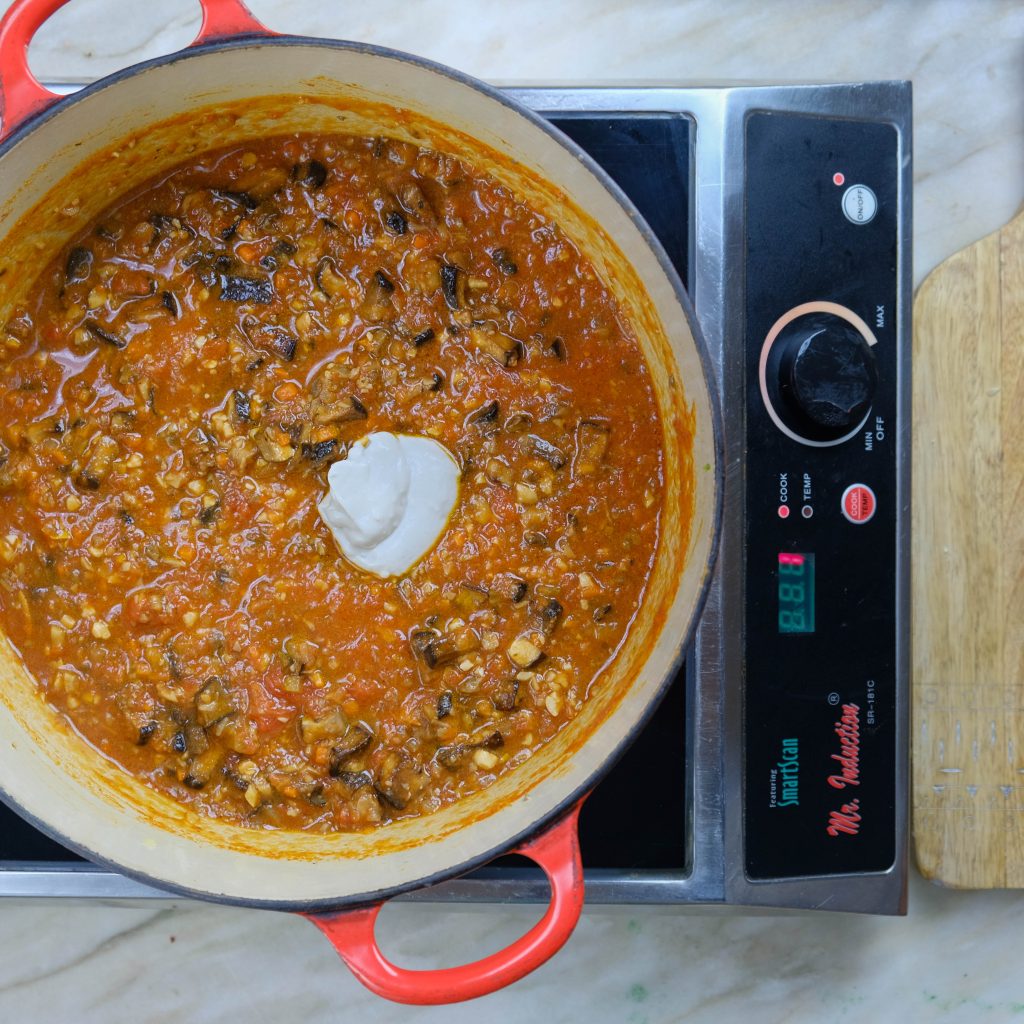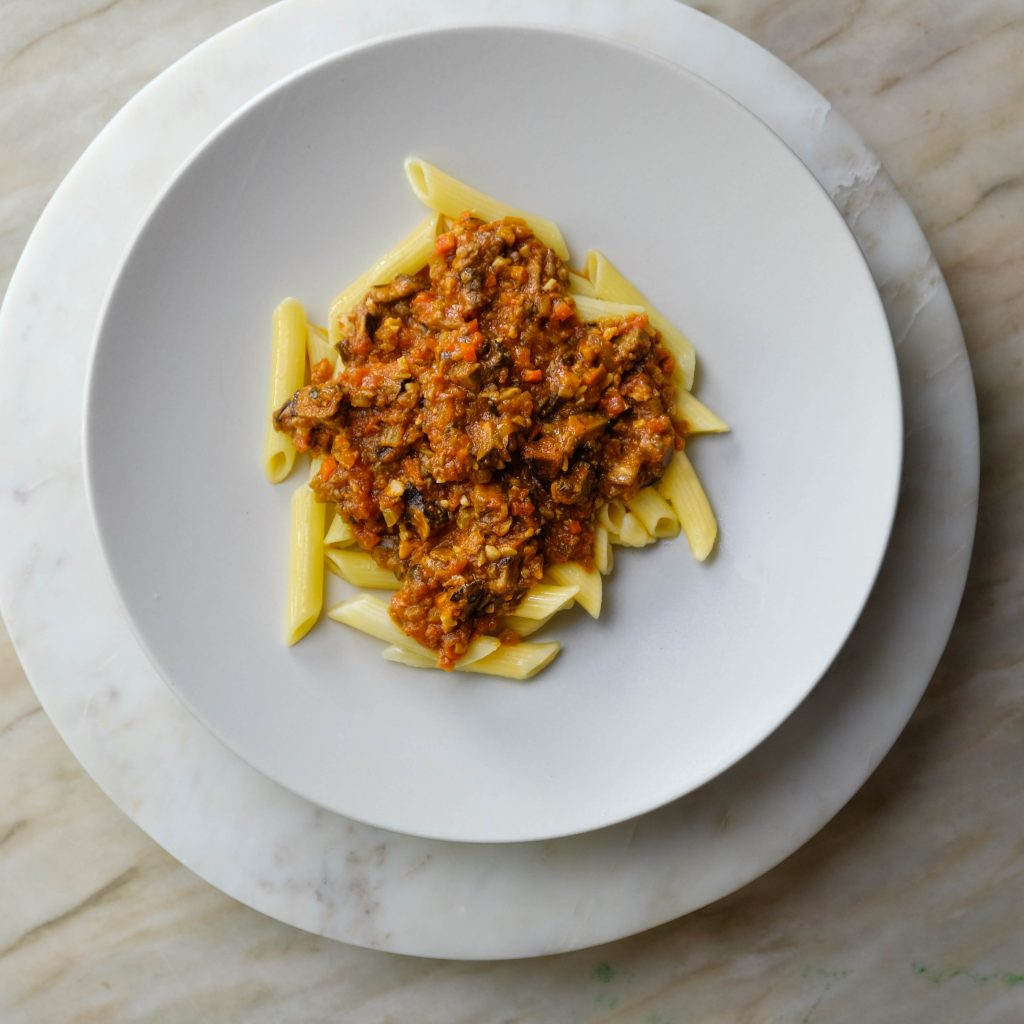 Chefs Tips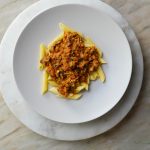 Mushroom Bolognese
Using three different mushrooms, button, shiitake, and portobello, I am able to create a blend of flavors and textures that will have you coming back for more.
Print Recipe
Ingredients
Mushroom Bolognese
½

cup

yellow onion

small dice

½

cup

carrots

small dice

½

cup

celery

small dice

4

garlic cloves

minced

¼

cup

olive oil

extra virgin

1

Tbsp

red miso paste

3

Tbsp

cashews chopped

8

oz

button mushrooms

chopped finely

1

bay leaf

¾

cup

white wine

28

oz

San Marzano tomatoes

peeled, chopped

½

cup

vegetable stock

2-3

Tbsp

cashew cream
Smoky Roasted Mushrooms
Instructions
How to make mushroom bolognese
Heat a large pot over medium heat. Add the extra virgin olive oil, saute the onions and garlic for 2-3 minutes, add the celery, carrots, and cook for another 3 minutes. Continue to stir making sure the vegetables do not pick up any color.

Add the red miso and cashews, and stir to combine.

Add the chopped button mushrooms, and saute for 5 minutes. The mushrooms should release some liquid, continue to cook until most of the liquid has reduced.

Add the white wine, and cook until reduced by more than half.

Add the tomatoes and vegetable stock.

Reduce the heat to low, cover the pot with a lid leaving a gap to allow moisture to escape. Cook for 35-45 minutes.

Finish the mushroom bolognese with the cashew cream and roasted mushrooms. Stir to combine.
How to make smoky mushrooms
Preheat the oven 425 degrees.

Combine the molasses, liquid smoke, EVOO, and salt. Mix to combine.

In a large bowl combine the marinade and mushrooms, use your Hans to massage the marinade into the mushrooms.

Place the mushrooms on a baking sheet, lined with parchment paper. Bake for 10-12 minutes.
How to make cashew cream
Combine, cooking for 15 minutes over low heat.

Puree in a high-speed blender until smooth.
Notes
Nutritional values are an estimate.
Nutrition
Calories:
362
kcal
|
Carbohydrates:
32
g
|
Protein:
10
g
|
Fat:
22
g
|
Saturated Fat:
3
g
|
Polyunsaturated Fat:
3
g
|
Monounsaturated Fat:
14
g
|
Sodium:
600
mg
|
Potassium:
987
mg
|
Fiber:
6
g
|
Sugar:
16
g
|
Vitamin A:
2232
IU
|
Vitamin C:
16
mg
|
Calcium:
138
mg
|
Iron:
4
mg