Vegan beurre blanc sounds complicated but it really is very straightforward as far as cooking goes. Traditionally a butter and white wine sauce with shallots. We use the cashews to achieve the fat component and in this case, we 
WHAT YOU NEED...
Shallots: are the preferred aromatic vegetable for this sauce.
White Wine: use a white wine that you enjoy to make the sauce. 
Cashew pieces: will give this sauce the punch of fat that you would normally get with cream & butter. 
Plant milk: we use oat milk but you can use whatever plant milk you have or like.
How To Make Vegan Beurre Blanc
Slice the shallots then add the rest of the ingredients. Orange is used in this picture as a optional flavor.
Add the plant milk and simmer on low heat for 40 minutes. Blend until smooth
Adding rosemary, garlic and orange is optional.
Chefs Tips
If using a mandolin slicer, use a guard or glove to protect your fingers.

We use dry vermouth and white wine for an optimal sauce. You can substitute just white wine or a wite vinegar if you don't have dry vermouth.

Garlic, orange and rosemary are all optional for this recipe.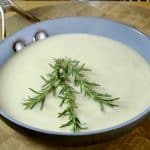 Vegan Beurre Blanc Sauce
Servings: 16 ounces
Calories: 85kcal
Vegan Beurre Blanc with shallots and white wine is fabulous with hits of rosemary and garlic.
Print Recipe
Ingredients
FOR THE SAUCE
3 shallots peeled and sliced
2 cups white wine
¼ cup dry vermouth
3 sprigs thyme
1 bay leaf
2 cloves garlic
1 potato Yukon Gold, cut into small pieces
1 cup cashews pieces, chopped
1 cup plant milk
1 sprig rosemary
Instructions
SAUCE METHOD
In a non-reactive pot add the shallots, white wine, dry vermouth, thyme sprigs, bay leaf, garlic cloves, cashews, and yukon potato. Simmer over low heat, the liquid should reduce by half. The flavors need to intensify and develop, this only happens when liquids reduce slowly. This should take about 40 minutes.

Remove the bay leaf, thyme sprigs, place the liquid in a high speed blender, start to puree on slow for 30 seconds, then increase the speed, we are looking to see how the puree is starting to form, if it's to thick add 1/4 cup plant milk, the sauce needs to be in that goldilocks space of "just right", not to thick but not thin. Puree until it's smooth enough and you can not feel any particles on your tongue.

Place the finished sauce in a pan and adjust the salt level to taste. Add a 1 large sprig of rosemary to the sauce and allow the rosemary to steep, the goal here is to add the freshness and brightness of the rosemary in a gentle manner.
Notes
Nutritional values are an estimate.
Nutrition
Serving: 1Ounce | Calories: 85kcal | Carbohydrates: 6g | Protein: 2g | Fat: 4g | Saturated Fat: 1g | Polyunsaturated Fat: 1g | Monounsaturated Fat: 2g | Sodium: 13mg | Potassium: 102mg | Fiber: 1g | Sugar: 2g | Vitamin A: 40IU | Vitamin C: 1mg | Calcium: 31mg | Iron: 1mg