Introduction to Sweet and Sour Tofu
In the realm of plant-based cuisine, there's a delightful fusion of flavors, textures, and culinary creativity that can transform even the most humble ingredients into a mouthwatering masterpiece. One such dish that perfectly embodies this essence is the Vegan Sweet and Sour Tofu. 
This vibrant and savory-sweet tofu recipe marries the satisfying heartiness of tofu with a blend of sweet and sour flavors. Whether you're a seasoned vegan or someone looking to add more plant-based options to your diet, this recipe promises to be a game-changer for your dinner lineup.
The star of the show, tofu, is a versatile ingredient loved by many for its ability to absorb the flavors of its accompanying ingredients. When combined with the irresistible tang of sweet and sour sauce, tofu undergoes a transformation that elevates it to a whole new level. The result? A dish that's not only visually appealing but also rich in flavor.
Versatility
What makes this vegan sweet and sour tofu recipe particularly appealing is its versatility. You can customize it to your preferences by adding an array of colorful vegetables, making it a treat for your taste buds and a feast for your eyes. From sweet peppers to pineapple to broccoli or green beans, the possibilities are endless, allowing you to tailor the dish to your liking.
Moreover, this recipe doesn't just cater to vegans. It's a fantastic option for anyone looking to explore the world of meatless meals, whether it's for health reasons, environmental concerns, or just a desire to try something new and delicious.
So, get ready to embark on a culinary adventure that promises to awaken your taste buds and open up a world of flavors that will leave you craving more. Whether you're a vegan aficionado or a curious newcomer, there's something magical about the fusion of sweet, sour, and savory in this delectable tofu dish you want to make again and again.
Serving Suggestions
If you're a traditionalist, you'll be starting up the rice cooker for this dish. You can always try out some forbidden rice or black rice to add some variety to your dinner.
Another fun change is to eat this with a rice noodle, udon noodle, or even a soba noodle. Both are delicious and easy to whip up in a jiffy.
What You Need…
How to Make Sweet and Sour Tofu
Chefs Tips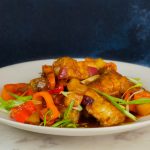 Sweet and Sour Tofu
This vibrant and savory-sweet tofu recipe marries the satisfying heartiness of tofu with a blend of sweet and sour flavors. 
Print Recipe
Ingredients
Vegetables
½

cup

scallions

sliced

1

cup

pineapple

diced

1

cup

sweet peppers

sliced

1

cup

red onion

diced
Instructions
How to Prepare the Tofu
Press the tofu for 20-30 minutes.

Cut the tofu into strips.

Toss the tofu with the mushroom powder, 5-spice, and kosher salt, and sesame oil. Marinate for 10 minutes.

Combine the garbanzo bean flour and cornstarch.

Toss to coat the tofu with garbanzo bean flour mixture and set aside.

Heat the olive oil in a heavy pan over medium heat. Place the tofu in the pan. Make sure not to overcrowd the pan. Cook the tofu until crispy on all sides.

Remove the tofu from the pan. Allow to drain on a paper towel-lined plate.
How to Make Sweet and Sour Sauce
Combine all of the ingredients, and stir to mix.
How to Make Sweet and Sour Tofu
A large heavy pan over medium heat.

Sauté the onion for 1 minute, add the peppers cook for 2 minutes.

Add the pineapple cooking for 3-4 minutes.

Pour the sauce onto the vegetables, stirring and cooking until thick.

Add the tofu, and toss to coat.

Place on a platter and sprinkle the sliced scallions on top.
Notes
Nutritional values are an estimate.
Nutrition
Calories:
360
kcal
|
Carbohydrates:
41
g
|
Protein:
13
g
|
Fat:
17
g
|
Saturated Fat:
2
g
|
Polyunsaturated Fat:
5
g
|
Monounsaturated Fat:
9
g
|
Sodium:
1325
mg
|
Potassium:
407
mg
|
Fiber:
5
g
|
Sugar:
22
g
|
Vitamin A:
1442
IU
|
Vitamin C:
75
mg
|
Calcium:
163
mg
|
Iron:
3
mg