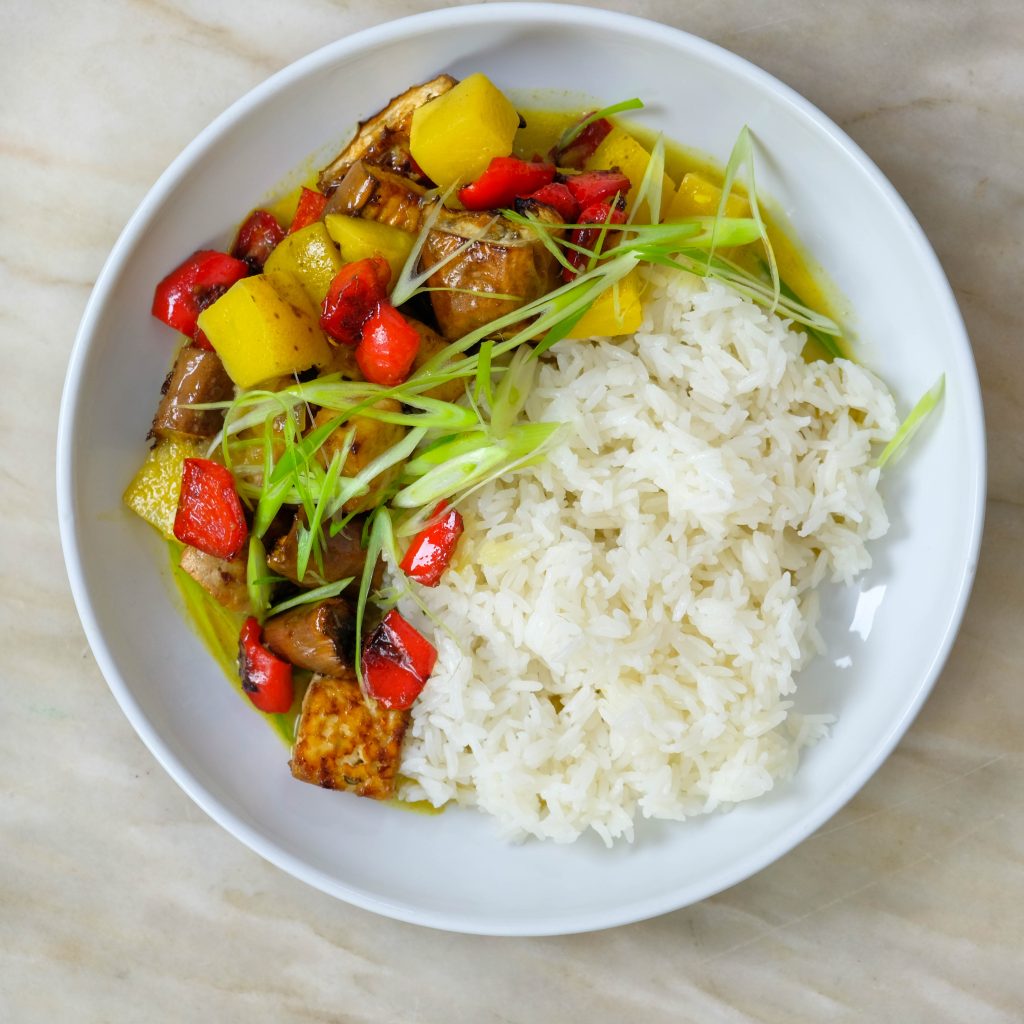 Introduction to Coconut Curry Bowl
Indulge in the harmonious blend of flavors and textures with our Vegan Coconut Curry Bowl. This recipe celebrates the beauty of plant-based cuisine, featuring a vibrant medley of eggplant, potato, tofu, and red bell peppers. In a world where dietary preferences are evolving, this dish captures the essence of veganism without compromising on taste or satisfaction.
Eggplant
The eggplant is at the heart of this dish, known for its ability to absorb the fragrant coconut curry sauce. Each tender bite of eggplant bursts with a savory, creamy infusion of flavors, making it the perfect canvas for the robust curry. Paired with velvety potatoes, the curry bowl offers a comforting, hearty element that balances the dish's creaminess with a mild, earthy taste.
Tofu
For those seeking a protein-packed delight, our tofu takes center stage. Marinated and roasted to perfection, the tofu cubes provide a chewy, substantial texture that contrasts beautifully with the tender vegetables. Tofu's innate ability to absorb flavors makes it a star player in this curry, ensuring that every bite is infused with aromatic spices and creamy coconut essence.
Red Bell Peppers
Adding a pop of color and a hint of sweetness, the red bell peppers bring visual appeal and a refreshing crunch to the dish. These peppers, with their vibrant red hue, complement the creamy coconut base with a slight touch of brightness and natural sweetness, enhancing the overall balance of flavors.
Serving Suggestions
Traditionally, we serve this with jasmine rice which is easy and delicious. Brown rice is another delicious and healthy option. I a big fan of udon or soba noodles as an option as well.
As you savor each spoonful of this Vegan Coconut Curry Bowl, you'll embark on a culinary journey that showcases the sheer diversity and creativity of plant-based cuisine. It's a testament to how simple, wholesome ingredients can come together to create a symphony of flavors that appeal to the senses and nourish the body.
Whether you're a committed vegan or simply seeking a flavorful departure from your regular dining choices, this curry bowl invites you to explore the world of plant-based cooking in a satisfying and truly delightful way. With its combination of eggplant, potato, tofu, and red bell peppers, this dish promises a memorable dining experience that will leave you craving more.
What You Need…
Chefs Tips
Coconut Curry Bowl
Indulge in the harmonious blend of flavors and textures with our Vegan Coconut Curry Bowl.
Print Recipe
Ingredients
Roasted Eggplant and Red Pepper
Instructions
How to Make Coconut Curry Sauce
Heat a saucepan over medium add the olive oil, and sauté the onions and garlic for 2 minutes.

Add the sugar, salt, and curry powder and continue to cook for another minute.

Add the soy sauce, cooking until reduced by half.

Stir the potatoes into the mixture, and add the water cooking medium-low heat for 5 minutes. The water should be reduced by half.

Add the coconut milk and Kaffir lime leaves. Simmer over low heat until the potatoes are tender.
How to Make Roasted Eggplant, Red Pepper, and Tofu
Preheat the oven to 425 degrees.

Combine the olive oil, sweet soy sauce, red chili flakes, salt, and mushroom powder. Stir to combine.

Add the diced tofu, eggplant, and red bell peppers, stir to combine, and evenly coat.

Spread the tofu, eggplant, and red bell peppers on a baking sheet lined with parchment paper. Make sure to give plenty of space between the ingredients. The airflow will create even roasting. Use two baking sheets if the pan is overcrowded.

Roast for 25- 30 minutes until crispy and on the edges and the eggplant is tender.
Nutrition
Calories:
440
kcal
|
Carbohydrates:
39
g
|
Protein:
13
g
|
Fat:
26
g
|
Saturated Fat:
9
g
|
Polyunsaturated Fat:
5
g
|
Monounsaturated Fat:
12
g
|
Sodium:
1386
mg
|
Potassium:
689
mg
|
Fiber:
7
g
|
Sugar:
14
g
|
Vitamin A:
1048
IU
|
Vitamin C:
54
mg
|
Calcium:
169
mg
|
Iron:
3
mg