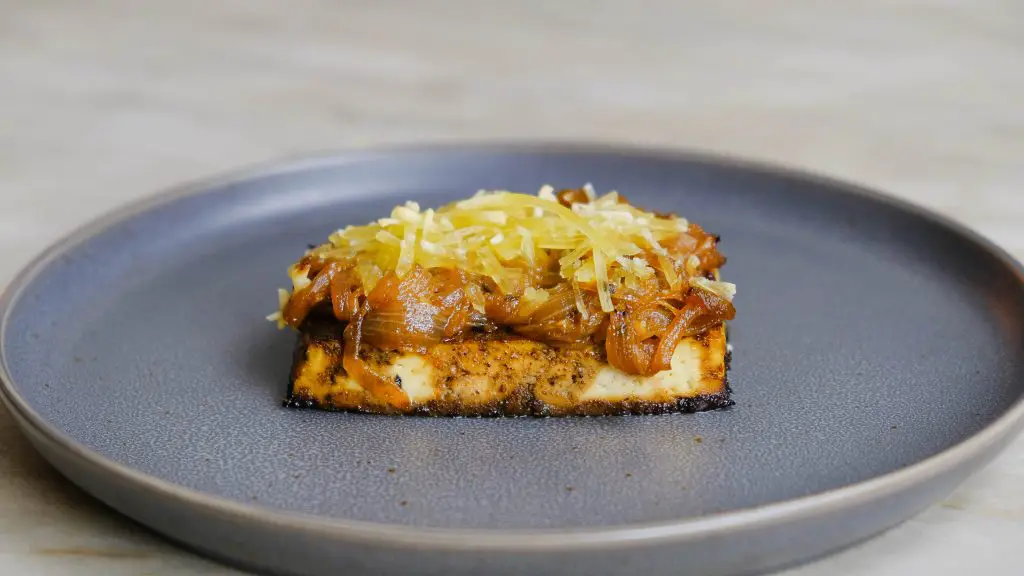 Introduction to French Onion Tofu
Say bonjour to French Onion Tofu, a tasty and innovative dish that brings the charm of France to your plate in a unique and healthy way. Ah, the enchanting world of French cuisine, with its rich flavors and time-honored traditions. While the words "French Onion" may typically conjure images of warm, bubbling pots of soup topped with a blanket of melted cheese, we're about to embark on a culinary journey with a delightful twist.
Tofu
This tofu dish is a remarkable fusion of classic French flavors and the versatility of tofu. Tofu takes on the role of the main protein in this recipe, absorbing all the savory goodness of caramelized onions, aromatic herbs, and a touch of wine – reminiscent of the famous French onion soup. But unlike its cheesy counterpart, this dish offers a lighter, vegan alternative that's just as satisfying.
Caramelized Onions
In this blog post, we will dive deep into the art of creating this exquisite dish. The meticulous process of caramelizing onions to unlock their natural sweetness, and the balance of herbs and seasonings will transport your taste buds to the charming streets of Paris.
Whether you're a seasoned tofu enthusiast or simply curious about exploring the world of plant-based cuisine, this recipe promises a delightful surprise for your palate. Plus, it's a wonderful way to celebrate the flavors of France without compromising on your dietary choices.
So, if you're ready to embrace the elegance of French cooking in a new light, join us as we embark on a culinary adventure that redefines your understanding of both French Onion and tofu. Get your apron ready, and let's delve into the world of French Caramelized Onion Tofu, where tradition meets innovation.
What You Need…
How to Make French Onion Tofu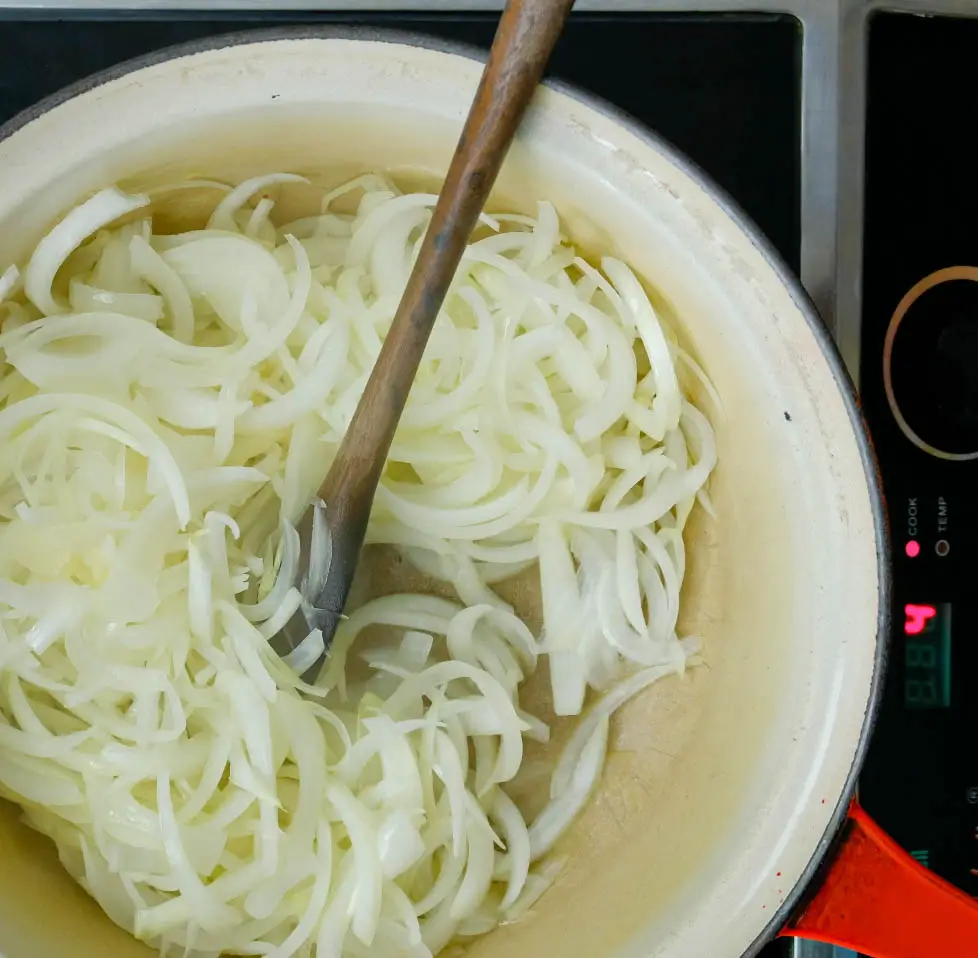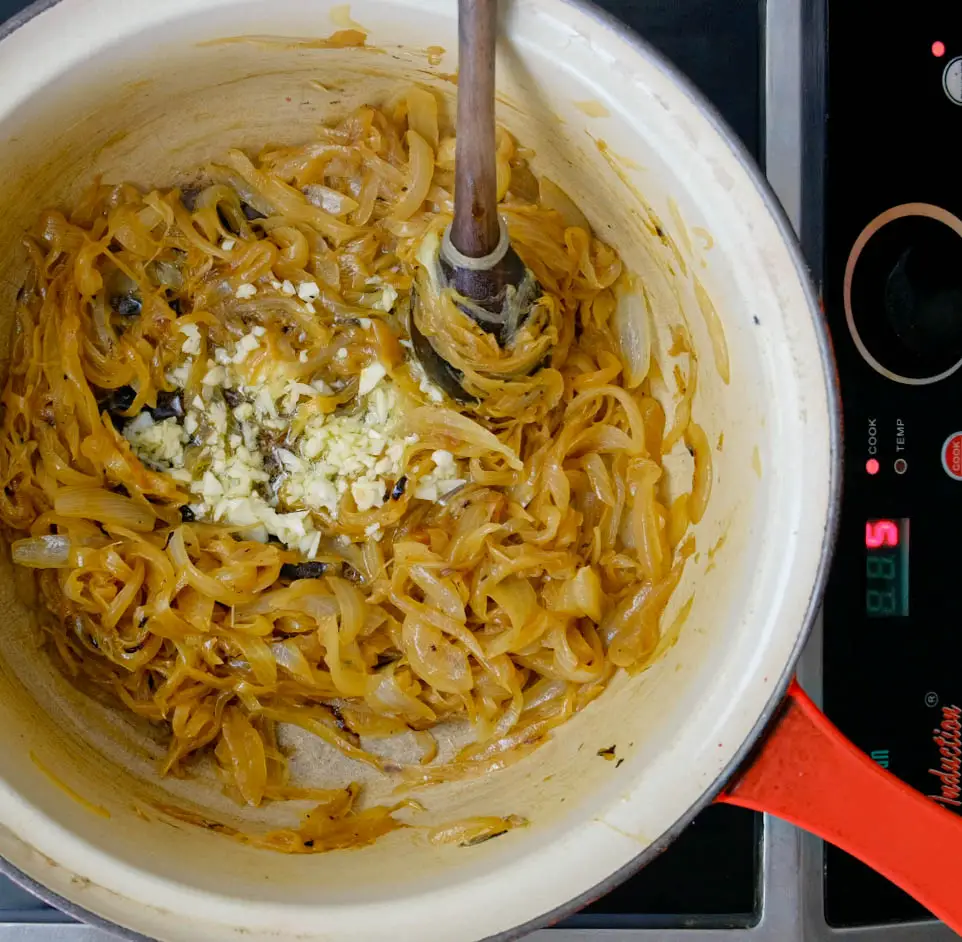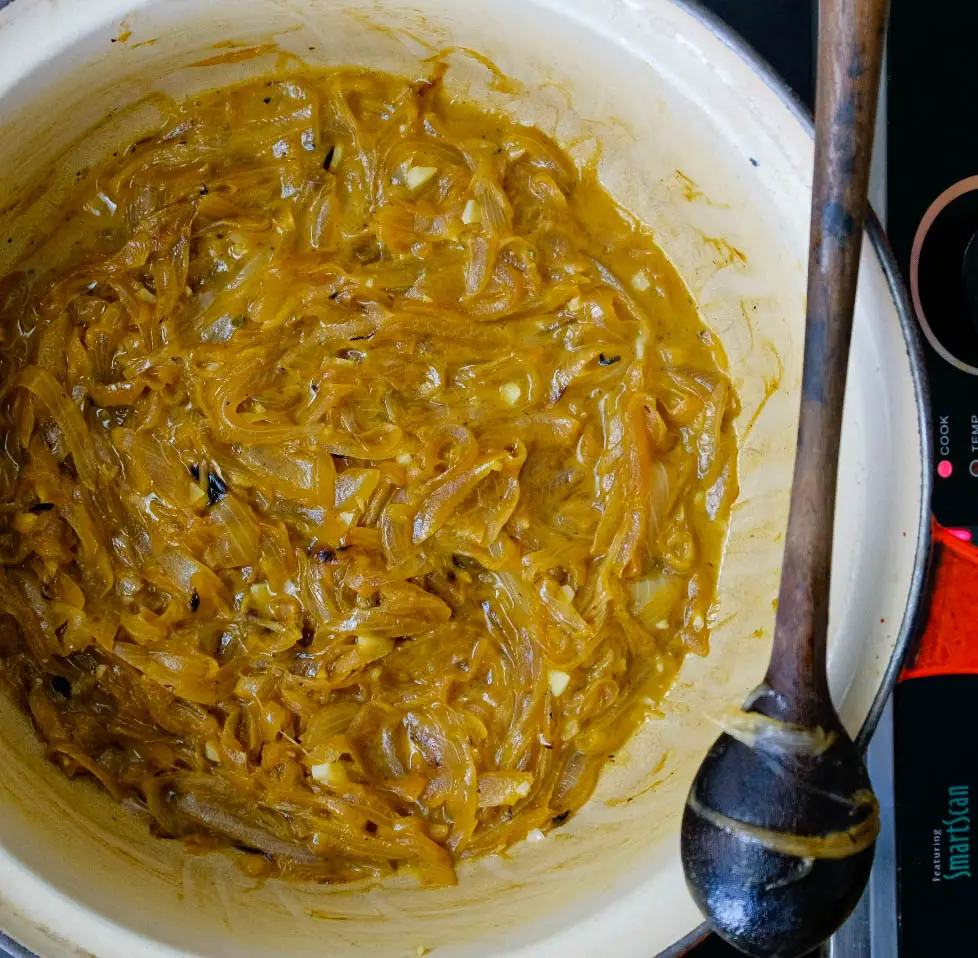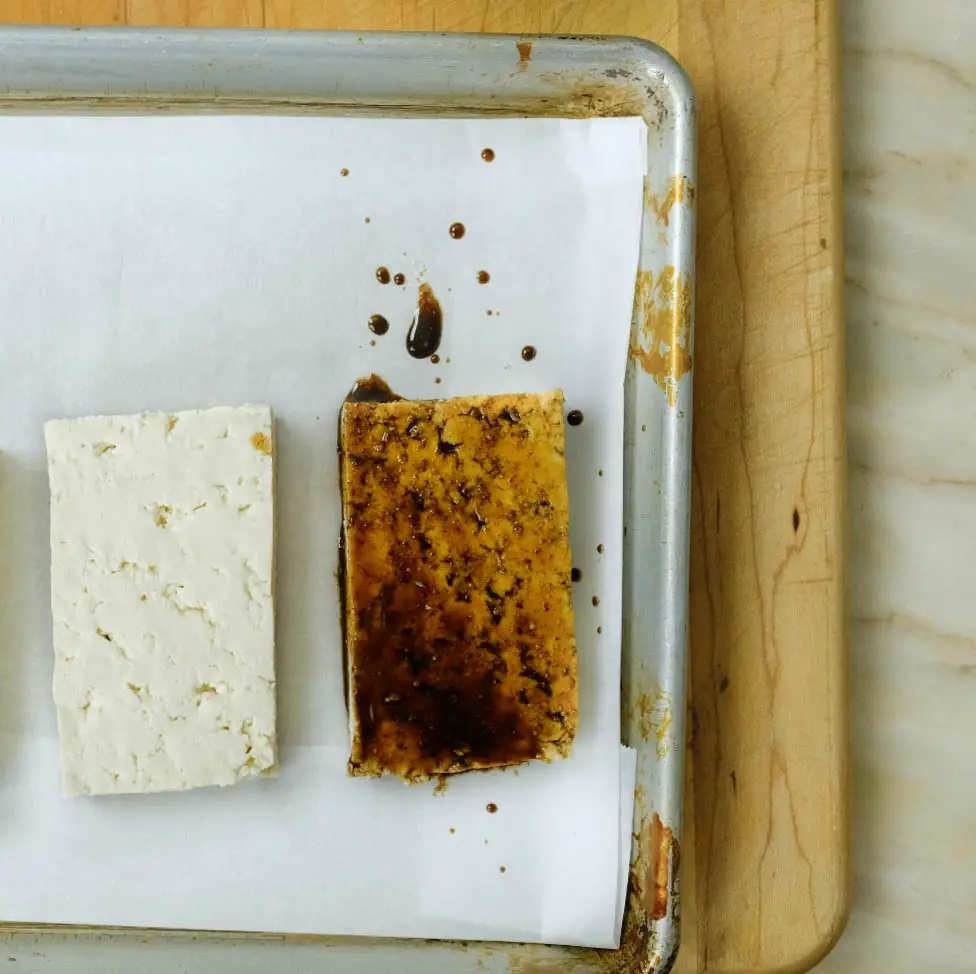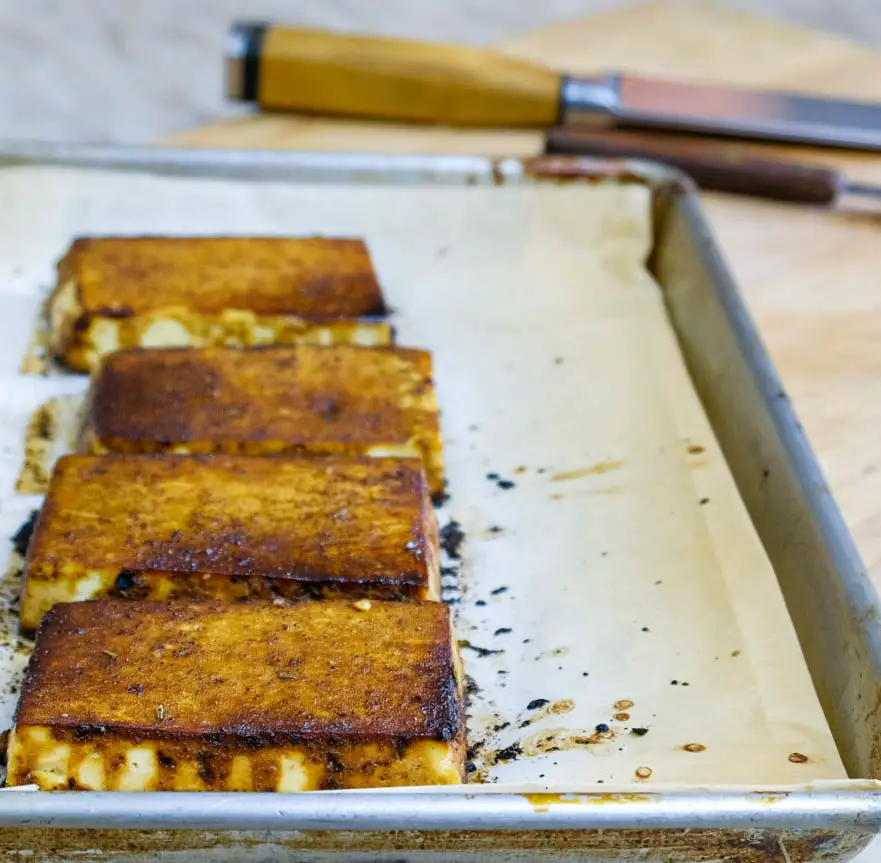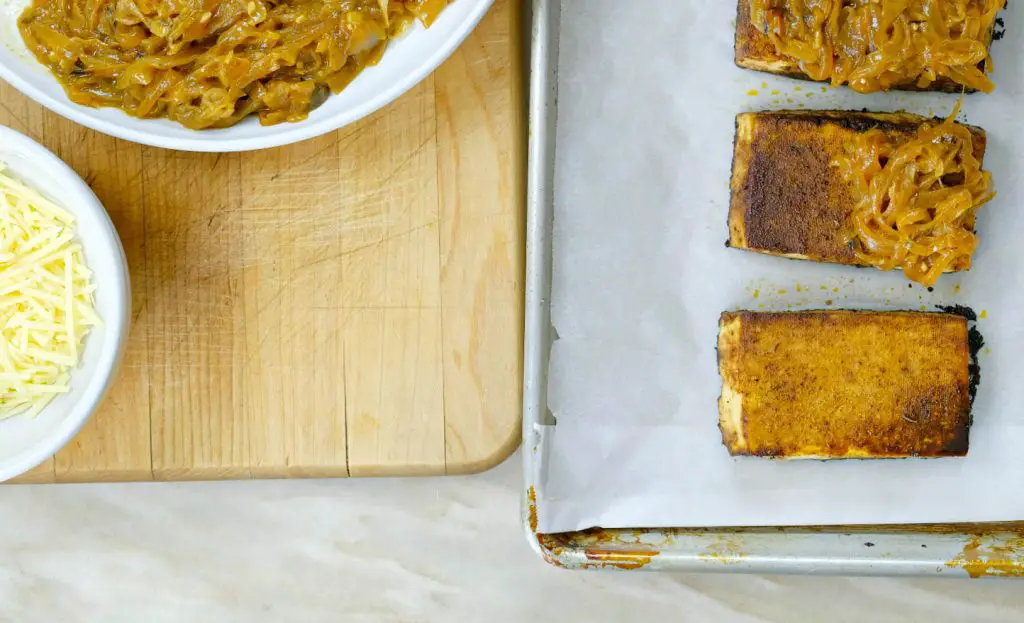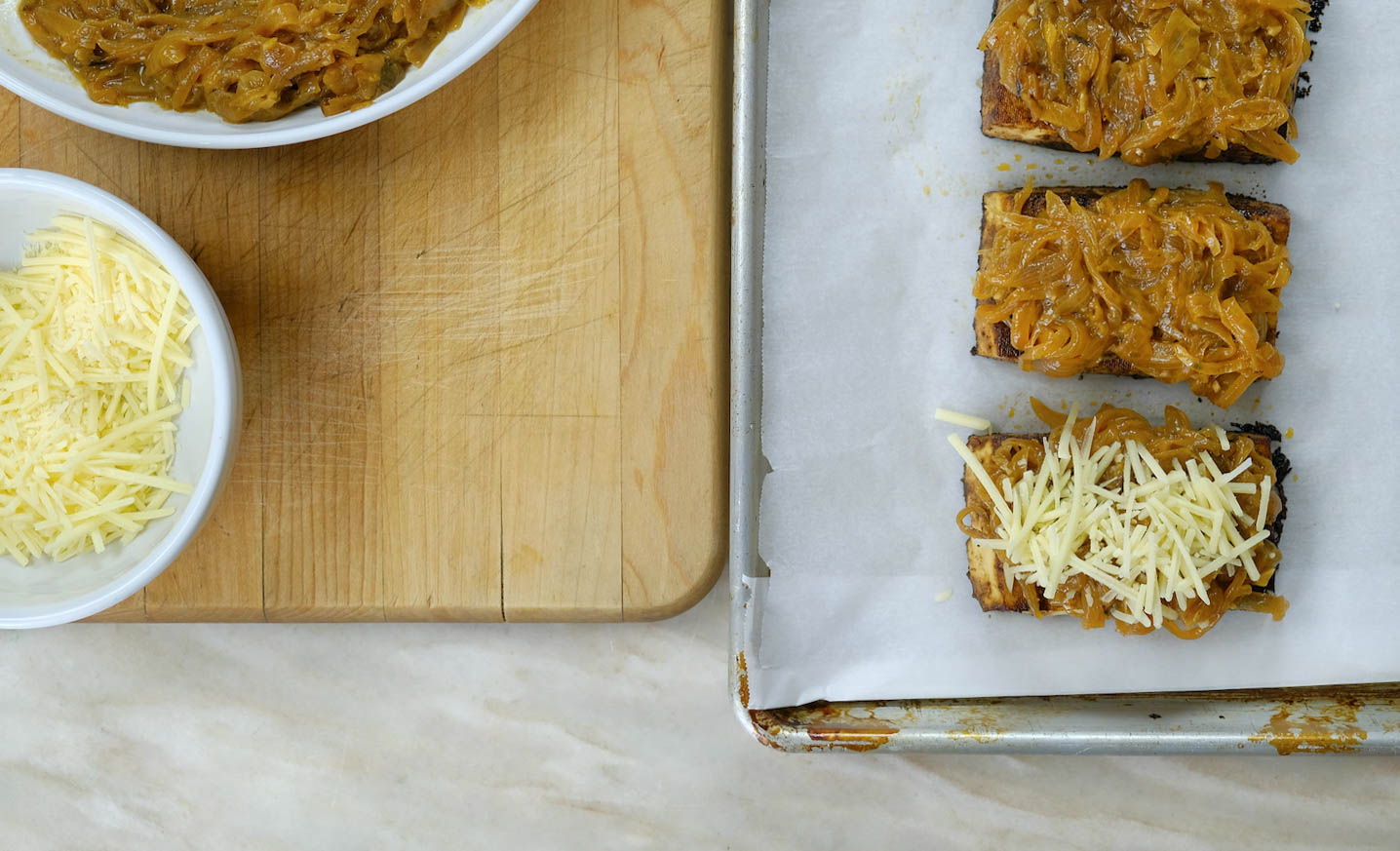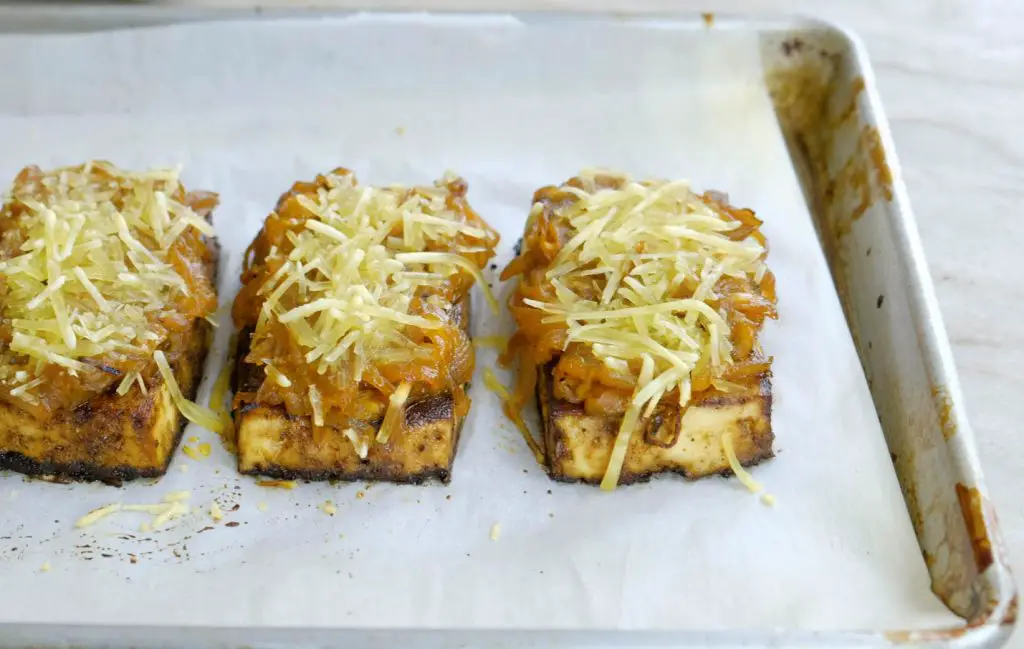 Chefs Tips
French Onion Tofu
Say bonjour to French Onion Tofu, a tasty and innovative dish that brings the charm of France to your plate in a unique and healthy way.
Print Recipe
Instructions
How to make Caramelized Onions
Heat a large pan over medium heat. Add the extra virgin olive oil and the sliced onions. Stir to coat the onions with extra virgin olive oil, and cook over medium heat for 3 minutes. Reduce the heat to medium-low. Season with salt.

Continue cooking the onions slowly, stirring and scraping the bottom of the pan. The heat needs to be hot enough to caramelize the sugars in the sliced onions, but not so high that the liquid evaporates too quickly and the bottom burns. Cook until very tender and deep brown in color.

Add the garlic and oregano, mix to incorporate.

Add the soy sauce and reduce until dry.

Stir in the vegetable broth, and Dijon mustard and cook over low heat until lightly reduced.
How to Make Molasses Tofu
Preheat the oven to 425 degrees.

Slice the tofu into 4 slices.

In a separate bow, combine molasses, olive oil, black vinegar, paprika, mushroom powder, and salt. Stir to combine.

Place the tofu on a baking sheet lined with parchment paper. Using a brush coat the tofu.

Place in the oven cooking for 10-12 minutes. Flip the tofu, and brush with the marinade.

Continue to cook for another 12-15 minutes.
How to Finishing French Onion Tofu
Place a generous portion of caramelized onions onto the cooked tofu.

Sprinkle vegan cheese onto the onions.

Place into the oven for 7-10 minutes to melt the cheese.
Nutrition
Calories:
217
kcal
|
Carbohydrates:
17
g
|
Protein:
10
g
|
Fat:
13
g
|
Saturated Fat:
2
g
|
Polyunsaturated Fat:
4
g
|
Monounsaturated Fat:
7
g
|
Sodium:
1208
mg
|
Potassium:
268
mg
|
Fiber:
2
g
|
Sugar:
10
g
|
Vitamin A:
237
IU
|
Vitamin C:
7
mg
|
Calcium:
183
mg
|
Iron:
3
mg