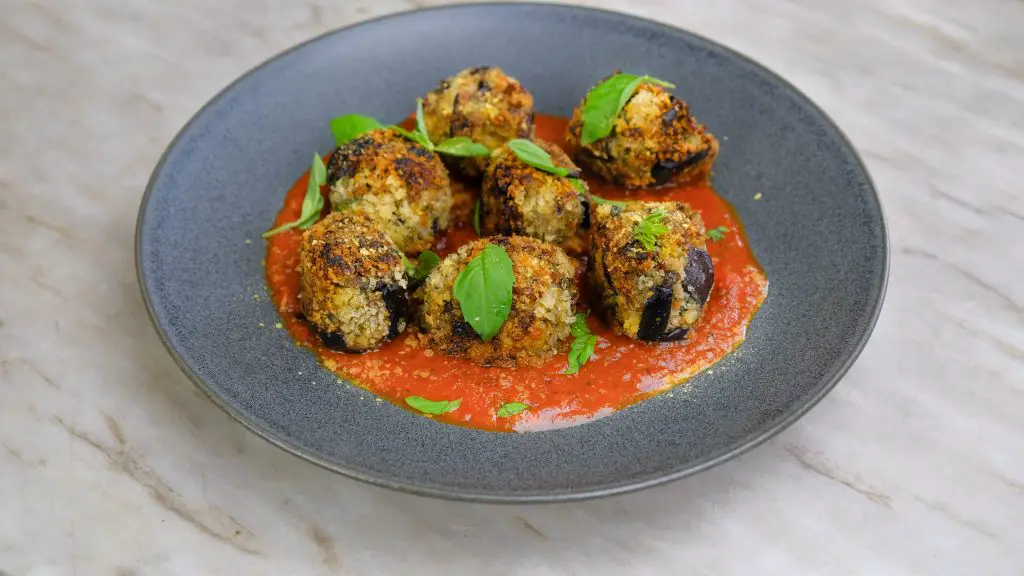 Introduction to Eggplant Meatballs
Eggplant meatballs are so easy to make and a delectable addition to your dinner lineup.
Imagine sinking your teeth into a tender, perfectly seasoned meatball that's both satisfying and compassionate. Eggplants, with their mild yet robust flavor, possess an uncanny ability to absorb and enhance various seasonings, resulting in a symphony of tastes that will have your palate dancing with joy. The transformation from a humble eggplant to a delectable "meatball" is not only a testament to culinary ingenuity but also a nod to the versatility of plant-based ingredients.
What's truly remarkable about this recipe is its eco-conscious approach. By choosing eggplant over conventional meat, you're positively impacting the environment. The water and land resources required to cultivate plants are considerably lower than those needed for livestock, contributing to a more sustainable and compassionate food system. Moreover, with the growing awareness of the health benefits associated with plant-based diets, eggplant meatballs offer a guilt-free indulgence that's as good for your body as it is for the planet.
We'll delve into the magic of eggplant meatballs, exploring their creation, the art of seasoning, and the various mouthwatering ways to enjoy them. From classic spaghetti pairings to contemporary grain bowl creations, these meatballs are a canvas waiting for your culinary imagination to paint upon. So, join us on this delectable journey of flavors, ethics, and sustainability as we embark on a quest to redefine the very essence of comfort food.
What You Need…
How to Make Eggplant Meatballs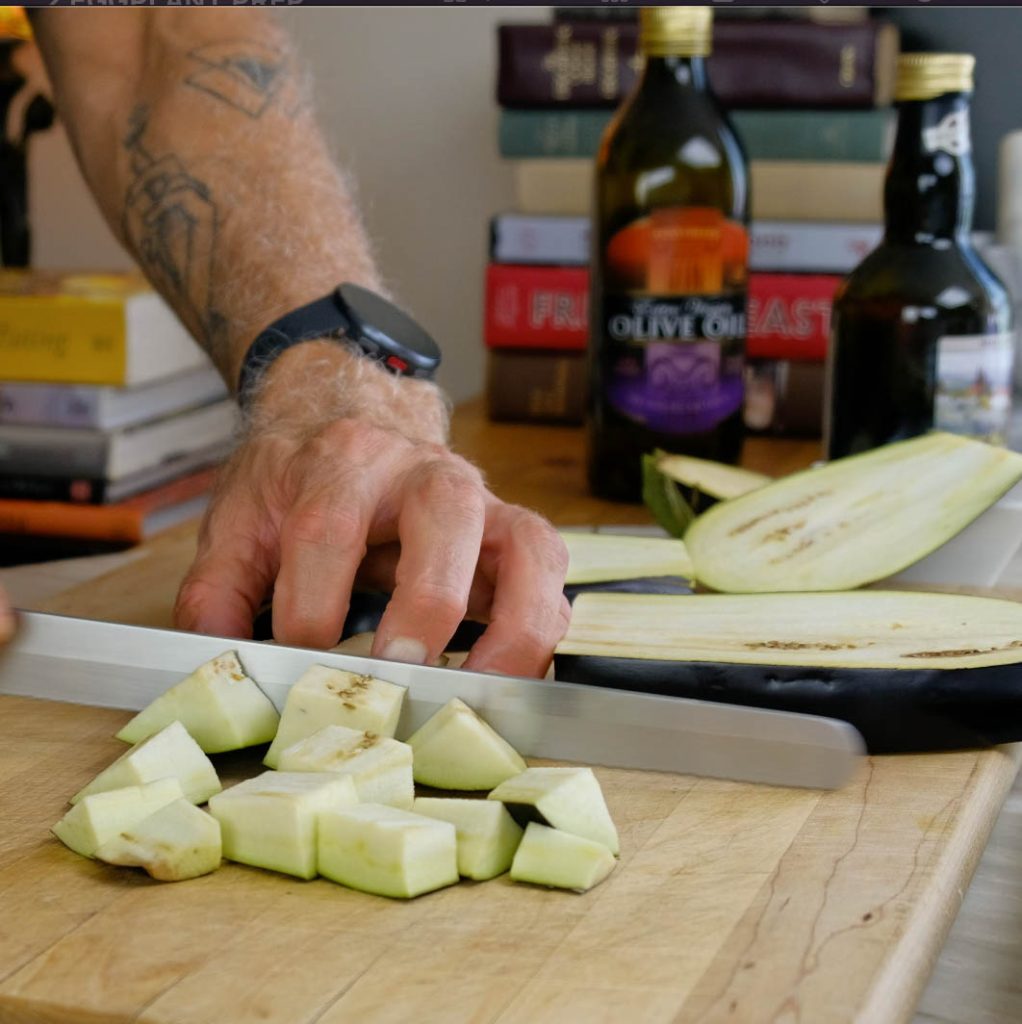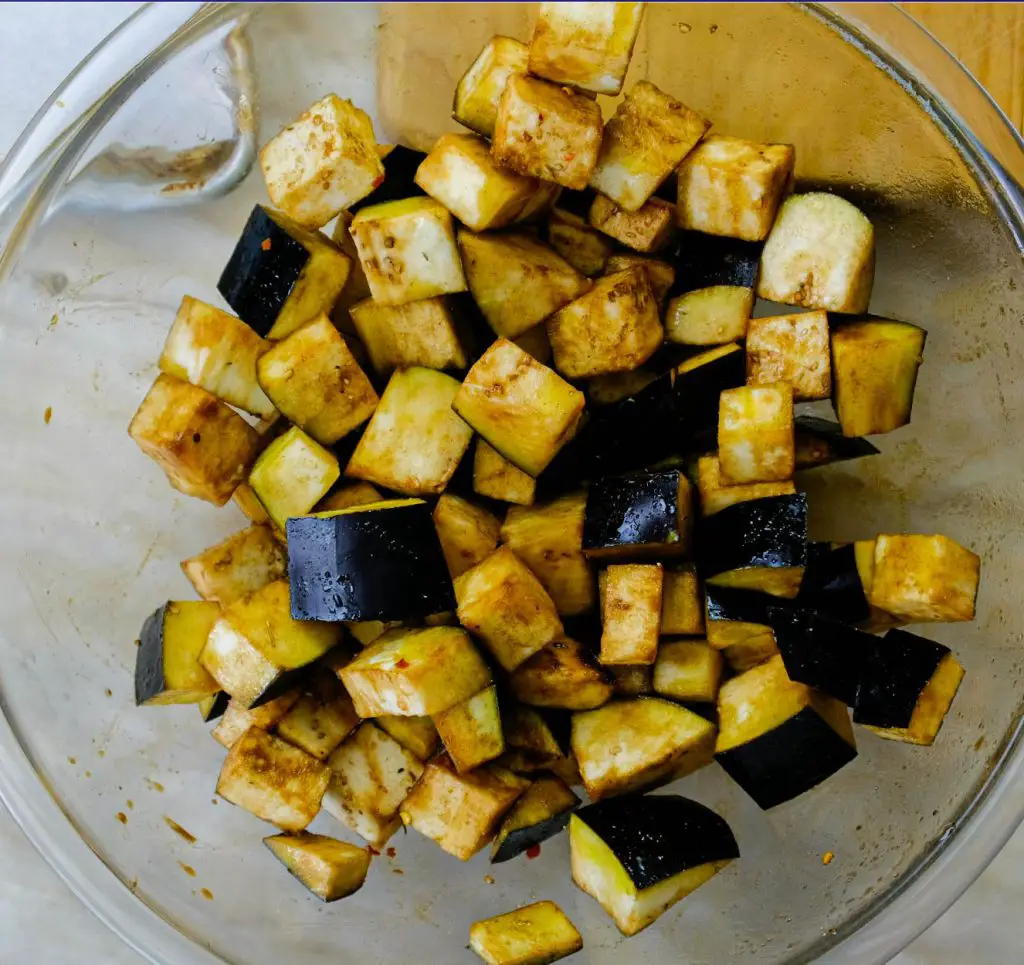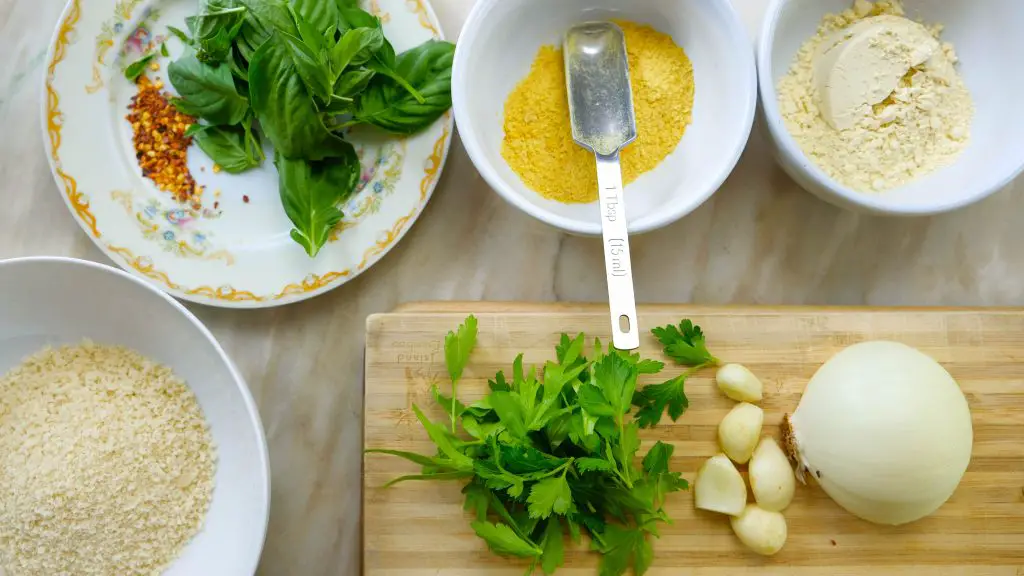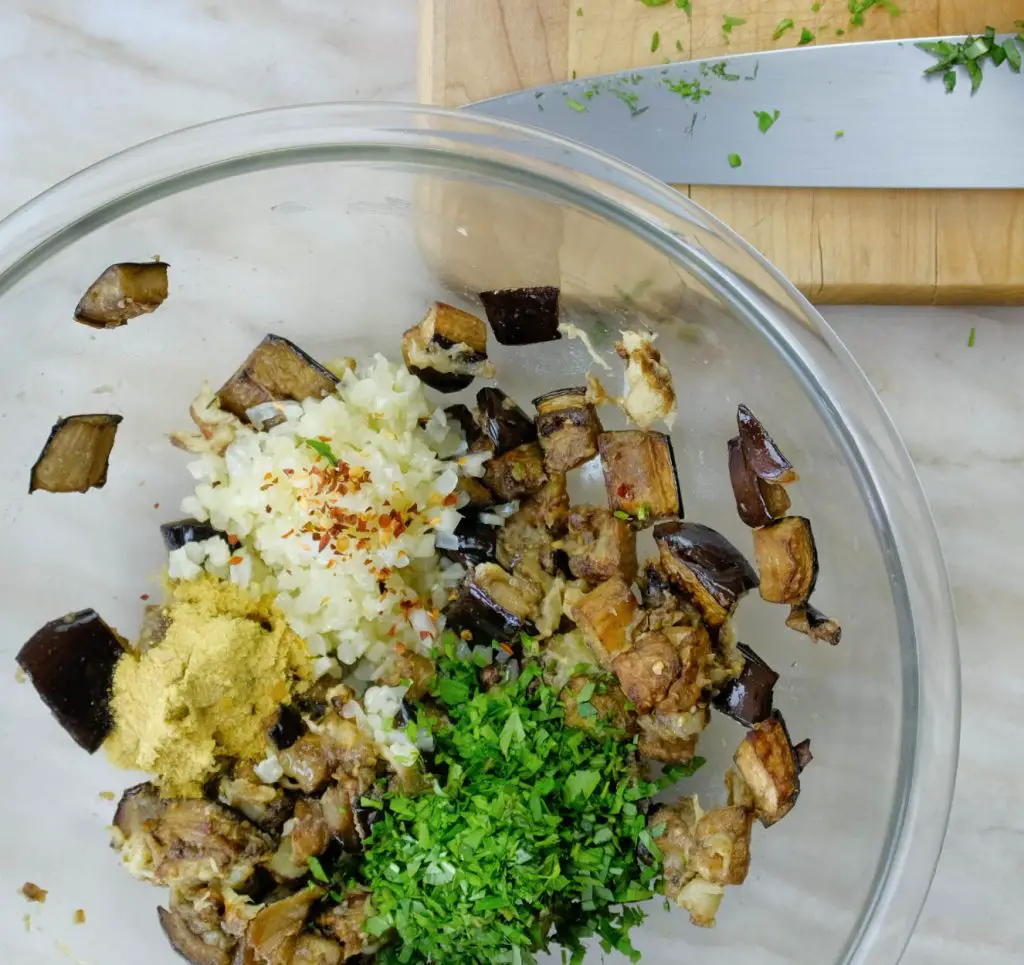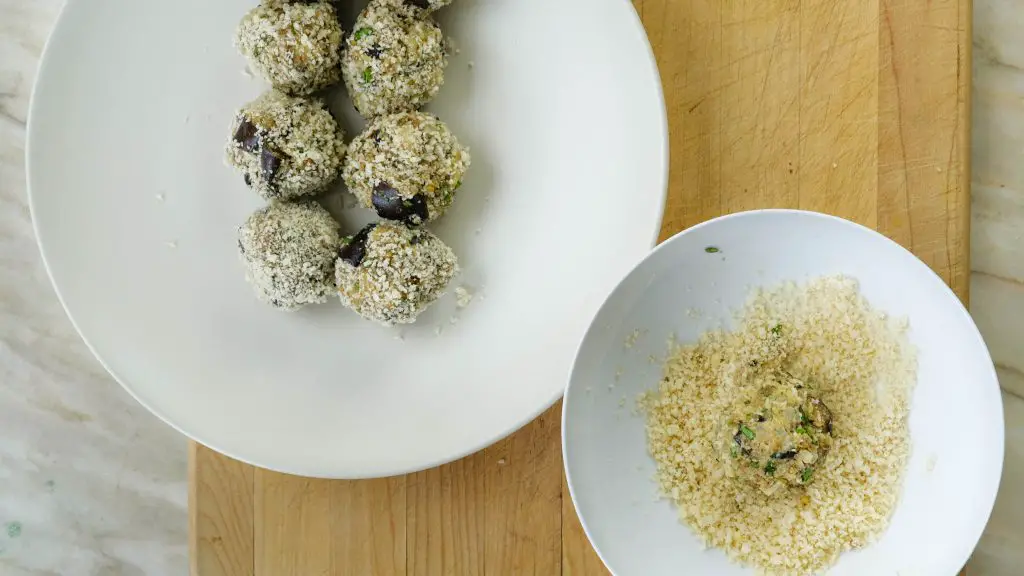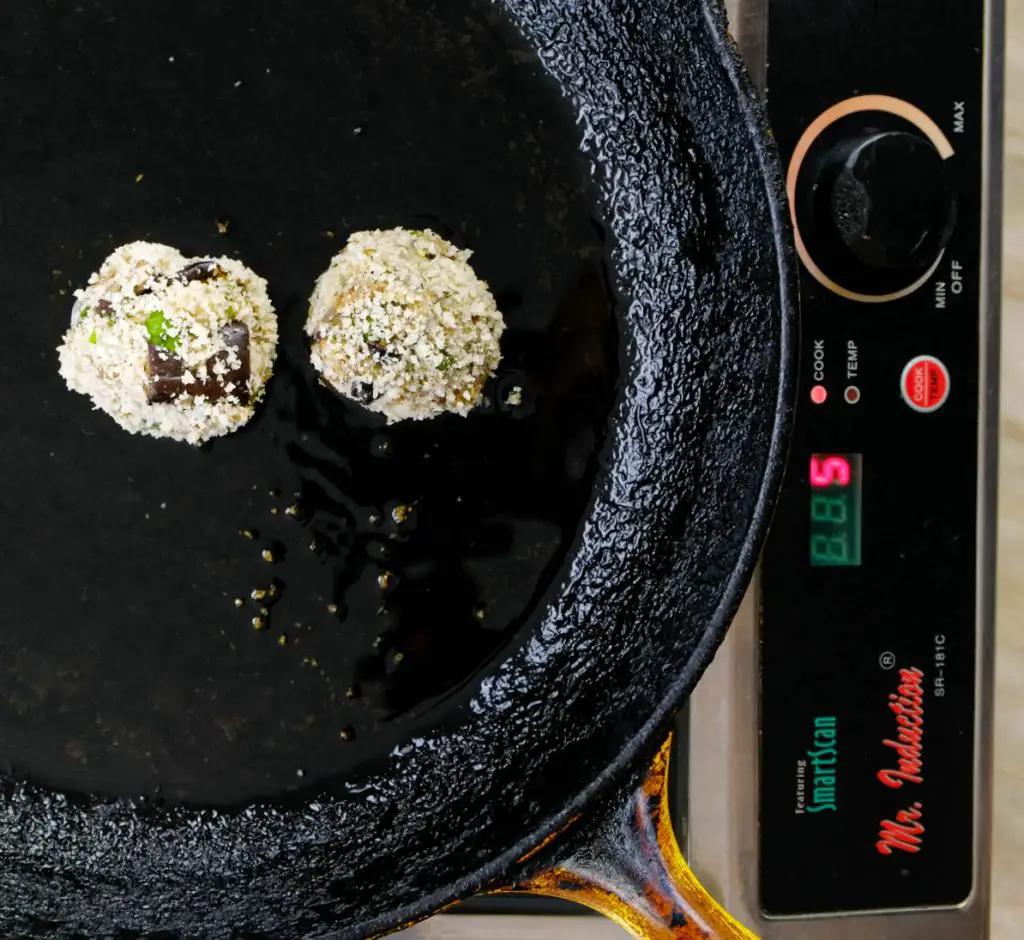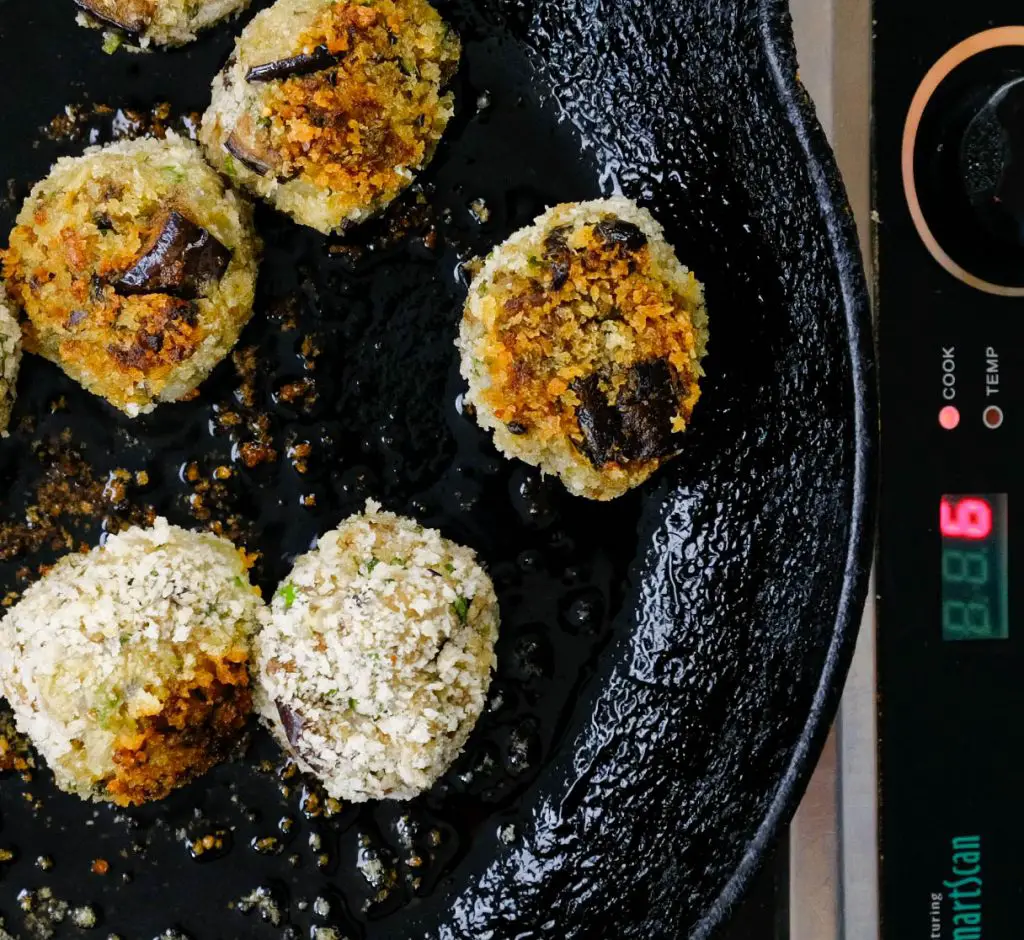 Chefs Tips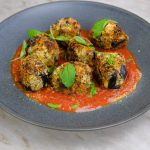 Eggplant Meatballs
Eggplant meatballs are so easy to make and a delectable addition to your dinner lineup.
Print Recipe
Instructions
How to cook eggplant for eggplant balls
Preheat the oven to 425 degrees.

Cut the eggplant into large cubes.

Season the eggplant, make sure to rub the seasoning into the eggplant.

Place on a baking sheet lined with parchment paper.

Bake the eggplant until very soft. Around 15-20 minutes.
How to make Eggplant Balls
Sauté the onion with the extra virgin oil until soft and tender, cooking for 5 minutes over medium-low heat. Set aside to cool.

Use a fork to mash the roasted eggplant, add the sautéed onions, chili flakes, nutritional yeast, chopped parsley, and combine.

Add the garbanzo bean powder, and panko bread crumbs mix to combine. The mixture needs to hydrate for 10-15minutes.

Try to form a ball, firmly press the mixture in the palm of your hand, and start to roll. The mixture should hold its shape. Add a tablespoon of garbanzo flour to the mixture if the ball starts to fall apart. Place the eggplant balls in the refrigerator for 10 minutes.
How to Cook the Eggplant Balls
Heat a large sauté pan over medium heat. It's important that the oil is hot before you add the eggplant balls.

Roll the eggplant balls in the panko bread crumbs, reshape them, and press the panko bread crumbs in the eggplant balls.

Cook the eggplant balls on all sides until golden brown.

Heat tomato sauce until hot.

Place the sauce down in a bowl, the eggplant balls go on top and garnish with basil leaves and nutritional yeast. Serve with your favorite pasta.
Notes
Nutritional information is an estimate.
Nutrition
Calories:
139
kcal
|
Carbohydrates:
15
g
|
Protein:
4
g
|
Fat:
7
g
|
Saturated Fat:
1
g
|
Polyunsaturated Fat:
1
g
|
Monounsaturated Fat:
5
g
|
Sodium:
186
mg
|
Potassium:
272
mg
|
Fiber:
3
g
|
Sugar:
4
g
|
Vitamin A:
129
IU
|
Vitamin C:
3
mg
|
Calcium:
27
mg
|
Iron:
1
mg