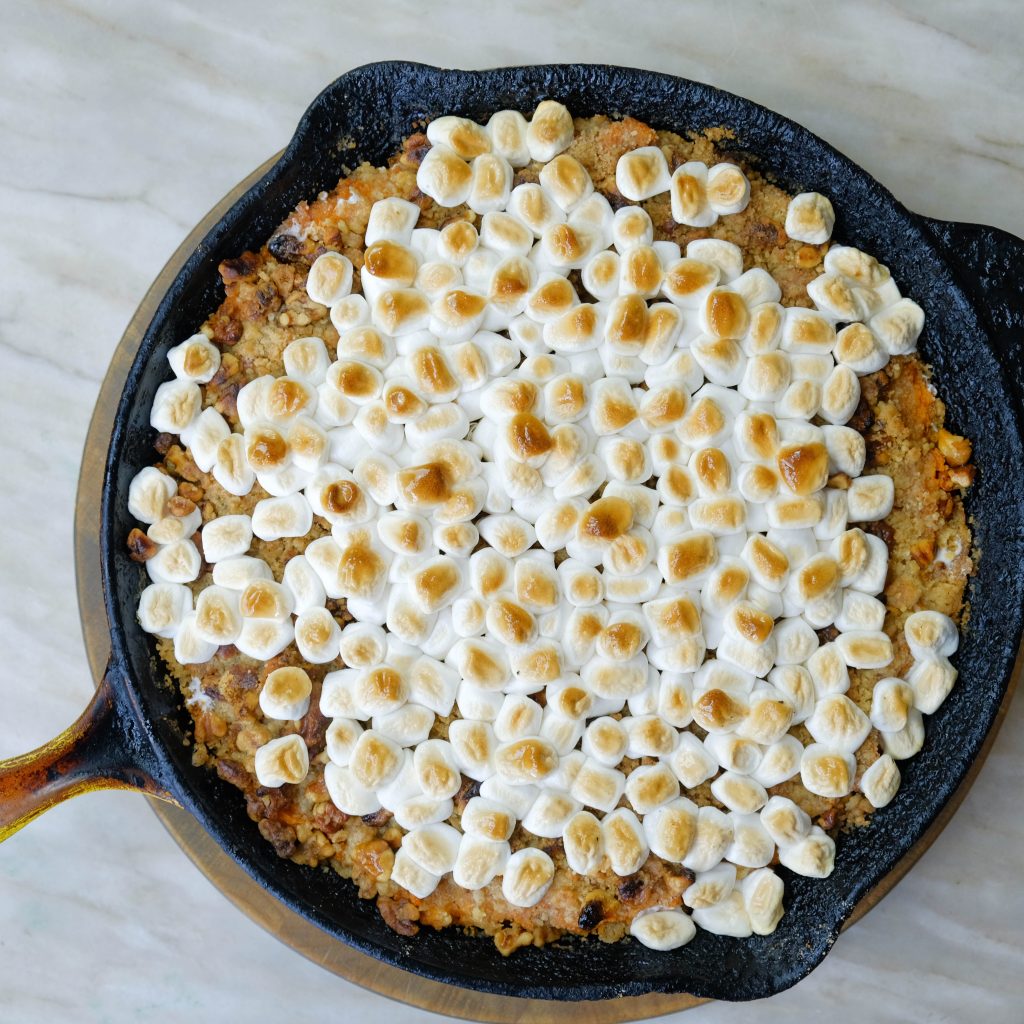 Introduction to Sweet potato casserole
Indulge your taste buds in a symphony of flavors with our delectable Vegan Sweet Potato Casserole, a delightful twist on a classic favorite. This plant-powered masterpiece not only honors your commitment to a compassionate lifestyle but also introduces a medley of unique ingredients that elevate the dish to new heights.
The humble Sweet Potato
At the heart of this creation lies the sweet potato, a vibrant and nutrient-packed tuber that takes center stage in this comforting casserole. Rich in beta-carotene, fiber, and a host of essential vitamins, sweet potatoes provide a nourishing base for this dish while imparting a natural sweetness that perfectly balances the flavors.
A Twist on The Classic
Our Vegan Sweet Potato Casserole is set apart by the infusion of unexpected elements that adds layers of complexity to every bite. The brightness of orange zest brings a citrusy kick, enhancing the sweet potatoes' natural sweetness with a refreshing twist. The subtle umami notes of miso contribute a depth of flavor that leave your taste buds dancing with delight, creating a harmonious blend of savory and sweet.
But the surprises don't end there. Enter the crunch of walnuts, adding a textural contrast that elevates the dish to a whole new level. The nutty richness complements the creamy sweet potatoes, providing a satisfying bite that will keep you coming back for more. Packed with healthy fats and omega-3s, walnuts not only contribute to the dish's irresistible texture but also bring a nutritional boost.
Our Vegan Sweet Potato Casserole is a flavorful journey worth savoring. Get ready to experience the perfect union of tradition and innovation, where every spoonful tells a story of wholesome ingredients, culinary ingenuity, and, above all, pure indulgence.
What You Need…
How to Make Vegan Sweet Potato Casserole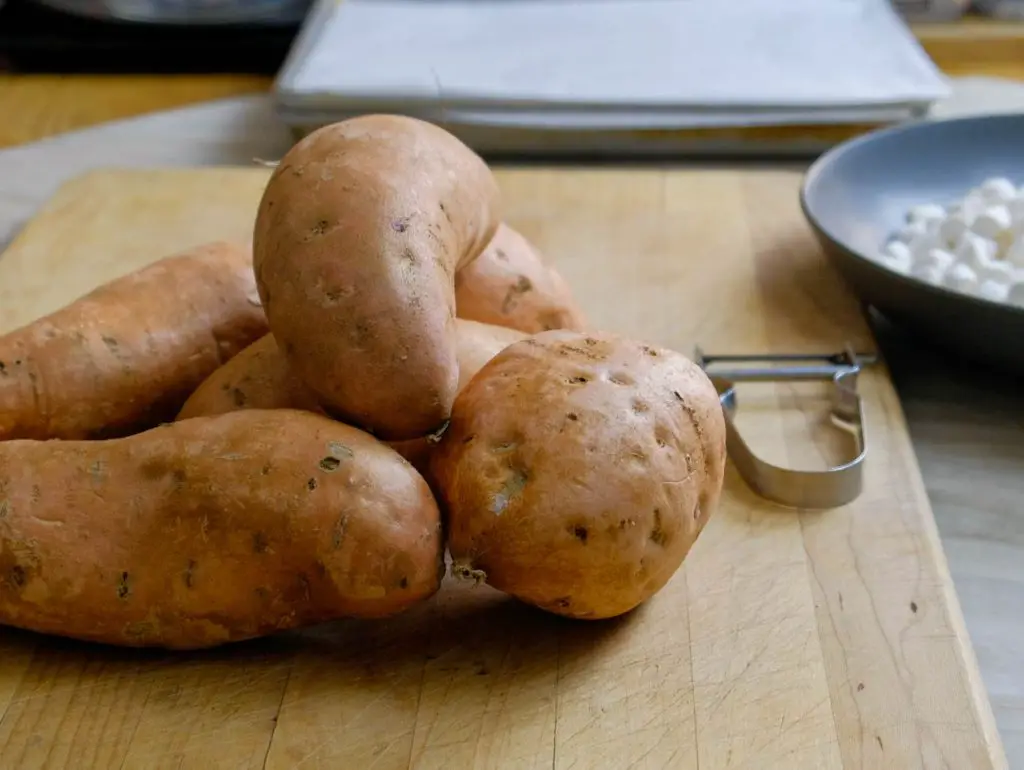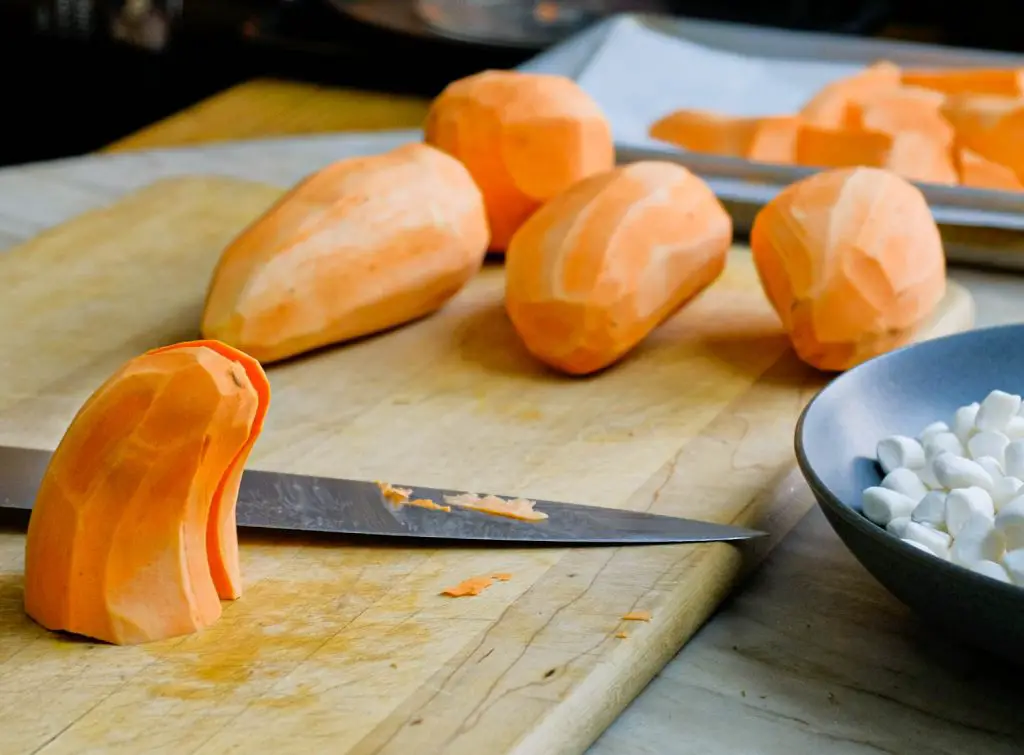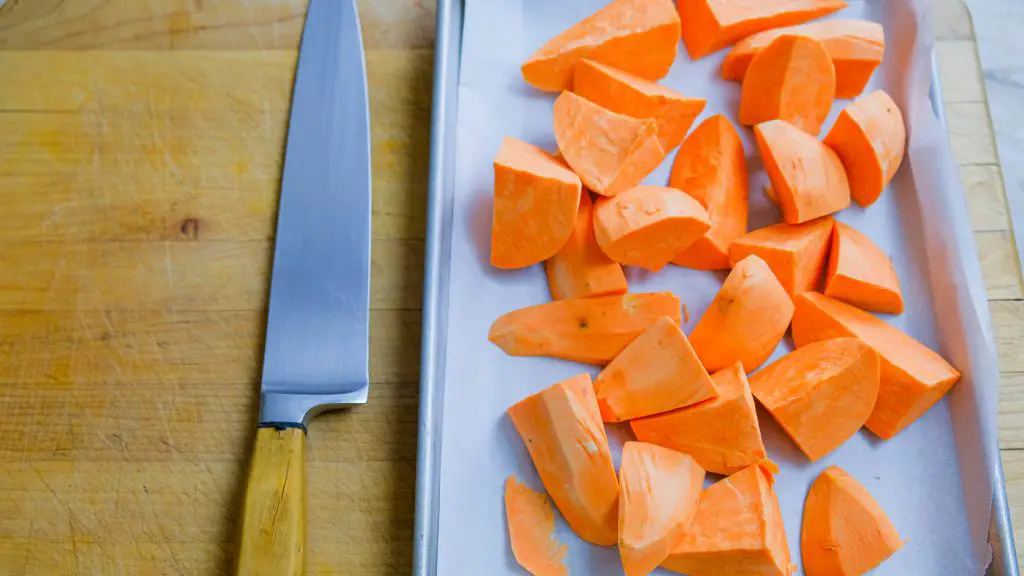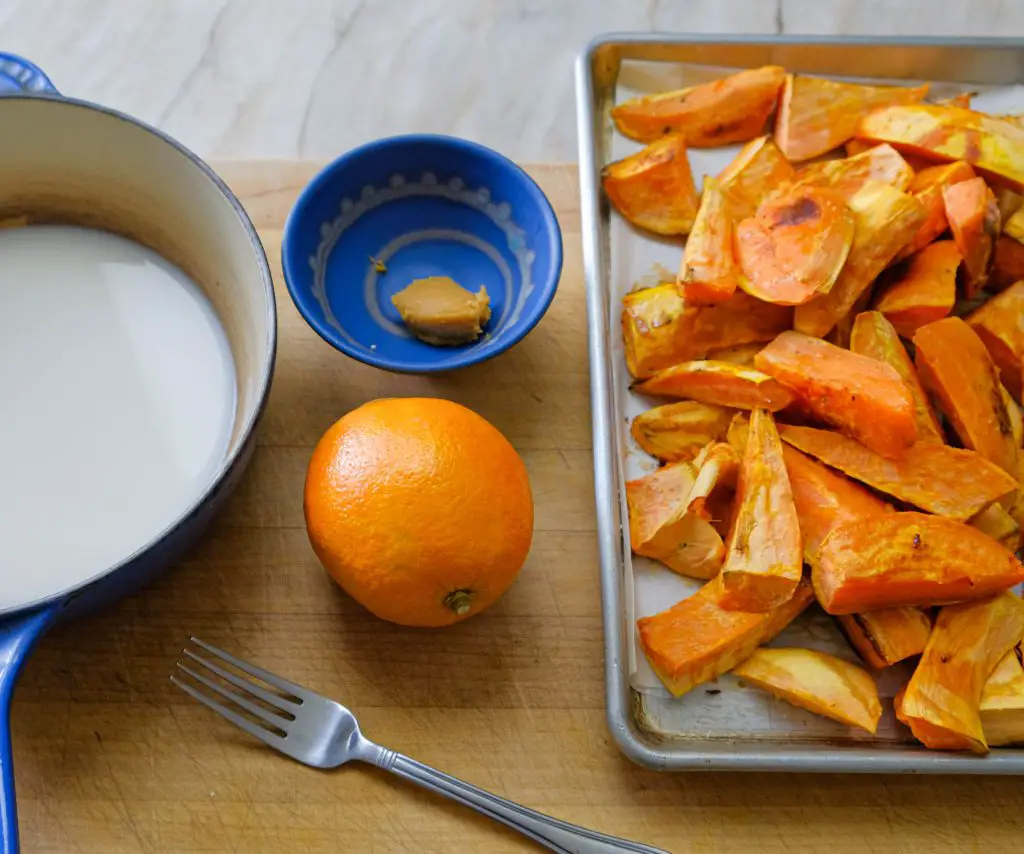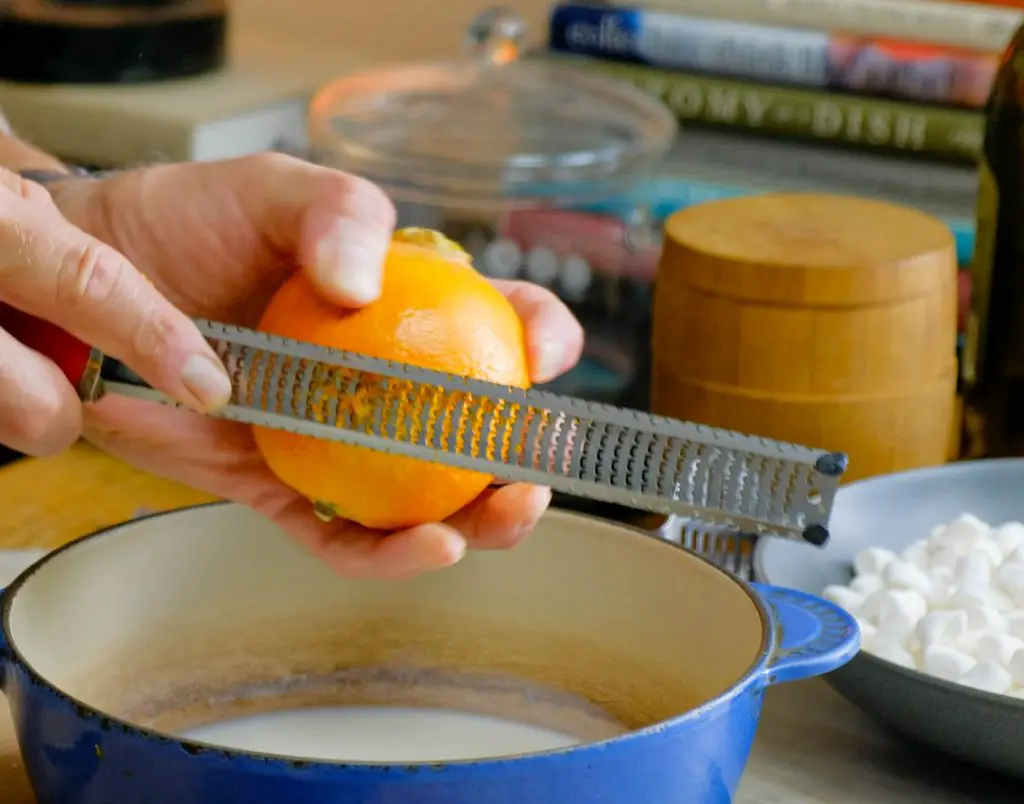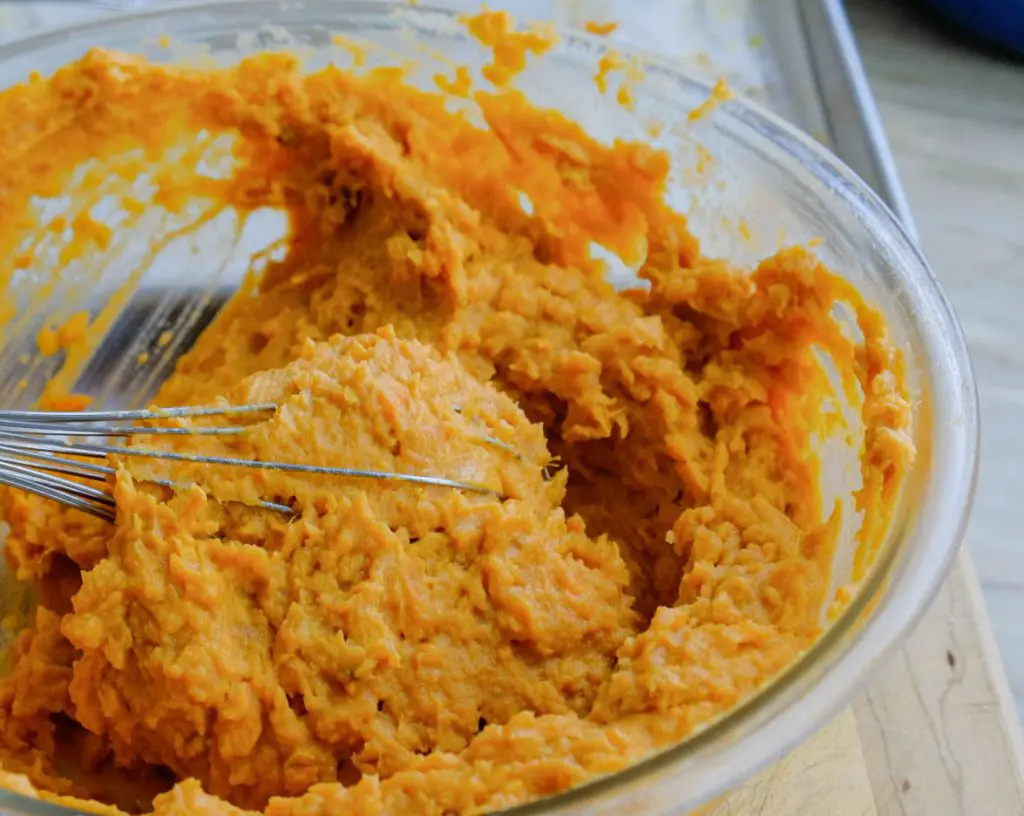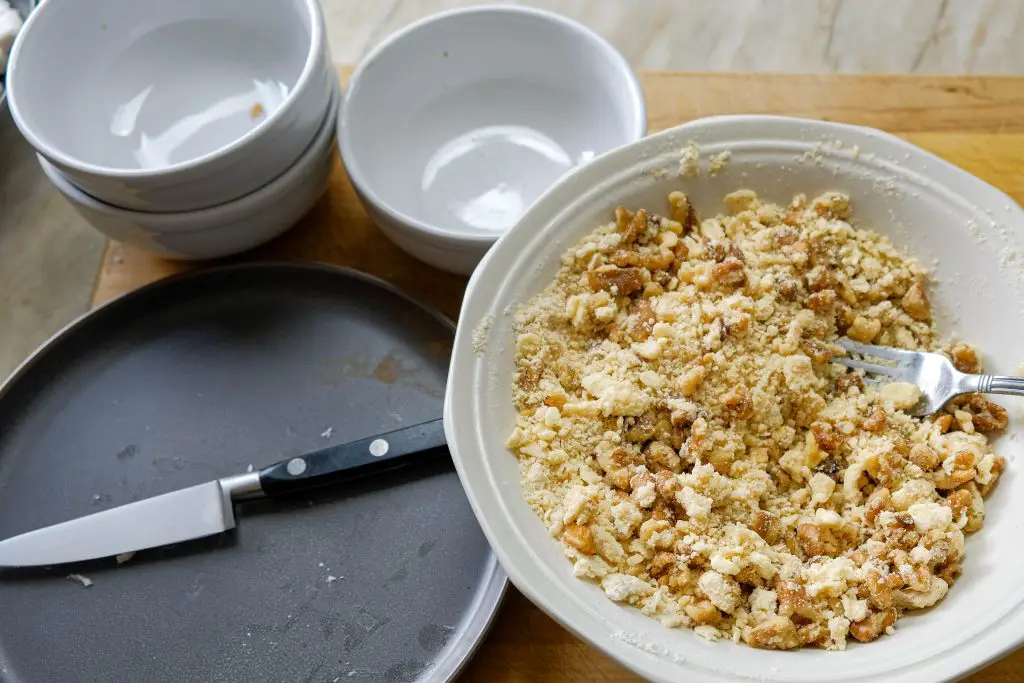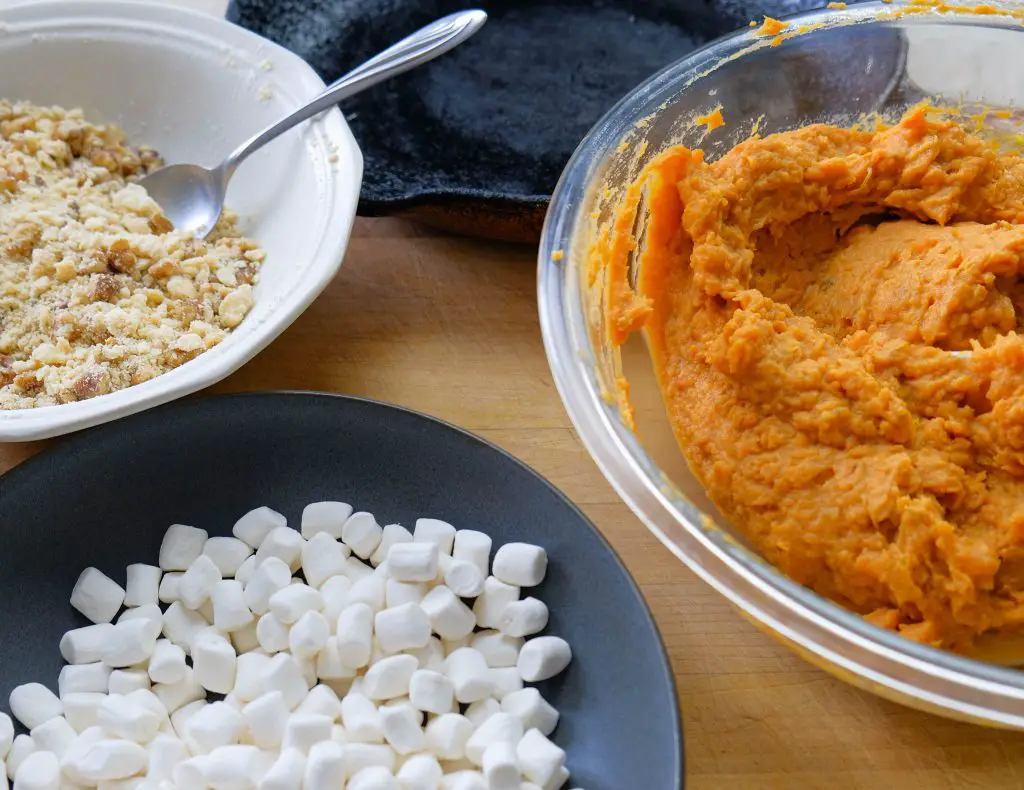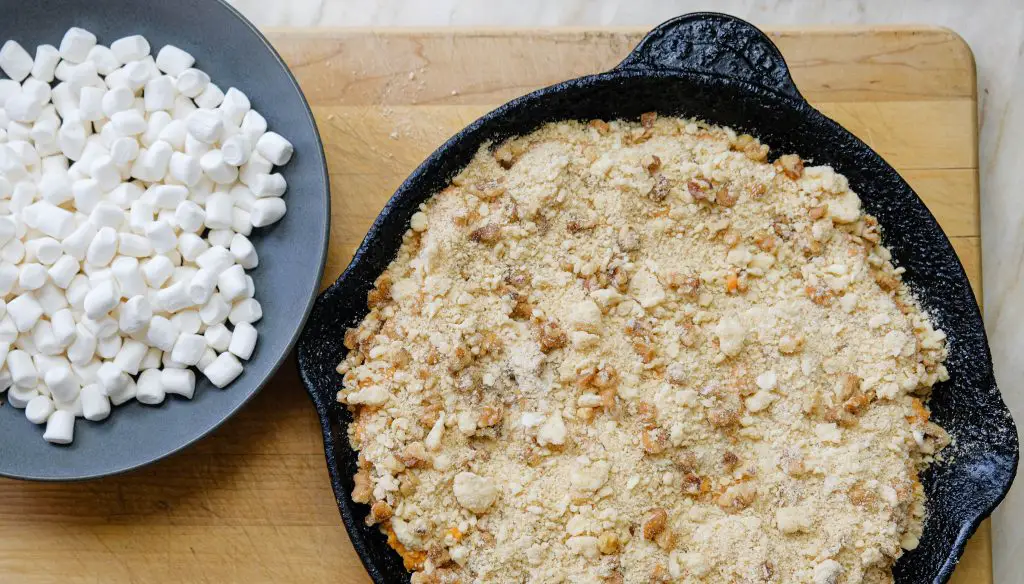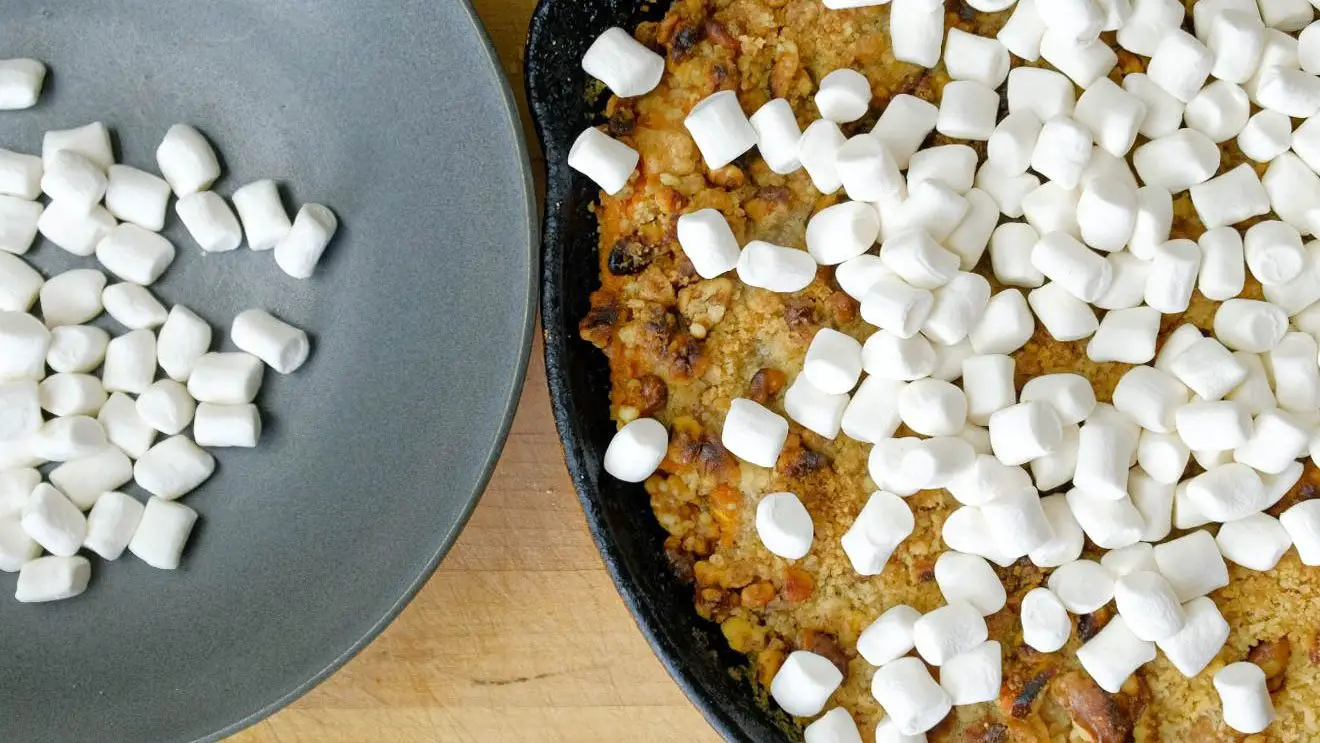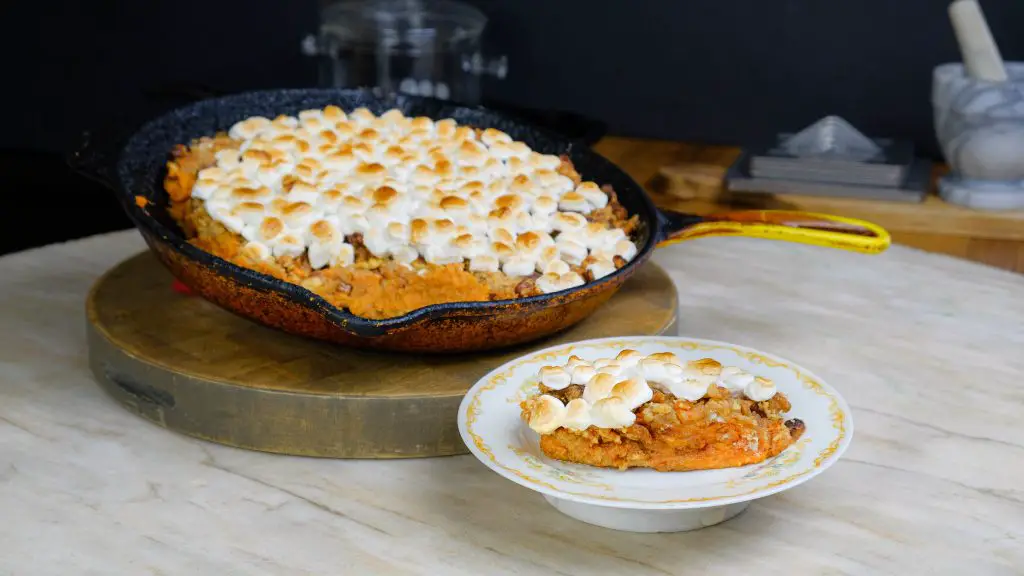 Chef's Tips
Sweet Potato Casserole
Indulge your taste buds with our delectable Vegan Sweet Potato Casserole, a delightful twist on a classic favorite.
Print Recipe
Ingredients
Sweet Potato Filling
4

pounds

sweet potatoes

peeled, large chunks

1

cup

plant milk

2

Tbsp

olive oil

½

tsp

salt

Kosher

2

Tbsp

orange zest

zest of 1 orange

1

tsp

miso

yellow
Walnut Topping
1

cup

all-purpose flour

1

cup

light brown sugar

¼

teaspoon

ground nutmeg

¼

teaspoon

kosher salt

4

oz

unsalted vegan butter

cut into ½-inch pieces, chilled

1

cup

walnut

pieces

10

oz

vegan mini marshmallows

(1 bag)
Instructions
How to Make Sweet Potato Filling
Preheat the oven to 425 degrees.

Place the sweet potatoes on a baking sheet lined with parchment paper. Drizzle olive oil over the sweet potato, and season generously with kosher salt.

Bake until very soft and tender.

Gently heat the plant milk until just warm.

Place the orange zest and miso into the milk, and mix to combine.

Place the hot sweet potatoes into a large bowl. Using a potato masher start to mash the sweet potatoes. Add the warm plant, and continue to mash until smooth.

Add additional plant milk if needed, a large whisk is a handy way to mash and whip simultaneously.

Finish with a dash of olive oil and salt.
How to Make Walnut Topping
Combine the light brown sugar, flour, and nutmeg in a large bowl.

Cut the cold vegan butter into the flour mixture, and continue until a cornmeal texture is reached. It is okay if a few large clumps of butter are present.

Add the walnut piece, and stir to combine.

Keep cold until it's time to cover the sweet potato puree.
How to Build the sweet potato casserole
Preheat the oven to 375 degrees.

Drizzle a light layer of oil on the bottom of 12 inch cast iron pan.

Spread the sweet potato pure in the pan.

Evenly spread the walnut crumble over the top.

Cook until the crumbs is crispy and golden brown, about 30 minutes.

Sprinkle the mini marshmallow over the top and brown under the broiler. This happens fast to stay alert.
Notes
Nutritional values are an estimate.
Nutrition
Calories:
552
kcal
|
Carbohydrates:
94
g
|
Protein:
6
g
|
Fat:
20
g
|
Saturated Fat:
3
g
|
Polyunsaturated Fat:
9
g
|
Monounsaturated Fat:
8
g
|
Trans Fat:
2
g
|
Sodium:
394
mg
|
Potassium:
712
mg
|
Fiber:
7
g
|
Sugar:
29
g
|
Vitamin A:
25748
IU
|
Vitamin C:
6
mg
|
Calcium:
104
mg
|
Iron:
2
mg