Rye Bread Croutons can add a dramatic pop to your dish. You can make these with just about any type of bread that you have. You can also make a larger size crouton if you prefer. The cooking time may be a bit longer so keep an eye on them. Croutons can go from perfect to burnt in a minute.
We use these Crouton in the Vegan Scallop dish but you can use them for Salads or Soups as well.
How to Make Croutons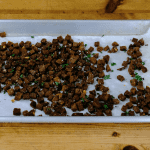 Rye Bread Croutons
Servings: 2 Cup
Print Recipe
Ingredients
2 rye bread small dice
1 lemon
2 Tbsp olive oil
1 garlic clove
2 Tbsp parsley chopped
black pepper  fresh cracked
Instructions
How to Make Rye Bread Croutons
Dice the sliced bread into very small squares.

In a pot heat the olive oil to low heat, add the grated lemon zest and garlic to the pan, cook for 1 minute, turn the heat off.

Add the diced rye bread cubes to the pot, stir to coat the diced rye bread.

Place on a baking sheet with parchment paper spread the diced rye bread cubes evenly. Sprinkle the chopped parsley on top, season with salt and a generous amount of fresh cracked black pepper.

Place the baking sheet in the oven of preheated 425 degrees for 10 minutes. It will be hard to visibly see if the croutons are brown due to the rye bread color, it's best to try one and see if it's getting crisp.
Shop the Recipe...