Those Vegan Chefs are obsessed with infusing as much flavor into tofu dishes as possible. Stephen is always looking at ways to recreate an experience. It all starts with removing the tofu liquid and replacing it with brine. The brine brings the salty, acid tang that is a forward flavor in traditional feta cheese. The goal is to create the best vegan feta cheese ever. This vegan feta tofu has a creamy texture with a hint of firmness. It pairs well in a salad or a wrap, it would also work great as a garnish in a quinoa dish full of garbanzo beans and fresh herbs. Tell us how you used yours.
Vegan Tofu Feta Cheese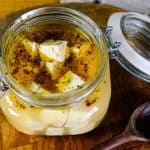 Vegan Feta Cheese
Servings: 2 Cups
Calories: 220kcal
Print Recipe
Instructions
Tofu Feta Method
Press the tofu for 5 minutes, make sure to increase the pressure during this time. After pressing, dice the tofu into ½ inch cubes.

Combine the ingredients for the brine in a pot, bring it up to a boil, make sure the salt and sugar have dissolved. Place the diced tofu into the brine, the tofu will steep for 30 minutes off the heat.

Place the tofu in a container, enough brine to cover most of the tofu, this will vary depending on the container the tofu is placed in. Gently combine all of the marinade ingredients with the tofu, once the tofu is completely cooled place in the refrigerator overnight.
Video
Nutrition
Serving: 4oz | Calories: 220kcal | Carbohydrates: 12g | Protein: 18g | Fat: 36g | Saturated Fat: 5g | Polyunsaturated Fat: 8g | Monounsaturated Fat: 22g | Sodium: 3736mg | Potassium: 44mg | Fiber: 2g | Sugar: 7g | Vitamin A: 102IU | Vitamin C: 1mg | Calcium: 280mg | Iron: 3mg
Shop the Recipe...