How do I make easy healthy vegan pancakes? It's a lot easier than you may think. We have subbed out the non-vegan ingredients and put in vegan friendly alternatives. The final outcome is just like you remember but even better because it's vegan.
Vegan Pancakes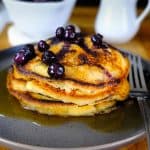 Vegan Pancakes
Servings: 12 Pancakes
Calories: 112kcal
Print Recipe
Ingredients
1/2 Cup Oatmeal
1 1/2 Cup Unbleached Flour
2 Tablespoons Baking Powder
2 Tablespoon Flaxseed meal
1/2 teaspoon Salt
1 Banana Mashed
2 Cup Plant Milk
2 Tablespoons Maple Syrup + more to add when serving
1/3 Cup Blueberries/ or Blueberry compote optional
Instructions
Add Oatmeal to a blender or food processor. Blend until you've made oat flour.

Add the wheat flour, baking powder, flaxseed meal and salt together in the blender. Pulse to combine.

Add the bananas and non-dairy milk & Maple Syrup and mix again.

Stir in the blueberries.

Heat a non-stick griddle over medium heat. Pour mixture by 1/4 cup measure onto the heated griddle. Flip to turn over when bubbles start to appear on

the surface of each pancake. Cook until brown on both sides. Repeat until all mixture has been used.

Enjoy with warm Maple Syrup
Notes
Nutritional Values are an estimate 
Nutrition
Serving: 5Ounces | Calories: 112kcal | Carbohydrates: 22g | Protein: 3g | Fat: 1g | Saturated Fat: 1g | Polyunsaturated Fat: 1g | Monounsaturated Fat: 1g | Sodium: 329mg | Potassium: 98mg | Fiber: 2g | Sugar: 7g | Vitamin A: 91IU | Vitamin C: 1mg | Calcium: 186mg | Iron: 1mg
Shop the Recipe...