I can't tell you how many times I have walked past the Trader Joe's Chili Lime Mayo and said to myself, "I just wish that it was vegan."  I am not sure why it didn't occur to me to make it vegan until the other day. I already had a reliable Vegan Mayo recipe and felt confident that I could make the Chili Lime Mayo taste amazing. Some other options for this recipe are to remove the Chile lime seasoning and add the Everything Seasoning at the very end when you have completed the puree step to make Trader Joe's Everything Mayo. The possibilities are endless: Garlic, Lemon, Herbs! Have fun going crazy making every flavor mayo under the sun.
Vegan Chile Lime Mayo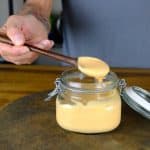 Vegan Chile Lime Mayo
Servings: 2 Cups
Print Recipe
Instructions
Remove the silken tofu from the packaging, gently drain excuse liquid, set aside. Place the cashews in boiling water cooking for 10 minutes, drain and rinse under cold water. Place all of the ingredients into a blender and puree until smooth.

Place in a jar and refrigerate until cold. The Vegan mayo will thicken as it cools. You can of course adjust the chili lime levels to your taste.
Shop the Recipe...