Since I went plant based in 2015, I've always been inspired to recreating classic French dishes. I'm excited to start off this blog post with the re-creation of Paul Bocuse's legendary red mullet with potato scales. We're making it vegan, of course, using a brined eggplant cooked to perfection with potato "scales" . We are also including 2 vegan french style sauces, a traditional cream sauce and a mushroom infused balsamic glaze.
Potato Crusted Eggplant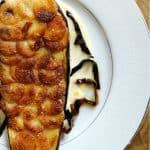 Potato Crusted Eggplant
Servings: 4 People
Calories: 289kcal
Print Recipe
Instructions
BRINE METHOD
Place in a pot and bring to a boil. Remove from the heat and allow to cool. 
EGGPLANT METHOD
Cut the eggplant lengthwise into 1/2 inch slices. Place the eggplant into the brine soaking for 15 minutes. Flip and soak for 15 minutes.  Remove the eggplant and place in a tofu press for 5 minutes. After pressing, place on a paper towel.  
CREAM SAUCE METHOD
In a non-reactive pot add the shallots, white wine, dry vermouth, orange juice, thyme sprigs, bay leaf, garlic cloves, cashews, and Yukon potato. Simmer over low heat, the liquid should reduce by half. The flavors need to intensify and develop, this only happens when liquids reduce slowly. This should take about 40 minutes.  Remove the bay leaf, thyme sprigs, place the liquid in a high speed blender, start to puree on slow for 30 seconds, then increase the speed, we are looking to see how the puree is starting to form, if it's to thick add 1/4 cup plant milk,  the sauce needs to be in that goldilocks space of "just right", not to thick but not thin. Puree until it's smooth enough and you can not feel any particles on your tongue.  Place the Finished sauce in a pan and adjust the salt level to taste. Add a 1 large sprig of rosemary to the sauce and allow the rosemary to steep, the goal here is to add the freshness and brightness of the rosemary in a gentle manner. 
BALSAMIC REDUCTION METHOD
Place 2 cups balsamic vinegar in a pot, adding dried mushrooms, gently cook for about 20 minutes. The liquid should reduce to about a half cup. Remove the mushrooms scraping off any reduction back into the pot. Add salt and black pepper. Set aside to cool
EGGPLANT POTATO CRUST METHOD
Using a mandolin slice the potatoes thin. Make a stack of sliced potatoes, using a 1" diameter round cutter to make small disc.  Lightly dust the eggplant and discs with potato starch.  Start to place the potato discs in a shingling style on the eggplant, gently press the potato down into the eggplant. Heat a large cast iron pan over medium heat. Add enough grape seed oil cover the bottom plus a little extra.  Gently place the eggplant, potato side down. Using your hand press the eggplant down to flatten, this will help the potatoes brown evenly. 
ASSEMBLY
You can be as fancy as you'd like here. Place the Cream Sauce on the plate. Place the eggplant onto the plate, add some reduction sauce ( you can use a toothpick to create a feathering style) add the mushrooms and enjoy!
Notes
Nutritional Values are an estimate only.
Nutrition
Serving: 6Ounces | Calories: 289kcal | Carbohydrates: 58g | Protein: 5g | Fat: 1g | Saturated Fat: 1g | Polyunsaturated Fat: 1g | Monounsaturated Fat: 1g | Sodium: 1856mg | Potassium: 877mg | Fiber: 4g | Sugar: 28g | Vitamin A: 136IU | Vitamin C: 27mg | Calcium: 158mg | Iron: 3mg
Shop the Recipe...